4 min
While the Euro 2022 party continues without Northern Ireland as a 5-0 defeat to England confirmed their exit from the tournament, it will certainly be a little less loud and bright without them.
Although the statistics don't lie, bottom of Group A having scored only once, they brought an unbridled sense of joy throughout their three games that cannot be easily quantified.
Few fans, whatever level of the game or circumstance, would cheer so passionately despite witnessing their side so comprehensively beaten – let alone remain in the stadium long after the final whistle to applaud them.
But this is Northern Ireland, this is what the 'Green and White Army' (GAWA) do.
And while other nations, including England, are trying desperately to replicate the same authentic atmosphere and support for their women's side as their male counterparts, it comes so naturally to Northern Ireland.
As a nation where success is often bittersweet and always fleeting, whether it is Steven Davis or Julie Nelson, whoever puts on the Green and White shirt is always guaranteed to be backed unconditionally.
Opposing fans, a large majority of whom would have used the women's tournament to attend a football match for the first time, would have initially looked on concerned and bemused before quickly becoming bewitched by the GAWA antics.
Northern Ireland fans, whatever the game, love a drink, a sing and 'a bounce' without any malevolence and all three traits have been in abundance over the last few weeks – albeit with the occasional obscenity consciously censored out.
Old acquaintances from their last major tournament, Euro 2016, have been reunited while new friends have also been made as fans of all ages and genders came together to follow Northern Ireland Women at their first major tournament.
READ MORE: How Euro 2022 success for England's Lionesses can propel women's football to another level
The reality of the situation they faced was a harsh one: with Kenny Shiels' squad containing 13 amateur players, they were always going to be up against it – particularly facing a Lionesses team that has so far blown everyone away.
Speaking after the match, Northern Ireland manager Shiels said: "I don't know if anyone realises that England haven't conceded a goal in the last three years of proper (World Cup qualifiers, Euros and European qualifiers) football.
"We've played them four times during that period and been beaten four times, at an average of 4-0 or 5-0.
"That's how much further they are up the ladder from us.
"But I was proud of the players for how they set-up, they gave everything and I must say I was really impressed with how we stuck to our task."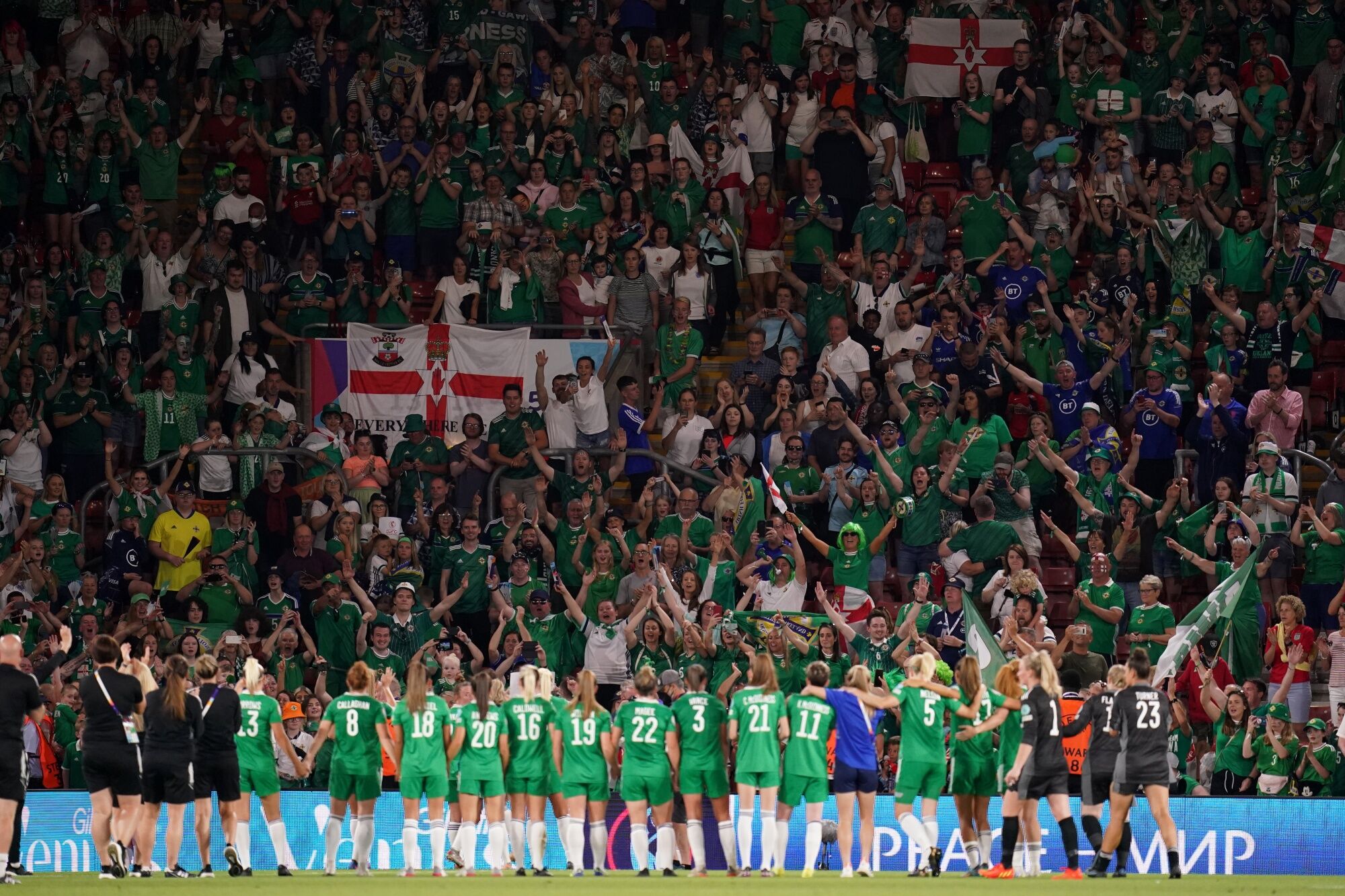 Under the campaign banner 'A New Dream', the challenge for the Irish FA now will be to tap into the momentum the competition has brought to ensure Shiels' side do not wake anytime soon once they go back to their day jobs.
If Northern Ireland have any chance of reaching the next European Championships, the IFA will have to ensure the grassroots infrastructure is in place as soon as possible to give them the best possible chance of success.
READ MORE: Daniel Ballard on promotion with Blackpool, why he joined Millwall and his Arsenal future
Overall, Northern Irish international football is currently in a state of flux but it would be a shame if the women's side is neglected or ignored in the pursuit of success for their men's side.
In an unbalanced and unequal world, their women's side have shown a unity that transcends one specific team, creating memories that deserve to be turned into a long-lasting legacy.