3 min
While it remains to be seen whether Sarina Wiegman will be on the touchline for the Quarter-Final against Spain after testing positive for coronavirus, England will be hoping it is the only major absentee during the knock-out stages.
The Lionesses head into Wednesday's Brighton showdown in scintillating form, topping Group A with maximum points and 14 goals without reply – including a stunning 8-0 demolition of Norway, a side currently ranked 11th in the world.
And while France and Germany have also impressed so far, a coronavirus outbreak within any squad, as UK infection rates rose by almost 30% last week, could severely jeopardise chances of reaching and winning the Wembley showpiece final on July 31.
With her side already assured of qualification as group winners, head coach Wiegman's positive test just hours before England's 5-0 win over Northern Ireland would have been nothing more than a slight annoyance.
Wiegman, who has been watching training and advising from a distance with a mask, remains 'very hopeful' of being in attendance on the South Coast but has assistant Arjan Veurink once again on standby to take the lead in the dugout if necessary.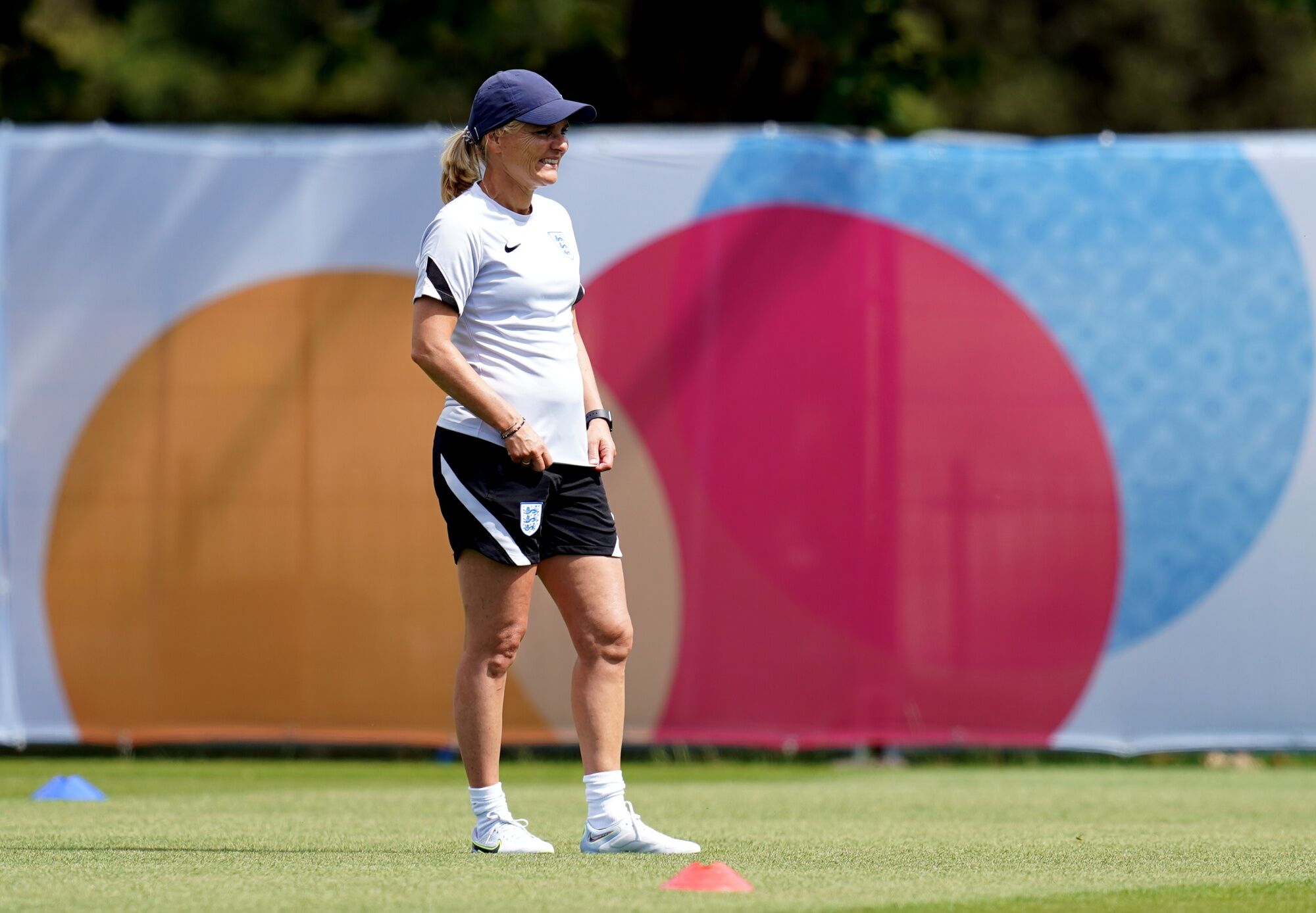 On the situation, Wiegman said: "It's not the worst nightmare, just a situation we have to deal with.
"I'm around and still doing my job. I'm just doing things virtually or outside from a big distance with the mask.
"I've been involved in all of the training, I just make sure I don't get close to people. But you can always observe real closely and sometimes give a message."
Wiegman was speaking to the media remotely just hours after it was announced that back-up goalkeeper Hannah Hampton had tested positive for the virus as well – the second player in the squad to do so during the campaign, following defender Lotte Wubben-Moy.
And while Wiegman confirmed the rest of her players were available for the Amex encounter, it is hard to ignore the coronavirus spectre that hangs over the tournament with six players from six different countries testing positive within a week of the competition starting.
Naturally, the England camp are uneasy with player access limited to minimal interaction during the post-match mixed zone following the Northern Ireland game while other precautions have since been taken.
READ MORE: Euro 2022 will continue without Northern Ireland, but the party will be a little less loud and bright
"We're really aware and very careful," Wiegman added. "We're trying to stay in our bubble and do the right things, and hopefully we keep everyone fit.
"We have taken some more strict measures, and everyone understands.
"We're just trying to make the bubble more tight. If people come in, they have to take a test before.
"Of course everyone has to take responsibility too, so anyone who doesn't feel well needs to tell, because we really want to stop getting positives.
"What we have to do is stay calm with the ones who can play and continue what we are doing."
With England getting so much right on the pitch, it would be devastating if matters off it ultimately undid them as they entered the business end of the competition.
Spain, although not convincing as Group B runners-up, should present England with a tougher test than any other so far but, as long as the Covid ones don't pile up, the Lionesses should have enough to easily see them through.