5 min
As a Millwall fan, I have never felt so ashamed.
As a Millwall fan, I've spent my life, my fandom, telling people that their perceptions of my club are wrong.
Millwall Football Club has a bad reputation – in the media and the public eye and it is far too often seen as an easy target, one whiff of controversy and the club gets its name dragged through the mud.
The work the club does in tackling racism and helping the local community is far too easily overlooked; there are fantastic people doing fantastic work to combat the reputation the club has.
But after Saturday's actions of Millwall supporters booing and abusing both sets of players taking a knee that reputation stands. It is unavoidable, indisputable, and indefensible.
Saturday was supposed to be a joyous occasion, when fans returned to The Den after months of exile due to Covid. An occasion that was supposed to lift spirits and signal the return to some sense of normality as the country slowly recovers from the effects of the pandemic.
But that joyous return was ruined before a ball had even been kicked.
Millwall has always been a divisive club – the club mantra, 'No one likes us, we don't care' is a badge of honour.
When incidents occur, the usual excuses come out – that Millwall is misrepresented, it is a small minority of troublemakers who don't speak for the club.
But these excuses can't be used this time because those who booed on Saturday were season ticket holders, the core fanbase who were lucky enough to be the first to re-enter The Den.
They argue they are speaking out against the 'Black Lives Matter' movement and that they don't agree with Millwall players making 'political' statements.
To think that players, at the Den on Saturday and across the country, are taking a knee to support a political party is naïve.
It has wilfully missed the point of a peaceful gesture that shows solidarity to those who suffer racial injustice across the world.
READ MORE: Millwall supporters may have made their voices heard, but the club's delayed response was even more deafening
The players even put out a statement on the eve of the game, explaining their choice to take a knee in a show of solidarity. They explicitly informed fans they were not supporting a political group but felt it was their 'duty to reinforce the positive message and actions' against discrimination.
The players should be proud of the action they took – it is always difficult to demonstrate against adversity and far easier to be idle, to bend to the will of others and keep quiet.
In a sense, their actions encapsulate the message a knee represents. While those around them abuse and boo, the players made themselves heard.
Mahlon Romeo's powerful and direct message in the immediate aftermath of the game left me devastated. He is right when he says, 'the fans who have been let in today have personally disrespected not just me but the club'.
How can he, or other players, wear the badge with pride after this? How can they claim to represent a fan base that appears to hold such outdated views, who fail to accept that the players have a right to show respect?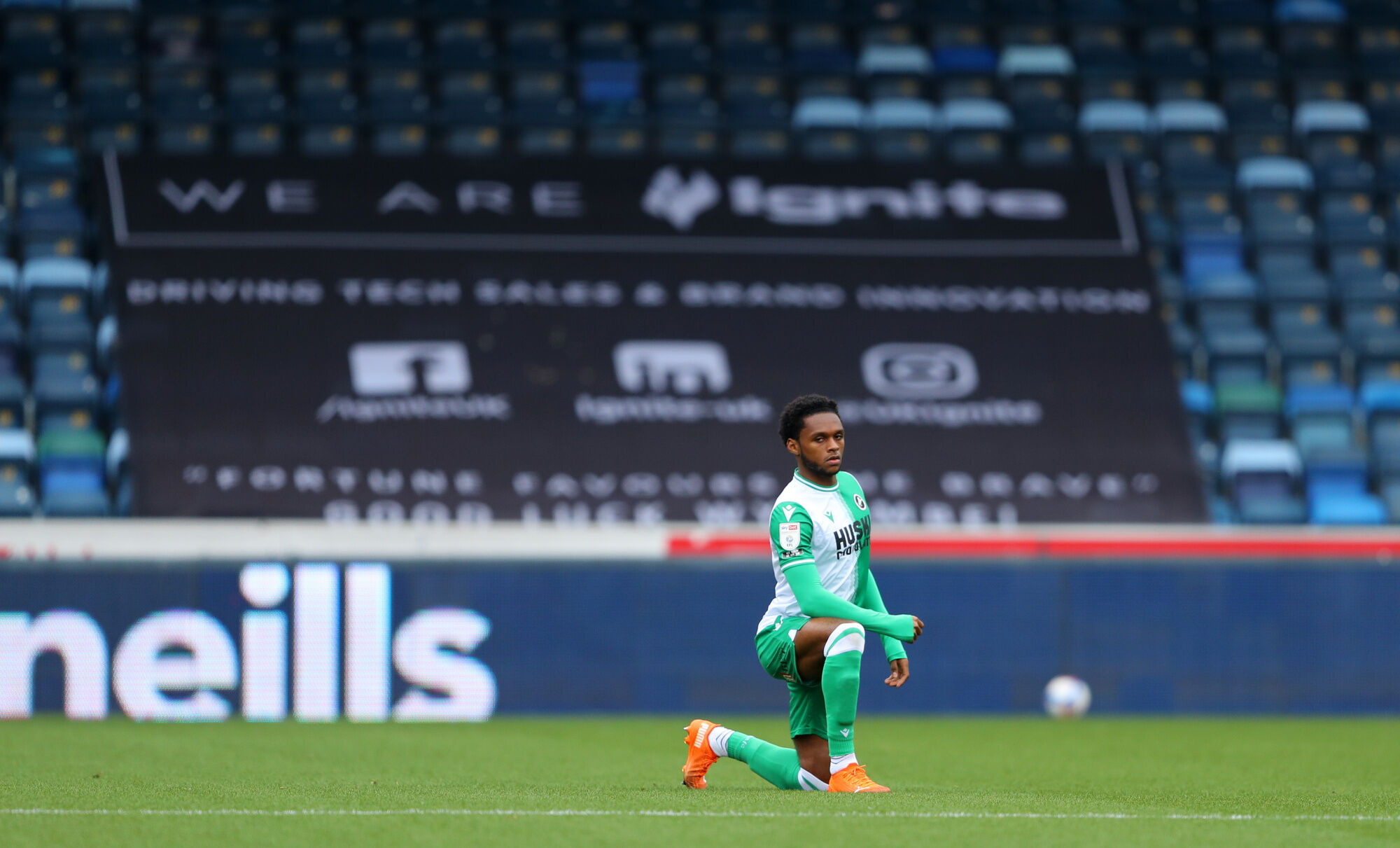 Would they boo a minute's silence? No. Would they boo wearing a poppy? No.
Millwall fans have given their weight to great causes in the past and are often the most generous when giving to charities supporting veterans, sick children and many more.
But this generosity does not buy an excuse for Saturday's actions.
Responses and statements from the club and the supporters group were slow which could be forgiven due to the serious implications the actions could have on the club.
When they did eventually arrive, Millwall's official statement was brief, but the message was clear whereas the Millwall Supporters' Club, a fans group who do great charity work, was disappointing.
Their statement, released on Sunday afternoon, did little more than make excuses and attempt to justify the actions of those who have once again damaged the image of the club.
In their statement, they claim they represent 'all Millwall fans'. Not me. Their thoughts are not mine and their attitude is not one I agree with.
READ MORE: Brentford ready to take a stand, not just a knee, in the fight against racism
It is not enough to be 'not racist'. The ethos of the 'Black Lives Matter' movement and the message that taking a knee sends is that we must be anti-racist. To boo those who show their support for that, is therefore a racist act.
I don't know where the club goes from here and I fear any repeat on Tuesday night against QPR in front of the Sky Sports cameras could irrevocably destroy any remaining positive images and associations Millwall Football Club has.
Anything less than condemning these actions and making clear those who want to boo players have no place at the club, is not enough.
Although it means risking alienating the fanbase and damaging their relationship with season ticket holders beyond repair, the club may need to tell them that they simply aren't wanted.