4 min
Brentford are aiming to become the most inclusive and diverse football club in the UK as the Bees held an interactive Black History Month event to discuss the issue of racism within football.
The wide-ranging webinar was not only a celebration of the continued contribution of black players and staff but also explored some of the challenges that remain – and how lasting and positive change could be achieved – both at the club and across the football industry as a whole.
The Bees have already revamped their recruitment process in an attempt to hire more widely and made a number of pledges to provide more education sessions, enhanced marketing visibility and make the matchday experience more accessible to ethnic minorities in the local community.
But Monique Choudhuri, Brentford FC Board Director & Champion for Diversity and Inclusion, is well aware real change does not materialise after just one month but instead through a continued development that is constantly measured and challenged.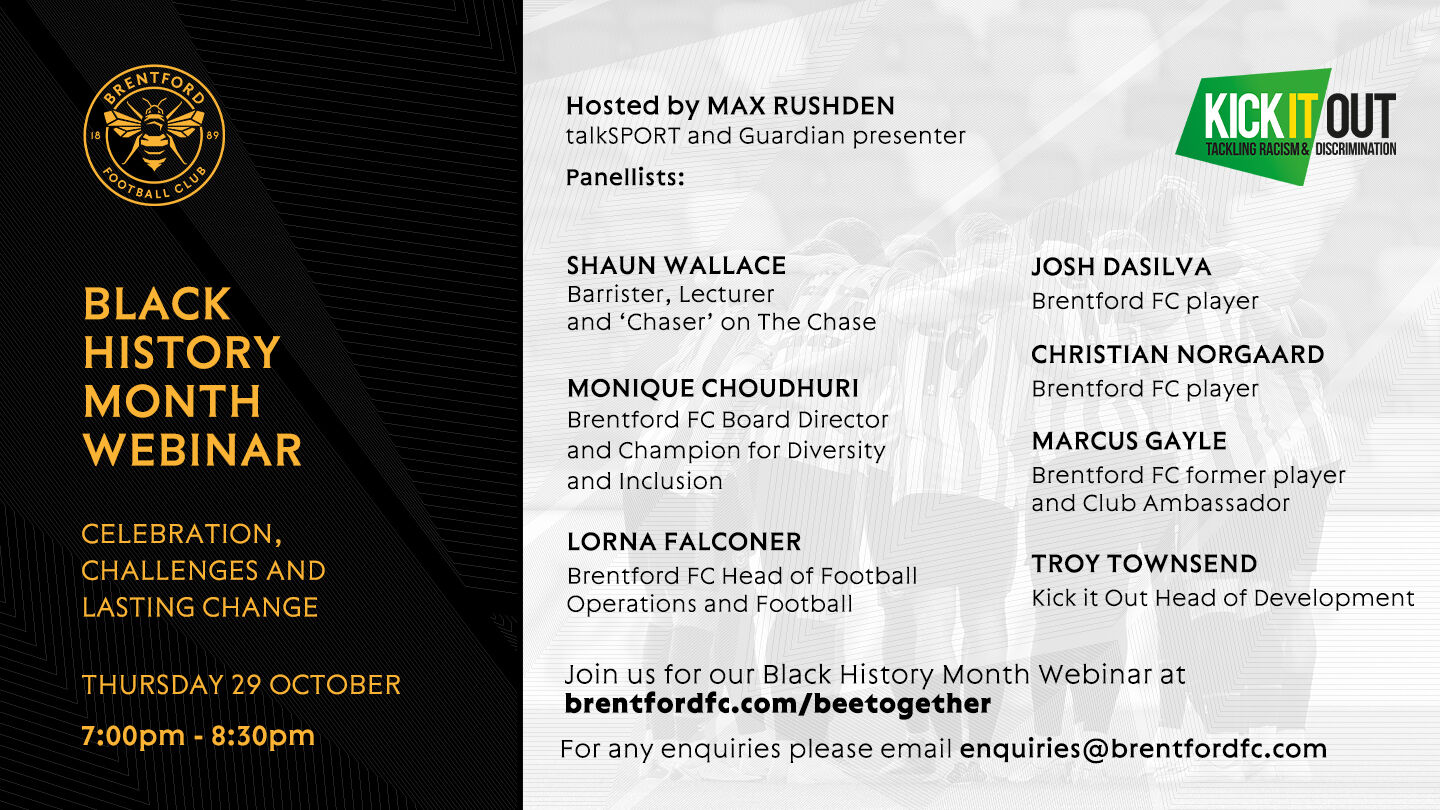 "We want to be the most inclusive football club in the UK," Choudhuri said. "It's a big vision but we really believe we can get there.
"But it won't be achieved until we work out what we really need to change – our attitudes and behaviours to make a real difference, an impactful difference.
"To do that you have to measure your actions over a period of time with the aim to make people from all backgrounds feel welcome in what we do as a club."
And although fellow panelist, Kick It Out's Troy Townsend, has sometimes questioned the validity of Black History Month in delivering real change, he has no doubt about the legitimacy of Brentford's intentions.
READ MORE: Brentford FC Community Sport Trust's Brian Burgess recognised in Queen's Birthday Honours list
"The club are not just doing this event because of this month (Black History Month)," Townsend said.
"The club are very proactive in everything they do around diversity in terms of providing opportunities to listen to people, important people, relevant people and people with lived experiences.
"There's also people outside the football club who are keen to listen and learn and I think it is so powerful for any football club who do that."
There was also debate over players taking the knee to show support for the Black Lives Matter movement, with the panel declaring it not only showed solitary, but also sent a powerful message calling for racial equality across the globe.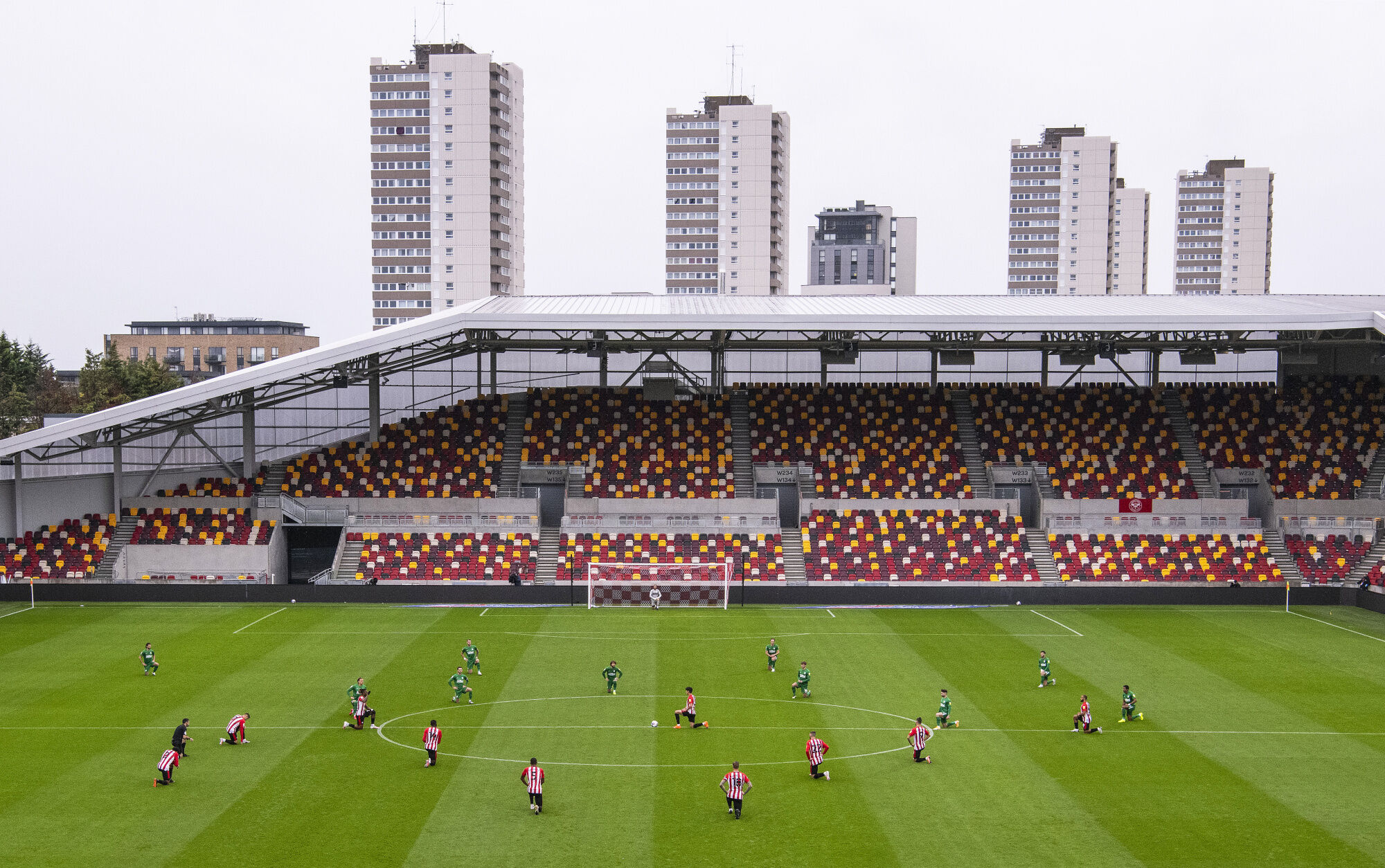 However, there were question marks as to what the lasting change had been with Brentford midfielder Christian Norgaard believing more could have been done to educate around the initiative.
"My opinion is clear, I am against all kinds of racism and united against it," Norgaard said.
"But looking back it is something that we should have perhaps talked more about. Maybe digging deep into where it has come from and why it is happening right now."
Team-mate Josh Dasilva also believed education was key and said: "It was overwhelming to see people are really starting to recognise and realise this matters.
"To come on one of the biggest platforms of football not only sends a big message but helps educate people, especially youngsters who watch football."
The increasing influence of players in tackling racism was also explored – but with the concern these black role models do not get the opportunities they deserve after retiring.
Barrister, Lecturer and TV personality Shaun Wallace believes there was a real chance of there being a 'lost generation' of talent if there were no opportunities for black managers, coaches or increased boardroom representation.
The evening ended with an impassioned plea from Townsend to 'not go quiet' after October 31st on the fight against racism….If Brentford Football Club have anything to do with it though, that won't be the case.