8 min
Having won five of the last six league games and sitting seventh in League Two, Sutton United's first ever Football League campaign couldn't have got off to a better start.
The last 12 months have been a whirlwind for the club as the then semi-professional side claimed the unlikeliest of promotions from the National League last season.
Renowned more for their FA Cup pedigree as non-league giant killers, the club defied the odds over the course of the campaign to reach the EFL for the first time in their 123-year history.
And after an enthralling 4-3 comeback win over much-fancied Port Vale on Saturday, it's clear Matt Gray's Amber Army are more than ready, and capable, of continuing to upset the established order.
With the footballing fairytale still very much alive, London Football Scene took a trip down to Gander Green Lane to see how the Us were adjusting to life as a Football League side…
"Living the dream and seeing where it takes us" – view from the boardroom, vice-chairman Adrian Barry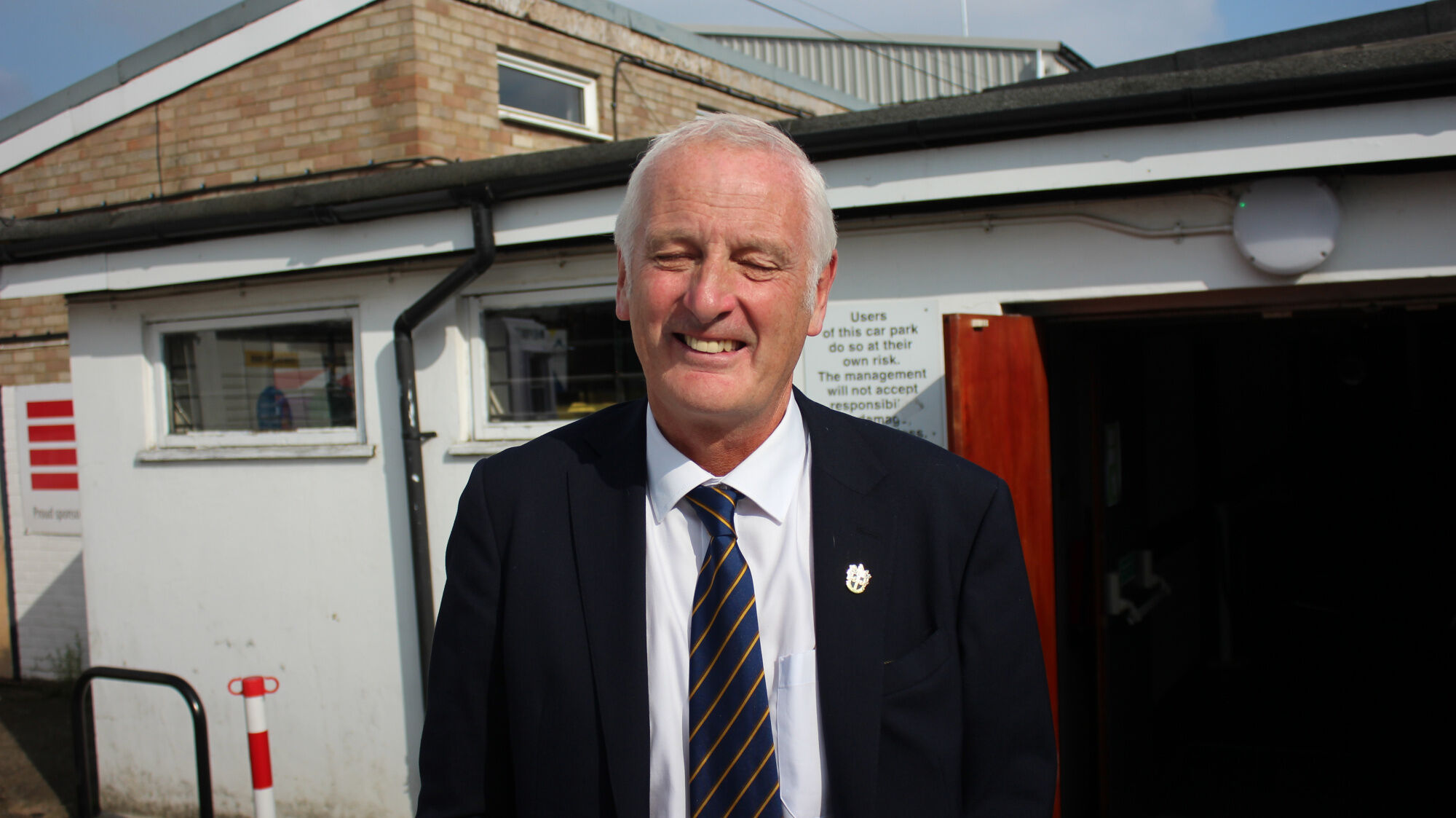 As soon as you reach Gander Green Lane, there is immediately a self-effacing feel to the club with a small band of fans and volunteers on hand to make everyone as welcome as possible.
The fact Sutton United does not have a majority shareholder and is run by a committee adds to the community feel and one of the first people you are likely to meet is Sutton United's vice-chairman Adrian Barry, often found helping distributing matchday tickets.
"My dad brought me down when I was eight years old, which although I only look 25, is in fact a long time ago," Barry jokingly tells London Football Scene.
"That was the 1970/71 season, we were in the Isthmian League and had just played Don Revie's Leeds United in the Fourth Round of the FA Cup.
"Despite being a non-league club with a proud history for 123 years, I have to say that last year topped the lot.
"For the size of our club to get promoted to the Football League is an extraordinary, quite staggering achievement which we are all enjoying.
"We were finding our way in the first few games and it's still very early days but at the minute we are living the dream – lets just see where it takes us."
"Sutton United are really getting out there" – view from the dugout, manager Matt Gray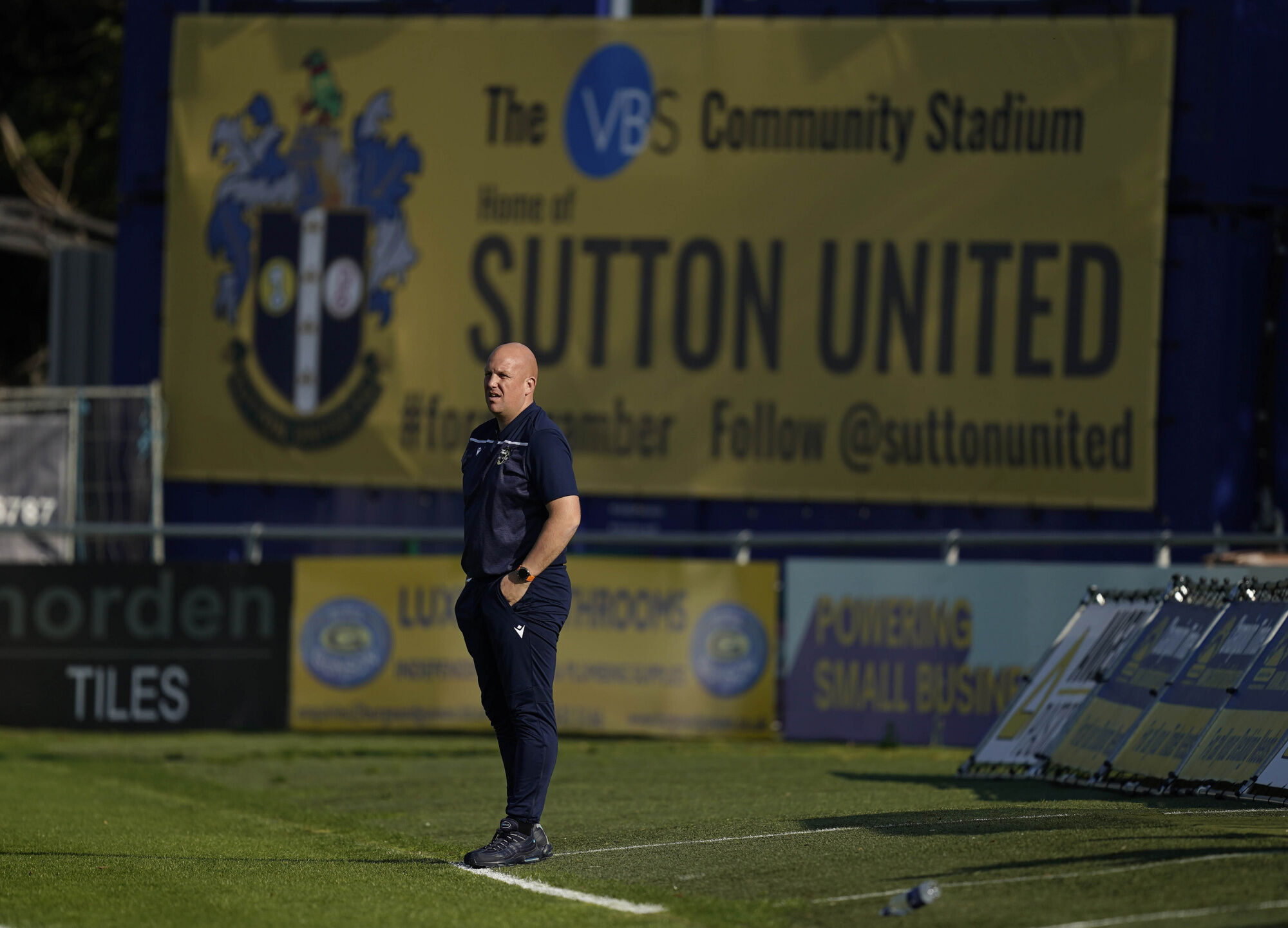 Taking over from long-term Sutton United boss Paul Doswell in April 2019, Matt Gray has been the chief architect of the club's on-field success, guiding them to the Football League in just his second year in charge.
Reflecting after the win over Port Vale, Matt Gray said: "It's been a whirlwind few months but I'm really pleased with where we are right now.
"The Football League is like playing one of the top teams in the National League every week so you really have to earn every point.
"In the first four games we probably didn't get the points we deserved but once we got that first win we haven't looked back and we're getting the results we deserve now.
"It's still early days though and first and foremost we just want to get as many points on the board as possible, get to 50 which hopefully is enough to keep us in the league, and take it from there.
"If we manage to establish ourselves it would be a huge achievement and there's a real feel good factor both on and off the pitch at the moment.
"The home support and attendances are growing and Sutton United are really getting out there and I'm proud of all the hard work of every single member of the board and the volunteers."
"We're all really good friends" – view from the pitch, defender Coby Rowe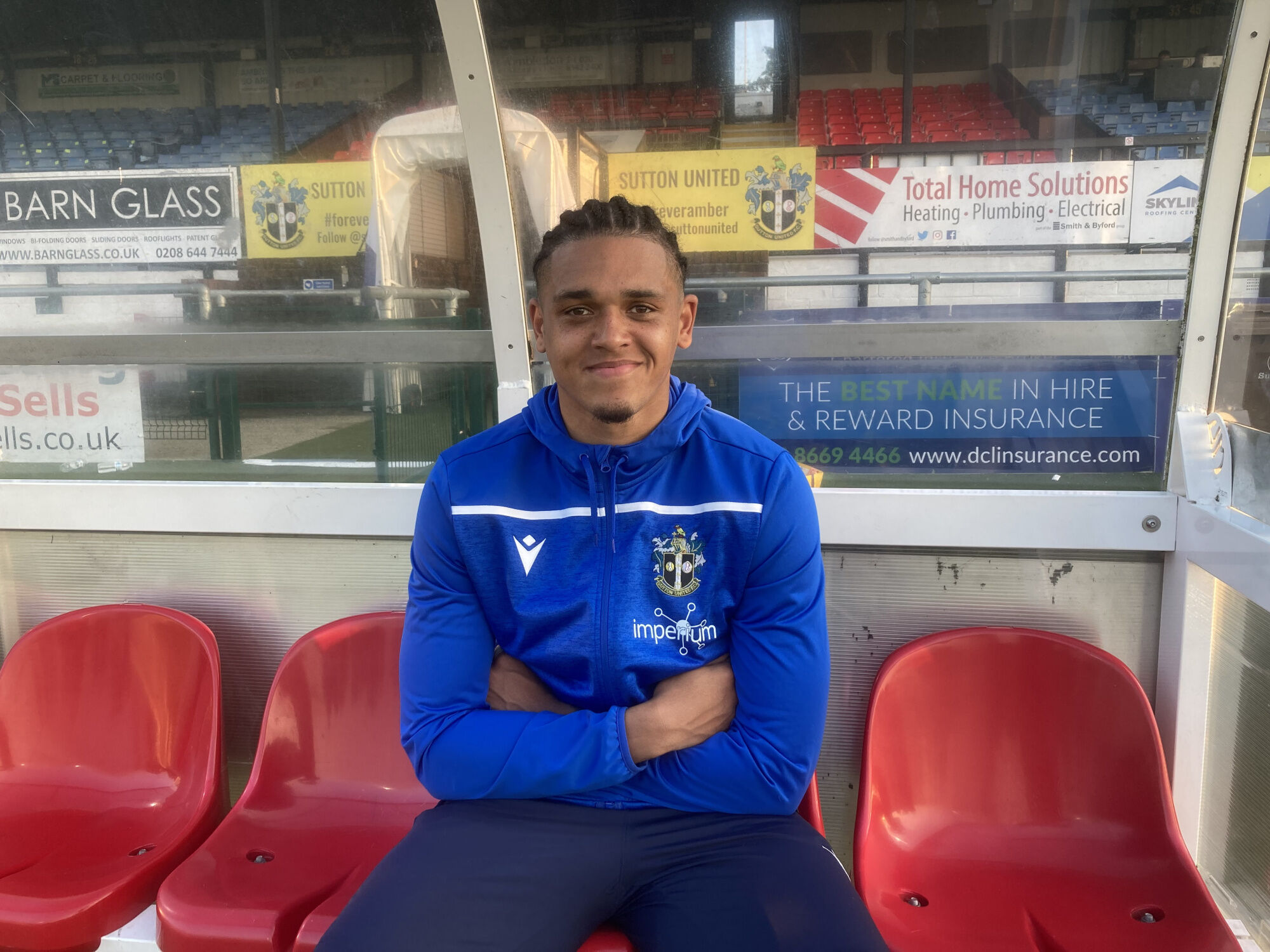 One player whose life has changed dramatically is that of defender Coby Rowe, who scored his first Football League goal, and the stoppage-time match winner, in the 4-3 win over Port Vale.
The 26-year-old had spent his entire career at non-league level with Hillingdon Borough, Wingate & Finchley and Haringey Borough before joining Sutton United in January 2020.
But just as he was trying to find his feet in the National League, coronavirus curtailed the season and, when it did resume, a ruptured kidney saw him miss much of Sutton's title triumph last season as well.
READ MORE: Isaac Olaofe – the Millwall loanee aiming to be a Sutton United history maker
On becoming a Football League player, Rowe told London Football Scene: "I've always worked towards it but I never knew whether it would happen or not because I'm not the youngest player anymore.
"Lucky though the gaffer (manager Matt Gray) picked me up and he's been great to me and I'm just taking each game as it comes.
"I think the key is that we (the squad) are all really good friends and all get on well together.
"I've been in teams where there's certain groups but that's not the case here. We also know when it is time to get serious and work. It's a good balance."
"It's a fairytale story" – view from the terrace, lifelong fan David Smart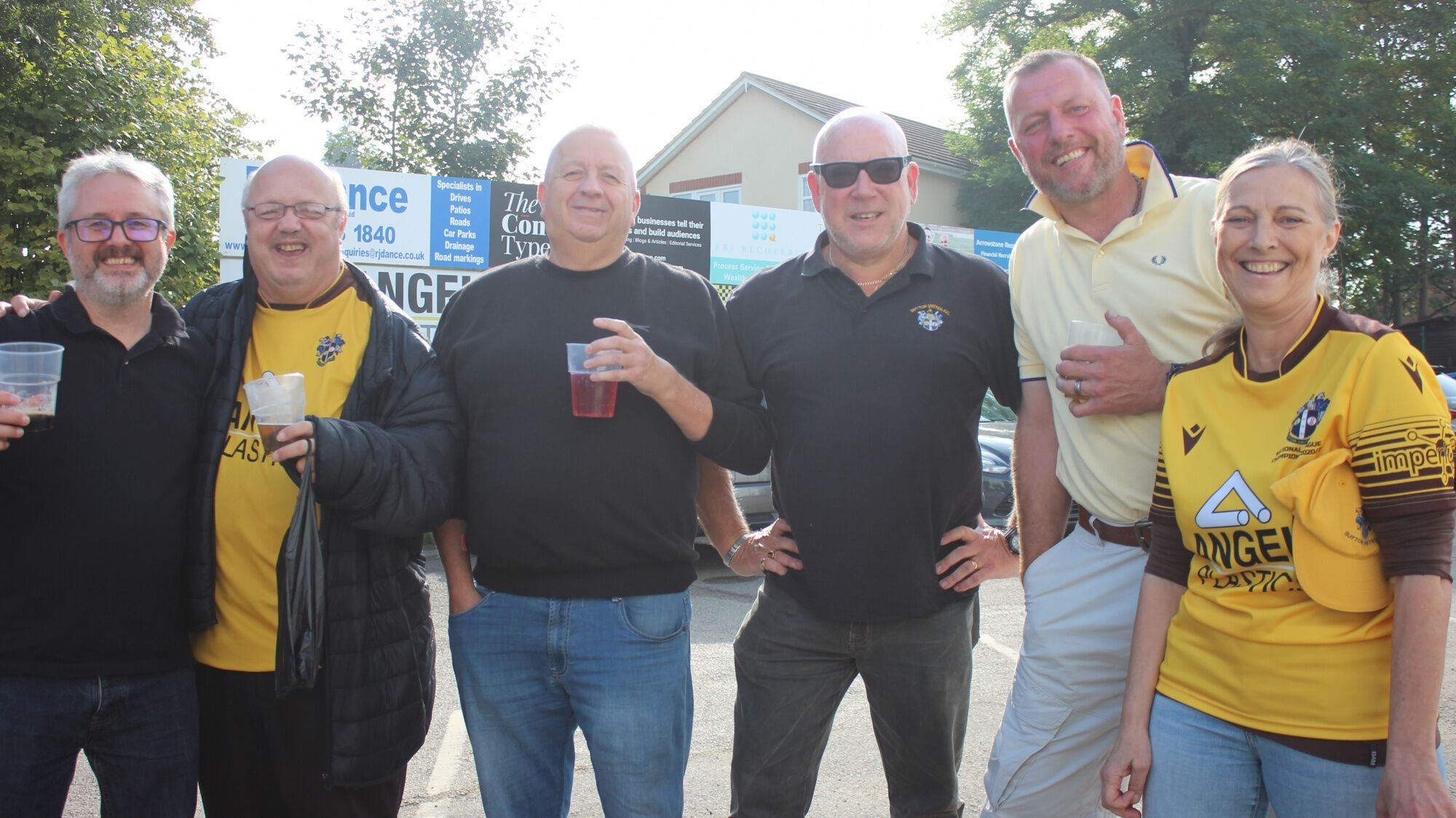 David Smart (known as Smarty, pictured second on the right) is a lifelong Sutton United fan who also turned out for the club's youth team back in the late 1980s/early 1990s.
During his youth career, Smart played alongside Andy Scott, who went on to play for Sheffield United, Brentford and Leyton Orient, as well as face the likes of Tottenham Hotspur's Nick Barmby and Sol Campbell.
"I'm born and bred around here and live just behind the goal," Smart told London Football Scene.
"My father actually bought the house because it was so close to the football club and back in the day I used to jump over the fence because the stand wasn't there.
"Being in the Football League is a surprising ambition for the club and the fans when you consider some of the National League clubs with all the money behind them.
"And then there is little Sutton United who get promoted instead – it's a fairytale story. A bit like Wimbledon winning the FA Cup back in 1989.
"But now we're here I think we are good enough to stay up – the manager has the ambition, the right squad who are playing right so I definitely think we can do it."
"We're still pinching ourselves" – view from the media, press secretary Tony Dolbear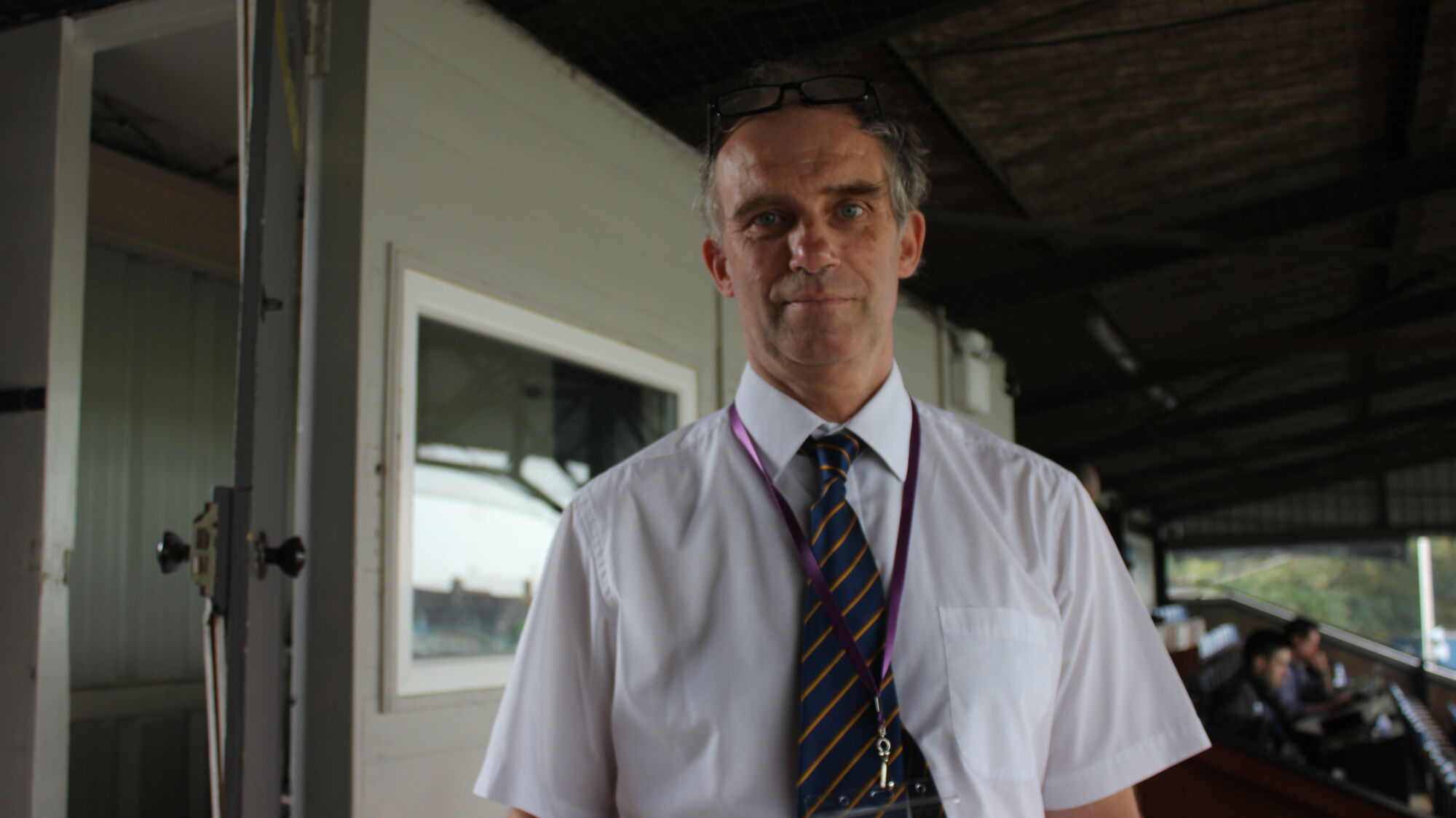 With Football League promotion comes additional media attention with the win over Port Vale not only seeing a full press box but Sky Sports and Quest's EFL highlights also in attendance.
Managing the 'organised chaos' is Tony Dolbear, Sutton United's press secretary who describes the role as "very different" to the one he started back in 1988.
"The whole profile of non-league football has changed – nowadays the National League is half ex-Football League teams and half ambitious non-league clubs," explained Dolbear.
"It's bigger with a much higher profile and from a Sutton perspective we've even had times in the National League South and Isthmian League.
READ MORE: The remarkable rise of Sutton United – the National League minnows who defied the odds
"So National League promotion was unexpected to put it mildly. Even in January I don't think anyone thought we would seriously still be up there at the end of May.
"It was so unexpected to actually win it and even now, thinking about the clubs we were up against, it was a phenomenal achievement.
"It's been an expensive business getting ready for the Football League and by and large the administration side of the club is still run by volunteers.
"So it's a bit of a learning process for us all but we're getting there – it's a nice headache to have, the idea of Sutton United in the Football League has a lot of us still pinching ourselves.
"We may not be the most palatial club in terms of facilities and grounds but you know if you come to Sutton you will get a warm welcome."