5 min
Despite engaging with over 160 youths and 70 adults across multiple teams and levels, possessing a strong community focus and a Nike sponsorship deal, Hackney Wick FC, the borough's first semi-professional football club, are victims of their own success.
"There is no space in Hackney for us to build a ground and even if there was, it would be used for new houses with 25,000 currently on a waiting list," Hackney Wick owner Bobby Kasanga exclusively told London Football Scene.
"Hackney has never had its own football stadium, we tried to build on the grounds of Hackney Marshes but as it's used by members of the public we were not allowed."
Since founded by Kasanga in 2015, the Eastern Counties League side has flourished but, despite having the support of the local council in their search for a permanent residence, nothing has materialised so far.
It has meant the club have spent the past six years ground-sharing with 'The Wickers' playing in three different stadiums during that time – the most recent ordeal seeing them homeless in February 2020 after being kicked out of Haringey Borough FC's Coles Park Stadium.
"We thought we would be at Haringey for years to come after signing a year contract to play there with the option of another," Kasanga said.
"Then at the last minute they told us one of their friend's clubs was coming back so we had to move on – all with just three months of the season left to play.
"The situation with Haringey showed us how volatile and unstable we are as a club because if one club says they cannot accommodate us we can lose our status just like that – we at the mercy of other clubs."
Although a move to Witham Football Club's Spa Road last summer saw a reprieve it is still not ideal with the club having to travel 40 miles from Hackney Wick to play their 'home' games.
But with non-league football cancelled until further notice due to coronavirus, just surviving is the priority with the club experiencing financial struggles even before the pandemic hit after losing one of their main sponsors back in November 2018.
"We were in precarious times but thankfully the lovely people from the Art Community in Hackney Wick managed to raise much-needed money for the club," Kasanga added.
"That helped keep the club going and in late 2019 we gained more funding which made the club even more sustainable.
"But it's now getting to the point where we need to do much more than asking people to donate to us yearly".
READ MORE: Tooting & Mitcham United – the community club who continue to defy the coronavirus odds
Back on a relatively even-footing, the club aim to raise £1m over the next five years to build their own stadium and aim to contact the National Lottery and London Mayor in the coming months to help with their cause.
In the meantime, Kasanga hopes to strike a temporary deal that will see the club move into the London Marathon Community Track – becoming West Ham United's footballing neighbours at the Olympic Park.
"We have a meeting with the FA and the London Marathon Track Stadium this month and we are trying to see if they can lower the threshold in the ground for us to use it," said Kasanga.
"The FA has said it has great facilities but it's missing the requirements for it to be a semi-pro stadium".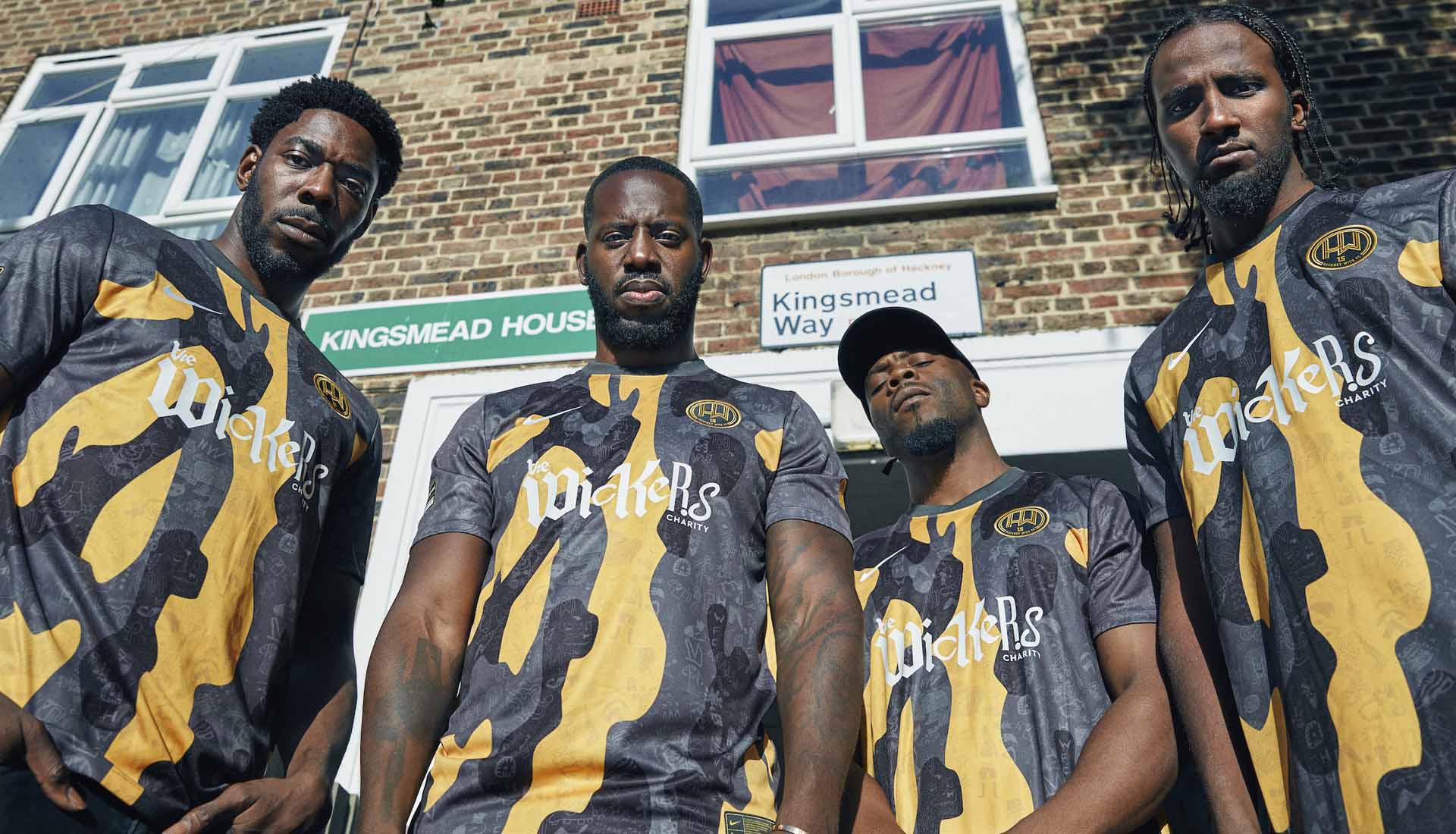 In spite of all the stadium upheaval and a global pandemic, Hackney Wick prides itself on its commitment to the community, with the club's motto 'Our Borough Our Club' seeing them determined to be a positive force in their local area.
The club has played a key role in engaging hundreds of youths to volunteer in the area, encouraging them to take part in fitness and football programs and also help tackle issues such as gang culture, poverty, inequality and discrimination.
"We don't rest on our laurels, we know there's so much more work to do with the youths in our community," Kasanga said.
"We know there are some who are going down the wrong line because they're not engaging as much as we hoped they would.
READ MORE: Sporting Bengal United – the non-league side inspiring Asian footballers for over 25 years
"And we know there are a lot of youths who are hardened and won't change their ways.
"There is still a lot of work to do and as much our achievements are great, we are only touching the tip of the iceberg."
Alongside the aim of finding a permanent home for the club is Kasanga's dream of building a sports college to give local youngsters the chance to study BTEC Sports courses.
It may seem far off considering the current circumstances but one thing is certain, Bobby Kasanga and Hackney Wick will not stop trying to make it happen.
To support the club's football revolution and help create a positive impact on and off the pitch, visit the Hackney Wick website and click donate.