5 min
"There were two distinctive smells entering Plough Lane back in the 1970s: hot dogs and the liniment the players wore on their legs", recalls AFC Wimbledon director Ivor Heller.
Fast forward 29 years and the club's return to their spiritual home with an opening game against Doncaster Rovers could not have smelt or looked any more different.
On first approach the ground is impossible to find; its position in the middle of a building site hid the significance of their Merton return with passers-by unlikely to hear Thin Lizzy's "Boys Are Back in Town" bellowing out from the tannoy as the Dons stepped onto the pitch.
Secondly, the cold Tuesday evening encounter meant not only were the stadium's seats blue and yellow but the handful of spectators and journalists permitted to be in attendance were as well.
READ MORE: Forget about league position, AFC Wimbledon are very much where they want to be
Sadly the half built apartment blocks overshadowing the ground acted as a cruel metaphor for the occasion – while the ground was complete, with coronavirus restrictions denying fan access, it is yet to truly become a home.
It's a particularly bittersweet occasion for Heller who has been a director since the formation of the phoenix club back in 2002 with AFC Wimbledon's return to Plough Lane 10,776 days in the making.
"We have led everyone back to the promised land but the gates are not open," Heller told London Football Scene. "Until people can come in it won't feel like we are back at home properly."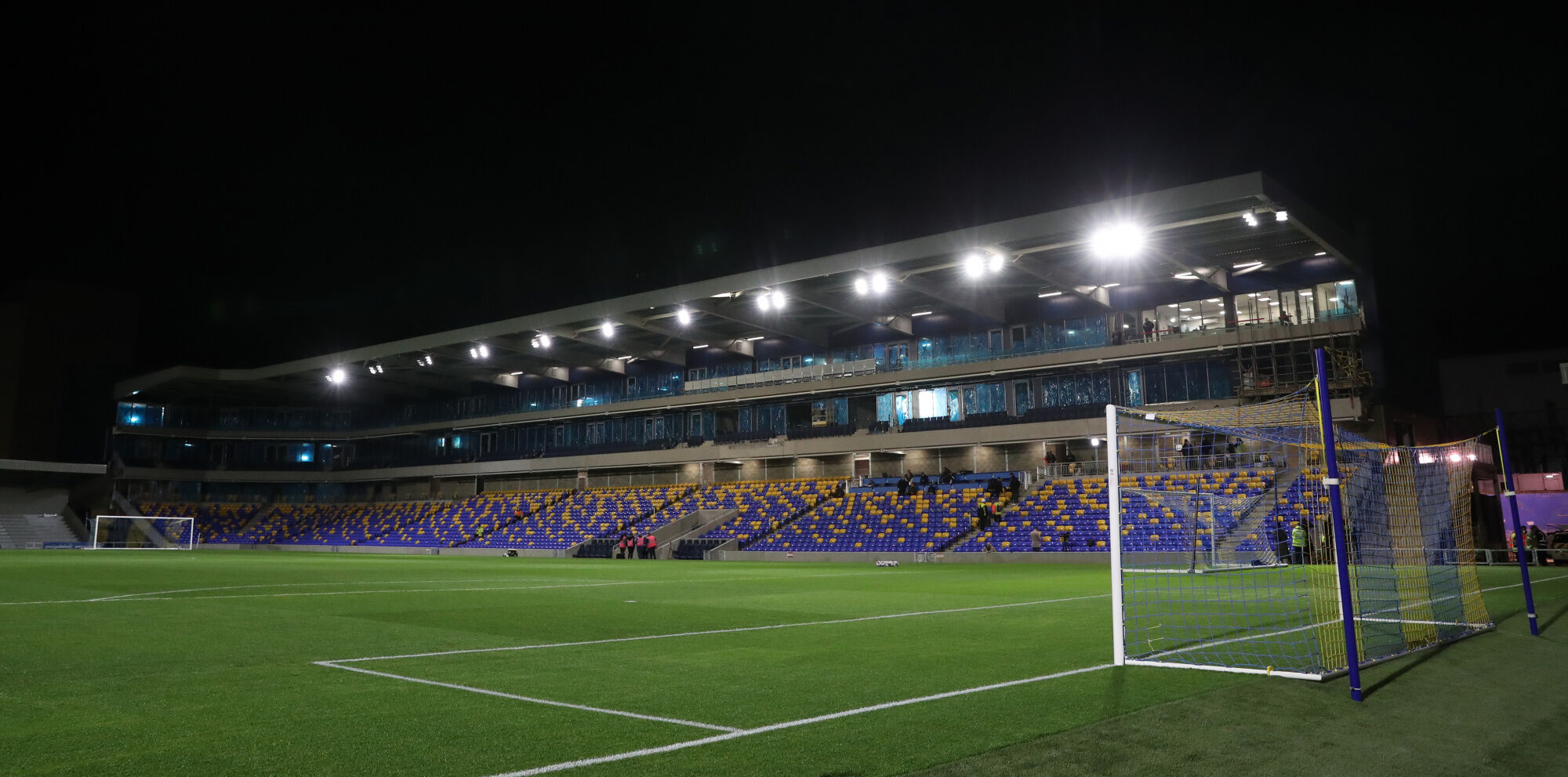 Nonetheless, the significance of the occasion could be felt when even supposedly unbiased reporters were unable to hold back a fist bump as Joe Pigott became the first player to score at the new stadium.
Although there were only muffled cheers compared to what would be expected with a capacity crowd, snippets of pre-match poems read out and a stand full of cardboard cutouts revealed the magnitude of the occasion.
Because returning to Plough Lane is more than just moving into a new stadium after nearly two decades with the fan-owned club raising £7.5m through crowdfunding to fund their dream return to a 9,300 capacity stadium.
Speaking after the match, Pigott, who's second-half strike also gave him the accolade of being the first to score at both ends said: "I'm over the moon but it would be totally different if there were fans in here.
"It's just crazy to think every fan has paid their part building this stadium. To have a fan-paid-for stadium is an incredible achievement."
READ MORE: AFC Wimbledon's Plough Lane Bond truly shows 'Home Is Where The Heart Is'
Pigott's sentiments were echoed by his manager Glyn Hodges, who added: "I think (the day fans are allowed in) will be ten times as emotional. There won't be a dry eye in the house. That will be special."
While the new stadium will build its own memories, the significance of the occasion is built on the pain of Wimbledon's past.
Since their formation in 2002 following the previous club's administration and subsequent relocation and rebranding in Milton Keynes, AFC Wimbledon have had an almost nomadic existence.
The Dons' first temporary residence was Kingsmeadow in Kingston before having to use QPR's Kiyan Prince Foundation stadium at the beginning of this campaign after coronavirus temporarily put back Plough Lane's completion.
For fans such as 40-year-old property developer Bob Mash, to be able to finally see AFC Wimbledon play at Plough Lane will hold special meaning for him.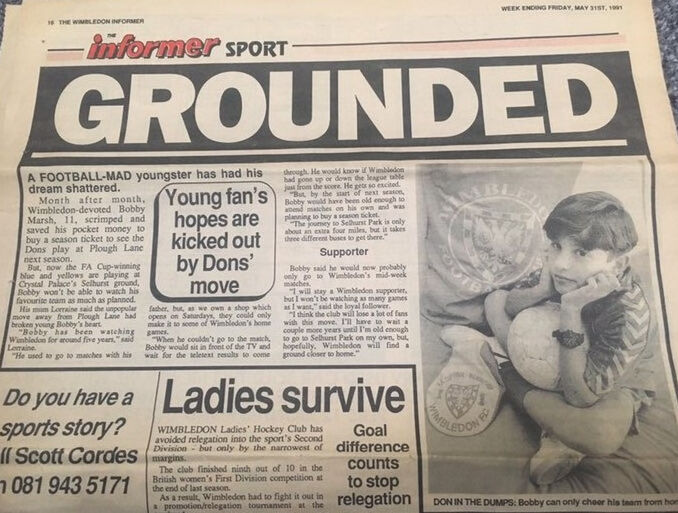 Mash was 11-years-old when Wimbledon last played at Plough Lane, appearing in 'The Wimbledon Informer' after saving up pocket money to buy a season ticket only to be told the club were being forced to move away.
"I remember the last game at Plough Lane against Crystal Palace. We played awful and Ian Wright scored a cracker as they beat us 3-0," Mash told London Football Scene.
"We stayed behind for a bit at the end of the game and some people were running on the pitch but I just thought it was because it was the end of the season, but they were taking pieces of turf with them."
"I always remember the programme seller who pitched up on the Junction of Haydons Road and Plough Lane and my Dad always getting me one, even though at first I didn't really know what it was.
"I couldn't wait to get into the ground so my Dad would often pay for me and my friend to get in early so he could go and have a few pints in The Sportsman on Durnsford Road before kick-off.
"I would make my way to the front behind the goal and just watch the away end fill up.
"The return to Plough Lane really is pretty remarkable – of all the potential sites in Merton we could have got, we got that one, just a Dave Beasant kick away from the old ground."
The spectre of coronavirus is never far away though and following the Dons' 2-2 draw with Doncaster, a number of players and staff test positive for the virus.
Last Saturday's home game against Wigan Athletic was subsequently called off meaning that, due to AFC Wimbledon's run of fixtures, the next time they will be at Plough Lane will be for the match against Peterborough United on Tuesday, December 1.
It may well be nearly a month later and not necessarily the fairytale return they had hoped for but AFC Wimbledon are finally home and they've done it under the toughest of conditions.