5 min
As famous London non-league clubs go, one possibly stands out more than most…
Wealdstone Football Club, the former stomping ground of the likes of Vinnie Jones, Stuart Pearce and Jermaine Beckford have one of the most interesting histories of the past 40 years.
They were the first team ever to do the non-league double in 1984/85 when they won the Conference and FA Trophy before relegation just three years later began a downward spiral that would see the club fall five divisions in seven years.
From the pinnacle of non-league to the Isthmian Division Three, the drama that unfolded would have been enough to fill multiple Amazon Prime documentaries with few predicting the journey the Stones would go on.
But when the 2019/20 season was brought to a premature close, Wealdstone, who had led the National League South all season, were given their fairytale end as they were promoted as champions, signalling a return to non-league's top flight for the first time in 32 years.
Tim Parks, Mirror journalist, Wealdstone match day commentator and fan of 51 years described the club's revival as 'pretty amazing' but admits the Conference the club has returned to is very different to the one they left.
"When the club was promoted to the National League South in 2014, it was like being back in the Conference National we'd left in 1988," Parks exclusively told London Football Scene.
"All the clubs were part-time, as they were 32 years ago. It was a big step up.
"But as for this season… Wow! It's like the leap from the Championship to the Premier League.
"At least three-quarters of the clubs are full-time giving them a massive advantage.
"In 1980s terms, this is more like promotion into the Football League itself. Something that would have happened in 1985 had automatic promotion from the Conference been in place".
READ MORE: National League clubs already live hand to mouth – they'll fold without match day supporters
Wealdstone's hardships over the past few decades haven't just been confined to the pitch though, with the club also losing their original Lower Mead ground in 1991 due to financial difficulties.
The club then barely survived an ill-fated ground-share with Watford at Vicarage Road before spending 17 years as a nomadic club sharing with the likes of Yeading, Edgware and Northwood.
Salvation appeared to be on the horizon in 2004 when they identified Prince Edwards Playing Field in Canons Park as a site to develop and build a stadium to call their own.
However, protracted local council wrangling and later financial difficulties saw the project doomed with Barnet eventually moving onto the site.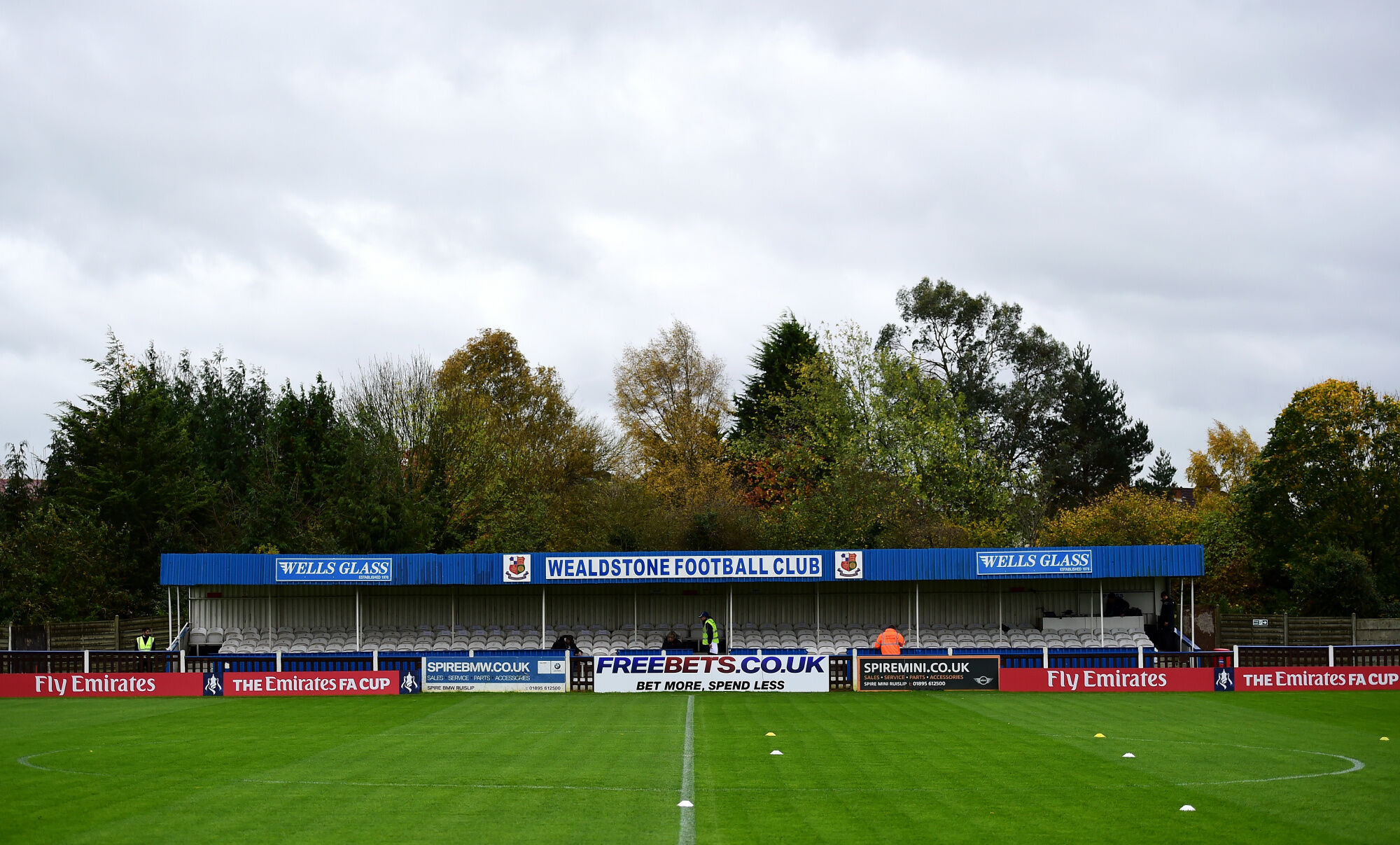 Wealdstone lost close to half a million pounds from the venture, having built around 70% of the stadium, only to see themselves back to square one.
It was only in 2009 the club found a place they could truly call home, moving into Grosvenor Vale – the former home of Ruislip Manor.
"Through all the ground upheaval with Barnet, Stones fans developed a 'them and us' mentality that has allowed the club to survive," reflects Parks.
"Those very same people identified the bankrupt Ruislip Manor FC as an option for redevelopment back in 2007.
"Manor's faded and falling-apart Grosvenor Vale ground was transformed, not with buckets of cash but with sheer hard graft, internal fundraising and a whole series of new stands and seating that has raised capacity to the 4,000 minimum for National League football.
"It is a real hotchpotch of a ground but we love it. It's not pretty but it is ours".
Perhaps it is the establishment of this semi-permanent home that has allowed Wealdstone to experience such a resurgence over the past decade.
And if their promotion back to the National League wasn't good enough, it seems the Stones are determined not to just make up the numbers this season either.
A fine start to the campaign sees part-time Wealdstone currently third in the table, having recorded famous victories over Wrexham and Chesterfield along the way.
READ MORE: Leyton Orient and Dagenham & Redbridge's fight for survival as coronavirus hits lower league clubs
Although games have been played behind closed doors due to coronavirus restrictions, Parks has been fortunate enough to witness the wins in his official capacity as commentator – a role he has only just returned to since working for LBC Radio in the late 80s.
"I can honestly say that commentating on the wins over Wrexham and Chesterfield this season, alongside pundits Robin Wainwright and John Morton (both ex-players) were a few of the best hours of my life," Parks said.
Although the majority of supporters remain locked out of the matchday experience it does not diminish what the club has achieved over the past few years, and continues to achieve.
The road to get back to where Wealdstone belongs may have been long and winding but now they're there they intend to cherish each and every moment – even if it has to be via an online stream for the time being.
All Wealdstone home games can be viewed via live stream on Wealdstone-fc.com.