8 min
The coronavirus pandemic has wreaked havoc throughout English football with games forced to be played behind closed doors and entire league seasons curtailed.
And whilst sympathy may be in short supply for the likes of Premier League clubs who can call upon inflated television and sponsorship deals for financial support, the same cannot be said for clubs lower down the football pyramid.
For these sides, match day fans through the turnstiles are their lifeblood which, in their absence, has resulted in many facing a struggle to survive since the mid-March lockdown.
For East London neighbours Dagenham & Redbridge and Leyton Orient, currently residing in the National League and League Two respectively, the past four months has not only been financially damaging from a match day income perspective but has also hindered other invaluable revenue streams.
READ MORE: What it's like to cover football in the coronavirus pandemic
"We have two separate businesses, the football and then the function suites and the bars," Dagenham & Redbridge managing director Stephen Thompson told London Football Scene.
"We closed everything down on March 16 when the National League suspended the season.
"Even before things started officially shutting down, we were already getting people cancelling functions.
"That weekend we had five functions booked and all of them had cancelled so I took the decision to close just to try and save money."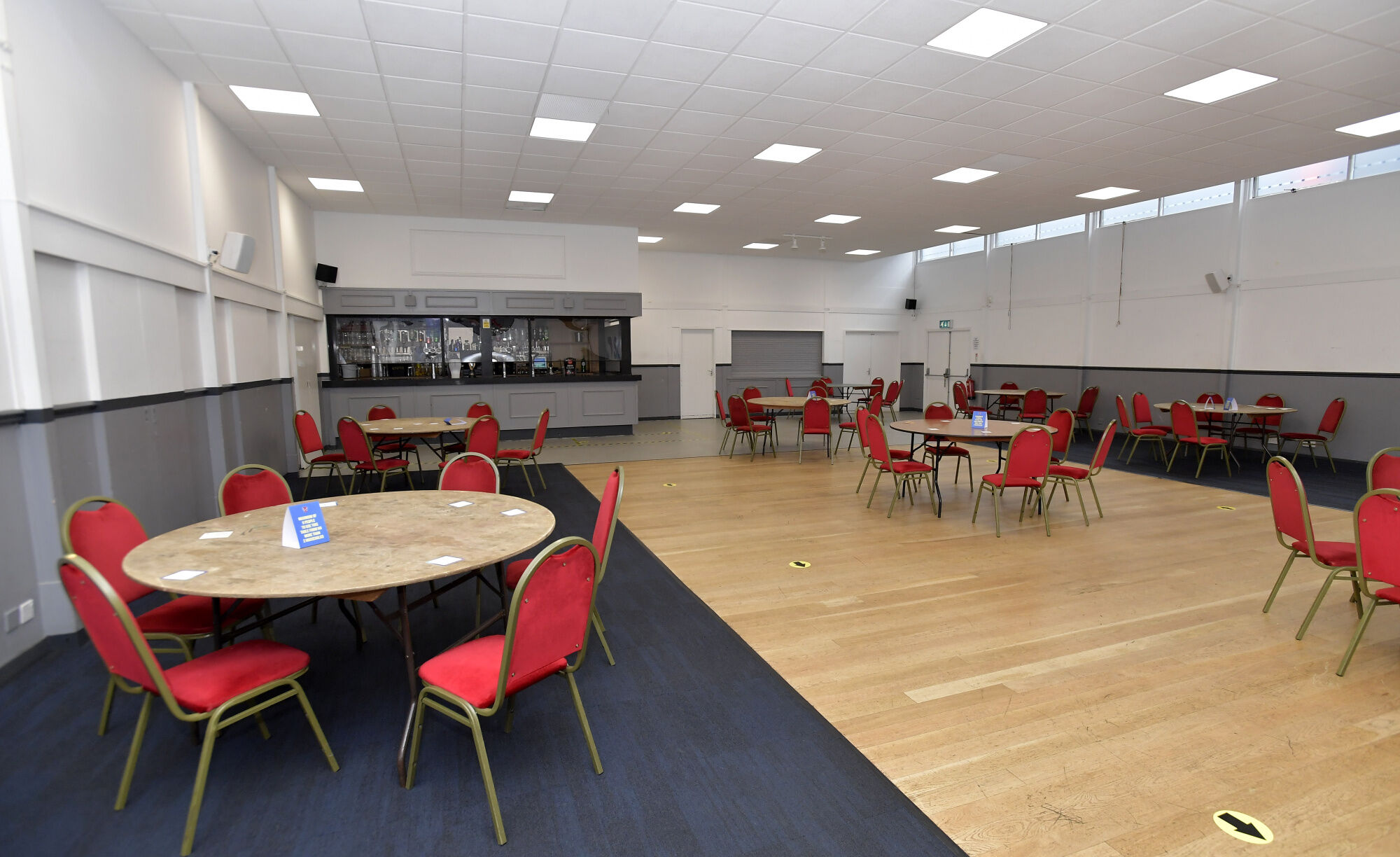 Working around the current climate and safety guidelines has proved tough but Leyton Orient have adapted better than most and, on occasions, captured the imagination of the nation.
The club's well-publicised shirt sponsorship with Harry Kane may have thrust Orient into the spotlight, but nevertheless, Chief Executive Danny Macklin admits the shutdown has been a struggle.
Speaking to London Football Scene, Macklin said: "The effect this has had on us financially has hit us hard.
"We're estimating the additional cash requirement from the break-out of COVID until the end of next season in June will be between £1.5m and £1.8m.
"We are blessed we've got an exceptionally engaged board and one which have very much got the best interests of the club at heart."
READ MORE: From Dulwich Hamlet to Brentford: Ethan Pinnock's meteoric rise through the leagues
Dining out underneath the Justin Edinburgh stand has proved to be another shrewd initiative – to date all three evenings of outdoor dining quickly sold out – so much so that Macklin reveals the idea is likely to become a regular summer occurrence going forward.
On the initiative, Macklin said: "We discussed within the team how we could get people back into the stadium safely and pitch side dining was one of the first things we thought of.
"We thought we've got one of the best assets and that people like to have a meal and it would be the first time they've ever done it pitch side at the Breyer Group Stadium."
In contrast, Dagenham are more restricted in what they can do in terms of generating new income and have had to make do with what help they've been given from the government.
The furlough scheme in particular is something which Thompson highlights as a 'godsend' for the majority of lower league sides.
"We received a £25,000 hospitality grant which came in really well and quickly. We got the £58,000 in solidarity payments which go to National League clubs.
"So those sums have helped us through the summer. All our players and staff agreed to take a 20% pay cut."
The Daggers also reopened their clubhouse at the beginning of July in line with refreshed government guidelines but sadly it isn't a realistic revenue stream with operations barely breaking even.
READ MORE: Hendon FC initiative aiming to fight mental health issues one goal at a time
The club generate the majority of their additional income outside matchday funds via functions and meetings – two operations which are still unable to be utilised at present.
"There's not an awful lot we can do [to further supplement revenue streams]," Thompson added.
"There's a league in East London that for a number of years have held some cup finals at our ground.
"They were due to play in May and have asked about rescheduling. I don't mind doing that in May a week before our season ends, but I'm not going to want to do that in August a week before we start our season."
"I'm not even certain we'd be allowed to do it. The restrictions around the use of the changing rooms – they'd be quite happy for someone to just sweep out the changing rooms before the next team come in.
"I'm not going to be able to do that – the changing rooms are going to have to be deep cleaned before you can let someone come in."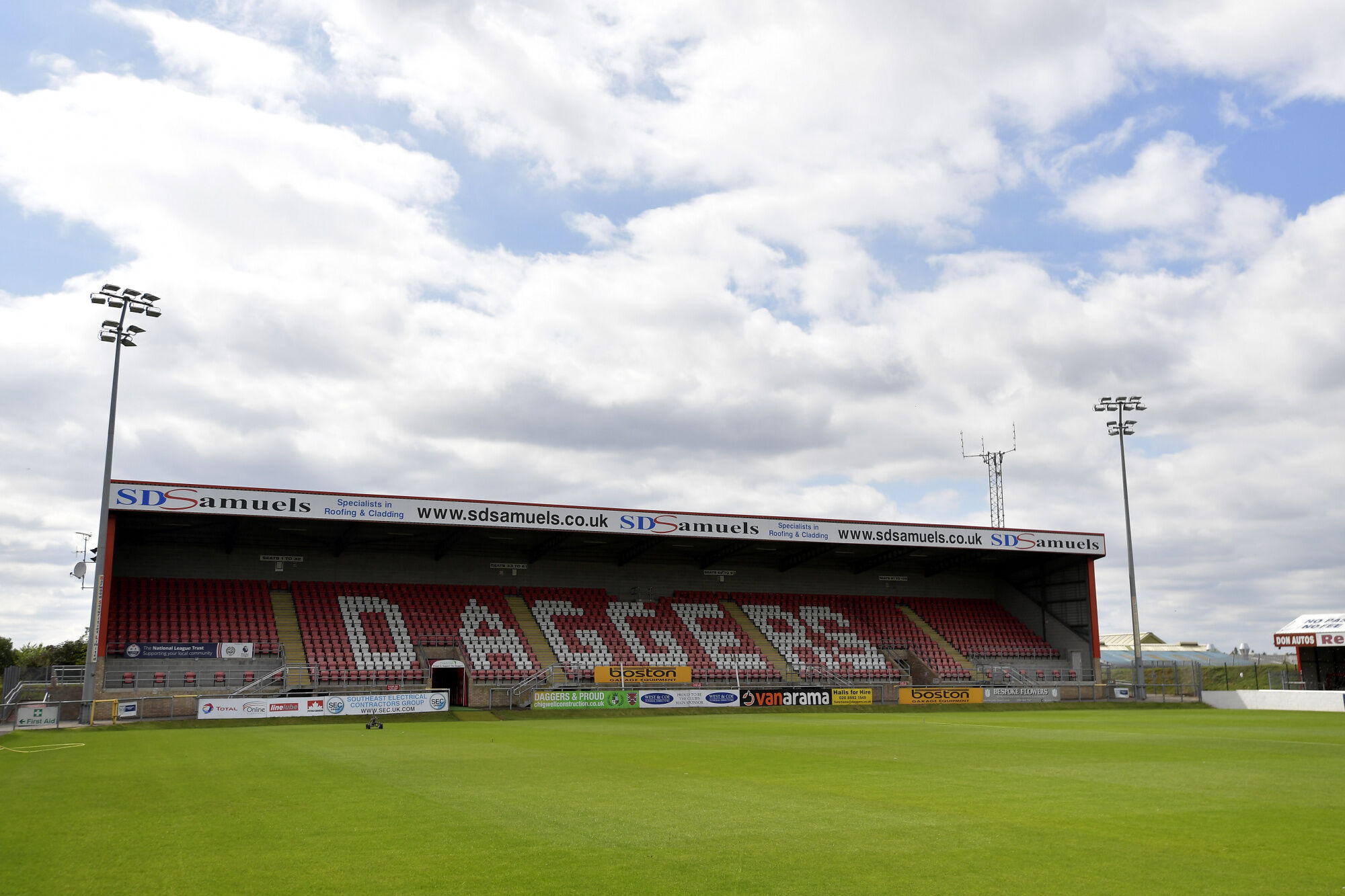 It's not a surprise that with Dagenham practically hamstrung in their hopes of generating additional revenue, Thompson feels the National League cannot resume without the presence of at least some spectators present.
It was announced last week the new season is set to commence at the beginning of October – which would coincide with the government's current plans for spectators to return to stadia in some form, even if it means proceeding with reduced capacities.
"Most National League grounds will have a minimum capacity of 5,000 people. So, if they were at 40%, that's probably more than their normal gate anyway.
"But you're still not going to be as profitable. You're not going to have as many of them allowed into bars because of restrictions, you're not going to have hospitality and it's probably going to cost clubs extra money to put in safety measures."
Another problem the Daggers could face on the return of fans through the turnstile is the fact almost 30% of their season ticket holders are over 65, a figure not uncommon for non-league clubs but without a vaccine before October will present further problems.
It's another unplannable circumstance clubs will have to try to account for, with the uncertainty stretching on to the pitch with a subdued transfer market.
READ MORE: Could Barnet emerge as the biggest winners from the National League's drawn out coronavirus saga?
"People aren't signing anybody at the moment," Thompson said. "The majority of people that have been signed are players that have been re-signed by their existing clubs – so those players will continue being on furlough. You haven't seen many new signings at the lower levels. "
"I'm hearing stories of players being signed with contracts where payments are only beginning from six weeks prior to the start of the season. Six weeks is generally recognised as a pre-season.
"I think it's fair that full-time players should get paid for the pre-season, but it's difficult to sign players now and pay them when you're not potentially playing until October."
Although Dagenham aren't expecting to be notably affected in their playing budget as a result of coronavirus, Thompson does however concede there may be one or two compromises.
"It may be that we look at the numbers or how it's spent – maybe there are one or two players that we might have kept but decided not to because we want to spend that money somewhere differently. We might have to be a little bit more creative."
It's hard not to get the impression that Dagenham won't be the only club forced to be a bit more creative in how they cut their cloth as football tries to rebuild after the pandemic.
Perhaps Macklin sums it up best when he explains how Orient have tried to make the most of the unfortunate circumstances to help reset for the future.
"What we've really wanted to do – and we've said from the start of lockdown – is to use this time to not just survive, but to strive and thrive.
"By that we mean that we want to come out of this, both on and off the pitch, as strong as we possibly can and stronger than when play ended in March. That still remains our stance.
"We haven't left a stone unturned, from a playing point of view or away from the pitch.
"This was our opportunity and I think we've taken it. The problem with COVID clearly hasn't gone away yet and we've now got to move on to the next stage of making sure we become a successful and sustainable football club."
All photos provided with thanks and courtesy of Leyton Orient and Dagenham & Redbridge.