8 min
Nestled amongst the rugby heartland of Twickenham, a short walk along the Thames from Hampton Court Palace lies Beveree Stadium, the home of Hampton & Richmond Borough FC.
Even the ground appears apologetic in its location, tucked away off Hampton High Street with only a signpost indicating its existence while the ground itself is surrounded by a wall of trees.
Described as 'a perfect example of a community club which relies on it's fanbase and volunteers to stay alive', clubs like Hampton & Richmond are the lifeblood of English football with this weekend's FA Cup First Round an opportunity to not only showcase but financially support them as well.
"People talk about the FA Cup losing its charm but I can tell you that's certainly not the case at our level – it's still the competition you want to progress and do well in," Hampton & Richmond Borough chairman Jacques Le Bars exclusively told London Football Scene.
"You've just got to look at clubs like Sutton United who made huge amounts of revenue with one good FA Cup run – they probably made about a million pounds from it.
"If you get up to those sorts of levels you are talking about funding the club for the next five years, so it's hugely important."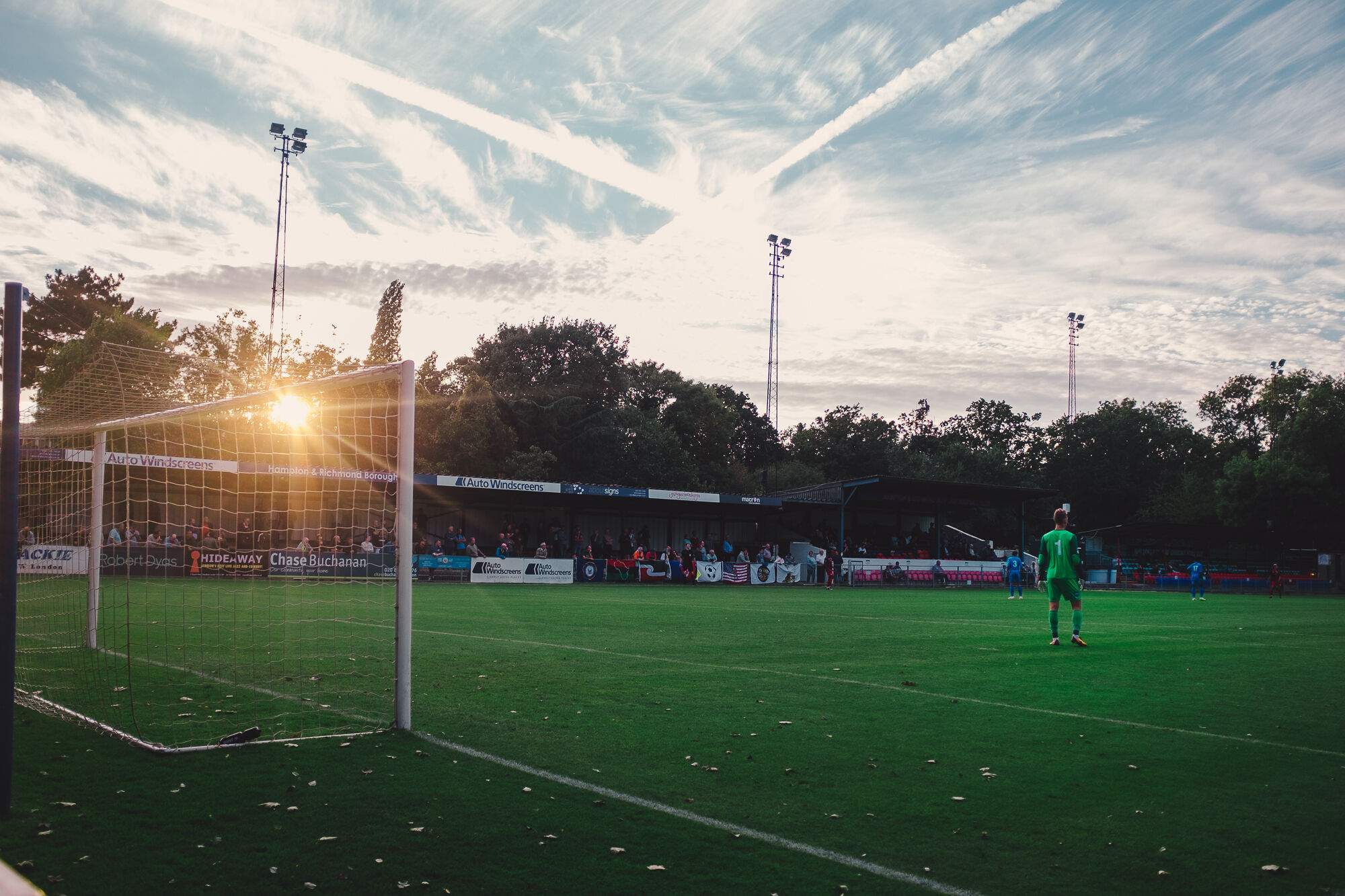 League Two strugglers Oldham Athletic stand in the way of the National League South side in what Le Bars describes as a 'massive opportunity' to progress to the Second Round for the first time in the club's history.
In a weird quirk of fate, Sunday's encounter is an exact re-run of the last time Hampton & Richmond reached this stage of the competition back in 2018 when they lost 2-1 to the Latics.
But while that fixture was played out in front of a crowd of 3,500 fans under the floodlights with a national TV audience watching along at home, this time, with the country in lockdown it will be played behind-closed-doors and consigned to the BBC's Red Button service.
READ MORE: National League clubs already live hand to mouth – they'll fold without match day supporters
Add to that the fact the Football Association decided to significantly reduce the prize money on offer for clubs this year then it is little wonder why Le Bars describes the occasion as 'a double-edged sword'.
"Two seasons ago at the same stage, with a capacity crowd, BT Sport and the BBC present, the ticket money, money through the bars, concessions and club shop meant the revenues were pretty substantial.
"The game on Sunday, although it will be against exactly the same side at the same stage, the finances will unfortunately be nowhere near the same.
"You're talking about probably missing out in the region of £80,000, maybe even up to £100k if you compare the two games..
"It's a pretty hefty financial blow without doubt, especially when the revenues are already down due to coronavirus – it really impacts."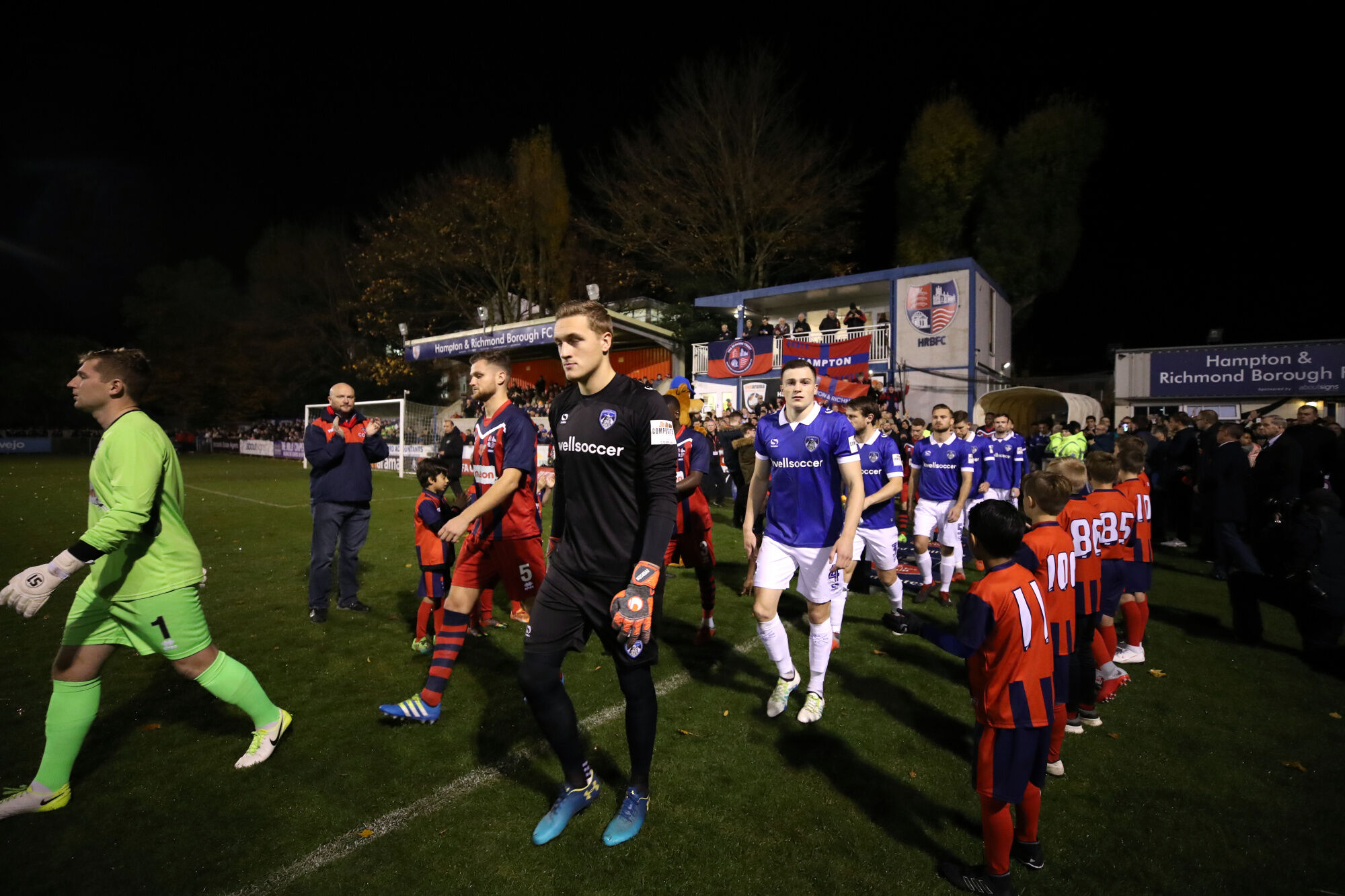 On the pitch, what could occur is a similar soulless showing that has beset games throughout the footballing pyramid since the game resumed behind-closed-doors earlier in the pandemic.
The lack of matchday fans, particularly on occasions such as Sunday, is something Le Bars is extremely aggrieved about – especially when considering football, an outdoor activity, appears to have been victim to tighter Government restrictions during the pandemic than indoor events.
"Our players have struggled to play games without fans because most of them buzz off the adrenaline, the crowd and the noise," Le Bars added.
"It's been evident throughout the whole league system – it's just not enjoyable without fans. It's soulless and like being at a training game.
"If we turn Oldham over on Sunday it would be massive but there will be no-one there to see it, no-one able to respond to it.
"The mind boggles at the hypocrisy that before lockdown you could go indoors for some things but couldn't be outdoors for a football game – especially when clubs like us spent a lot of money, time and effort putting Covid restrictions in place to make it as safe as possible.
"To me, football is all about the fans and without them it becomes pretty pointless."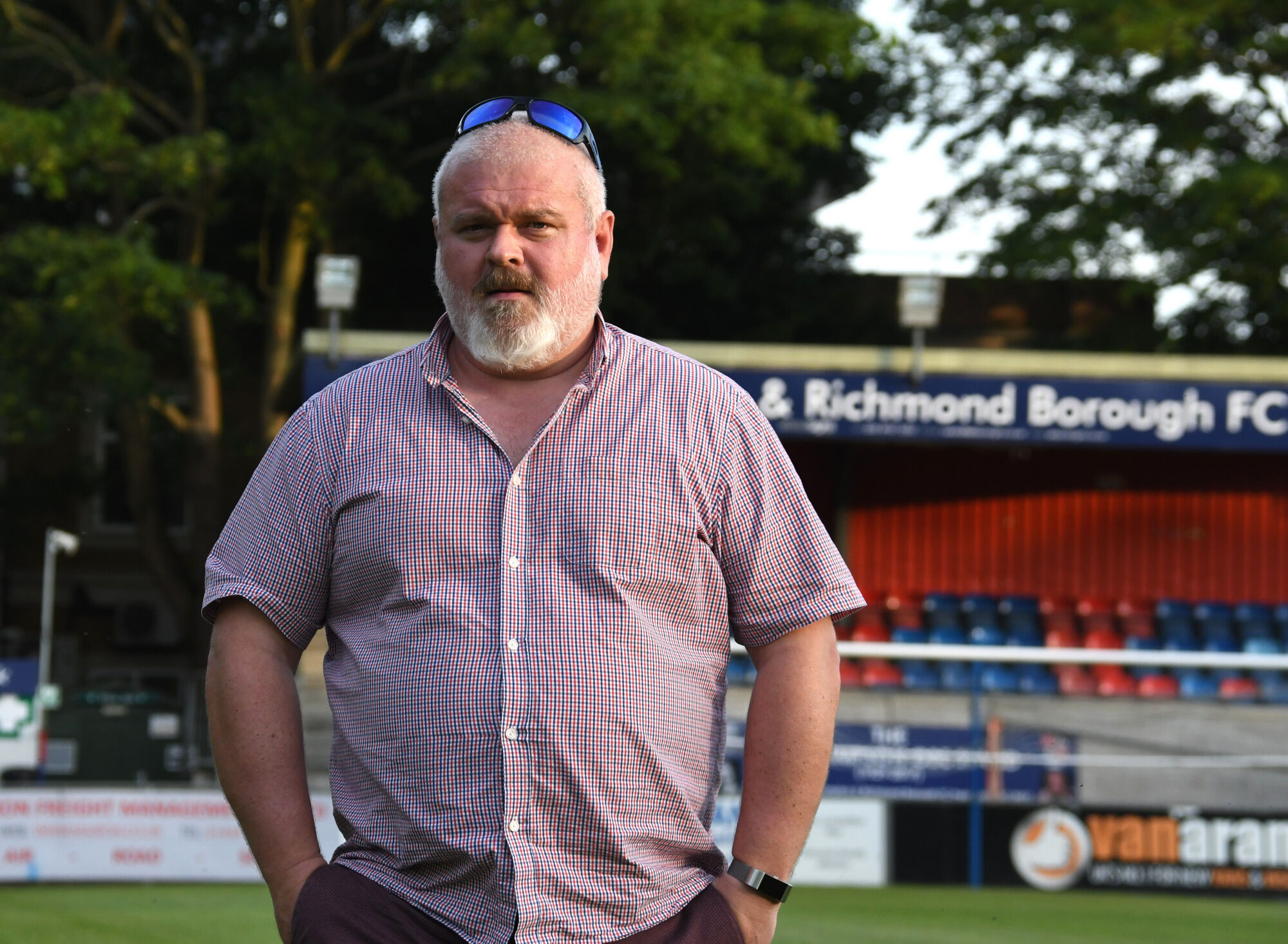 Nevertheless, the chairman remains grateful to the Government for the £10m non-league bailout that has been provided as part of a unique partnership with The National Lottery.
And Le Bars warned those dissenting clubs complaining around the grant's uniform distribution that doesn't take into consideration clubs' average gates or whether they are full-time or part-time, just to appreciate that any rescue package has been provided at all.
Le Bars said: "I understand why some of the bigger clubs are unhappy with the allocation they have got.
"However, this is not about supporting playing budgets or funding player purchases – this is about clubs surviving and I think a lot of the bigger clubs are self-serving.
"They just want a bigger piece of the pie because they want to grow their own interests.
"Of course, that's how football is run now, as a business even at our level, but it shouldn't be at the detriment of smaller clubs. It's out of order.
"It's not easy for a small club like ourselves to survive on a small gate – it's hand to mouth. So to try to take away some of that grant money from clubs that really need it is unfair.
"Also, the amount of time it would take to properly investigate on a club-by-club basis exactly what each club should get would take too much time – clubs need the cash now.
"Let's just be thankful for the money we are getting and not bite the hand that feeds us."
Either way, with a core support base of around 500 to 600 fans, Hampton & Richmond have always had to be financially frugal with Le Bars helping oversee an entire root and branch overview when he first joined the club as vice-chairman in May 2017.
Money has since been spent on infrastructure such as renovating terracing and the main stand which culminated in the playing budget being cut even further prior to Covid.
The club has also utilised its geographical position of neighbouring the likes of Brentford, Fulham and QPR to attract a number of released academy players and breathe new life into their individual careers.
The club's greatest strength though remains their loyal tight-knit community of supporters who may not be in attendance at the weekend but their presence will definitely still be felt.
A '12th Man' fund was set-up prior to Covid to boost the limited playing budget with any money raised by supporters going directly towards strengthening the squad.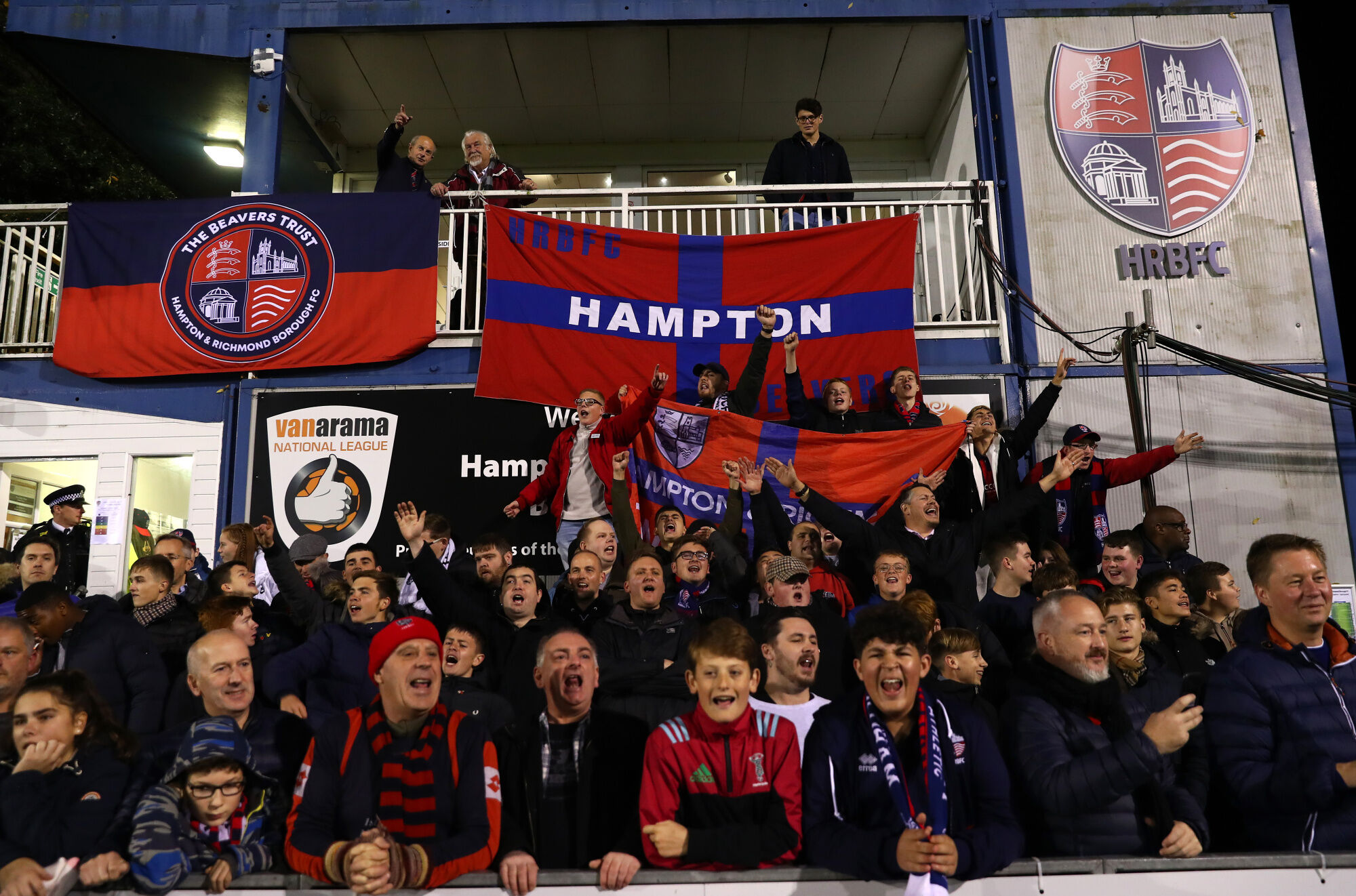 Meanwhile, £10,000 was also raised through a Beveree Stadium naming rights competition whereby fans could win the chance to name the ground with the purchase of a £10 raffle ticket.
"That is the level of support we are getting from our loyal fanbase, they are just amazing," Le Bars said.
"The stadium naming rights idea was really a no-brainer for us. We hadn't really seen it anywhere else and it seemed like a risk-free idea.

"It allowed us to get out to non-Hampton fans as well and I think that is something that really attracted us to doing it. There's an opportunity for football fans and businesses everywhere to get publicity for a tenner.
"It's a great thing and something I think we will continue to do year-on-year because it's fun, a good income generator and pretty unique to us.
"These initiatives really give fans the opportunity to make a difference and that's a huge part of what non-league football is about and how football should be played.
"It's all about the connection with the fans and them knowing their money is really helping the club."
READ MORE: Leyton Orient and Dagenham & Redbridge's fight for survival as coronavirus hits lower league clubs
Reflecting on the previous clash with Oldham, Le Bars admits to a 'little bit of naivety at the time' as Hampton & Richmond conceded two late goals to be dumped out of the competition.
However this time there is a real sense the club is more prepared than ever, both on and off the field, regardless of what the future may hold but, nevertheless, it doesn't stop Le Bars and the club dreaming.
"I'd definitely take Manchester United away at Old Trafford in the Third Round", he laughs.
Maybe, just maybe – it is the FA Cup after all and non-league football does need a bit of magic at the moment….
Special thanks to Hampton & Richmond Borough for providing stadium images of Beveree for this piece.