8 min
Sitting next to me, on the coldest day of the year so far, wrapped up in several layers and clutching a cup of tea, is a mum.

She and I are huddled in the stands of Hendon FC's Silver Jubilee Park and she turns to me and says, "It's cold but Jason* loves it, so I come and watch.

"It's one of the few times I see him like this, at home he gets very depressed."

Jason and a group of other men are laughing at a tackle one of them attempts on the pitch, and they look like any other football team.

But delve into their past and the stories are somewhat different.

Most of the men, aged 20-35, are there because they have been referred by Brent NHS as part of mental health treatment.

Initially, they would have been encouraged to carry out "physical exercise" and this community team, set up by Hendon FC as a mental health initiative, is where they have come to – and feel most comfortable.

It's impossible to talk about the project without mentioning its founder Richard Hay, a support worker for Brent Mental Health Services who began the venture in the summer of 2017.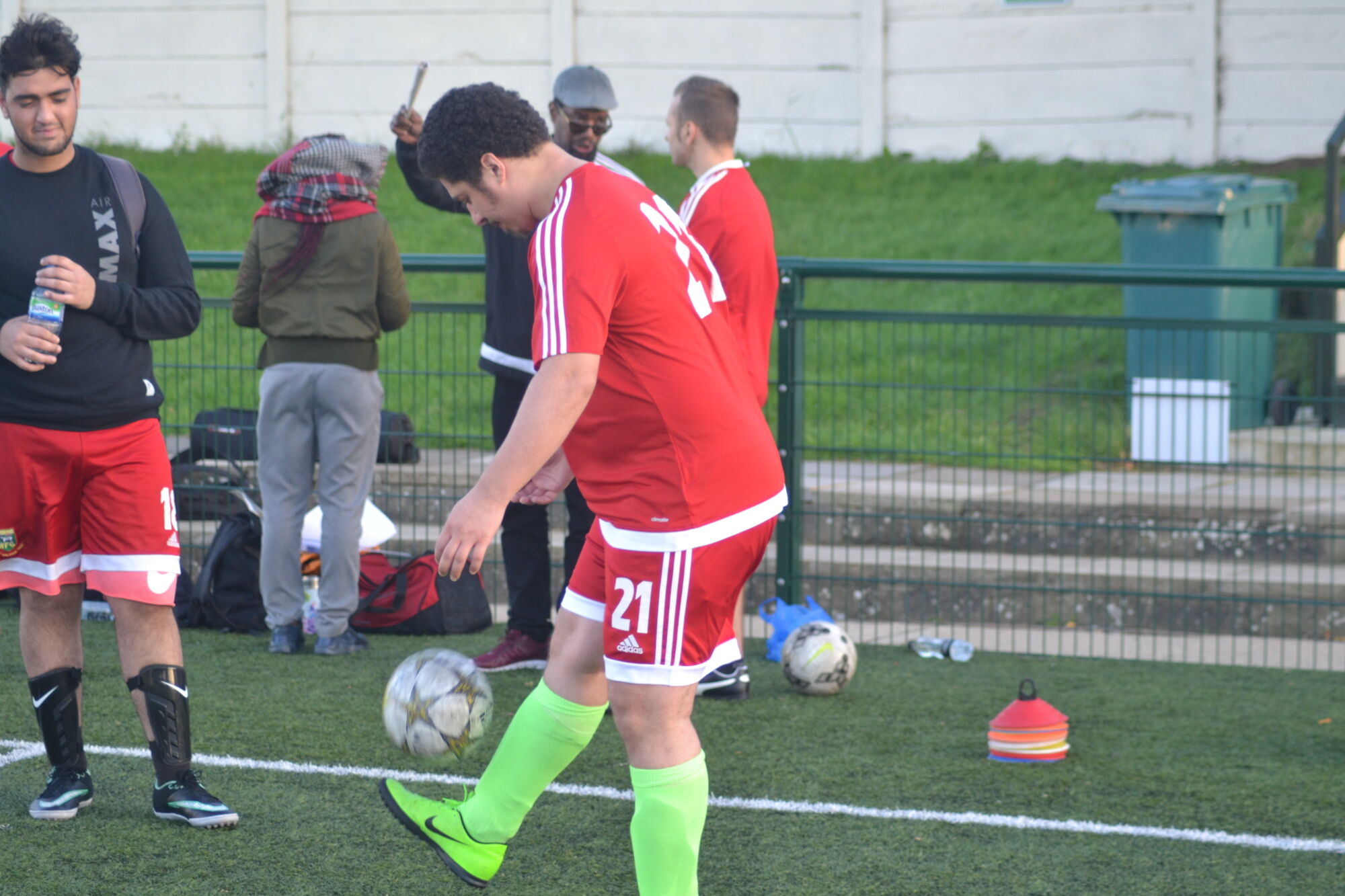 Working in the sector for 19 years, Richard began noticing people's referrals for exercise were on the increase – and after Hendon agreed to help, the attendance went from four people on the team to the current 45.

Richard is overseeing the session, as he always has done, and directs the players on how to set up the nets before taking a seat with us.

"You've just missed two of them who have gone back to university now, one at Cambridge," he says.

"This group is so talented. That one running there, he's an ex-gang member who got into all sorts of trouble and admitted he was a menace. He got in a bad way but now, he's here.

"That one pushing the nets into place? Didn't say a word when he first joined, was shivering all the time. He's actually going to be leading the warm up, just look at him."

"One person's mental health means everyone's affected, from family and friends to people in the neighbourhood…."

Richard Hay
There was no doubt Richard knew every single one of their stories. It was evident in how they admired him.

"When I started this group, it was all about community," Richard explains.

"One person's mental health means everyone's affected, from family and friends to people in the neighbourhood feeling like they need to lock their doors tighter because it's a threat.

"It's everyone's responsibility so I wanted to set up something that brings it all together."

Most of the group had already led a lifetime of complications and had finally taken the step to seek help, mainly for psychosis-related illnesses.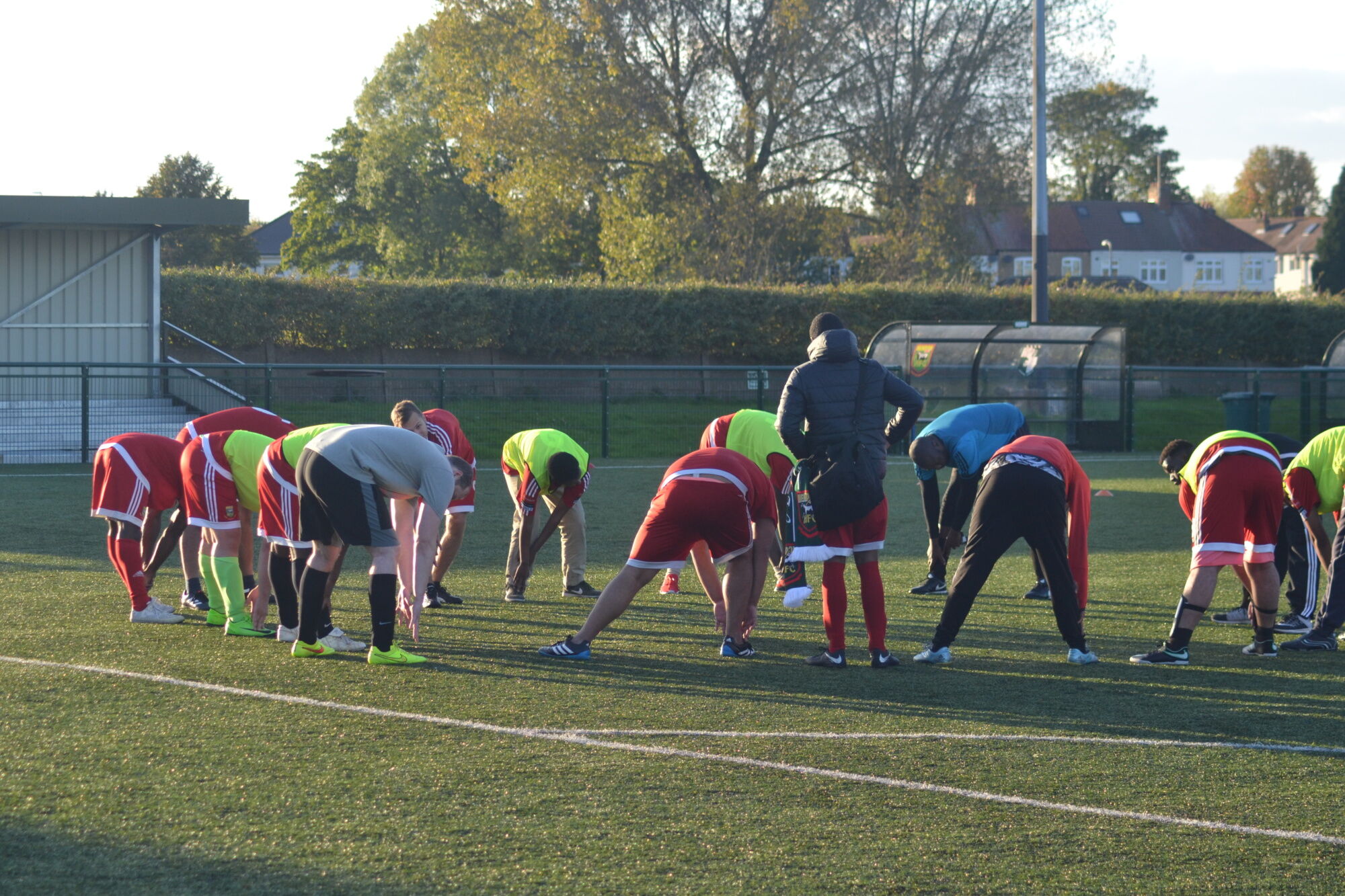 But it's not just about football.
Once you sign up – and it's voluntary – the involuntary part is agreeing to attend other sessions designed to improve your health – be it quit smoking, drugs or trying to build up skills to eventually find employment. This team is often the first step.

"I want people to see what I see, they're such a skilled group of men," says Richard.

"Right from drawing and the arts, to modelling, football coaching, mathematicians, we've got it.
"But our first and main thing, is to give them somewhere to go where they can build up who they are again through something they love."

And love football they do. For 20-year-old Jahanzeb*, who has been coming since the team first began, it has changed his physical health entirely.

"I've lost a lot of weight since joining, it helps a lot," he tells me during their water break.

"I know it's not easy for men to talk about all this stuff, but you've got to muster up the courage and start playing – even if you're out of shape, there's always a position for you, even if it's to sit in the stands sometimes to watch."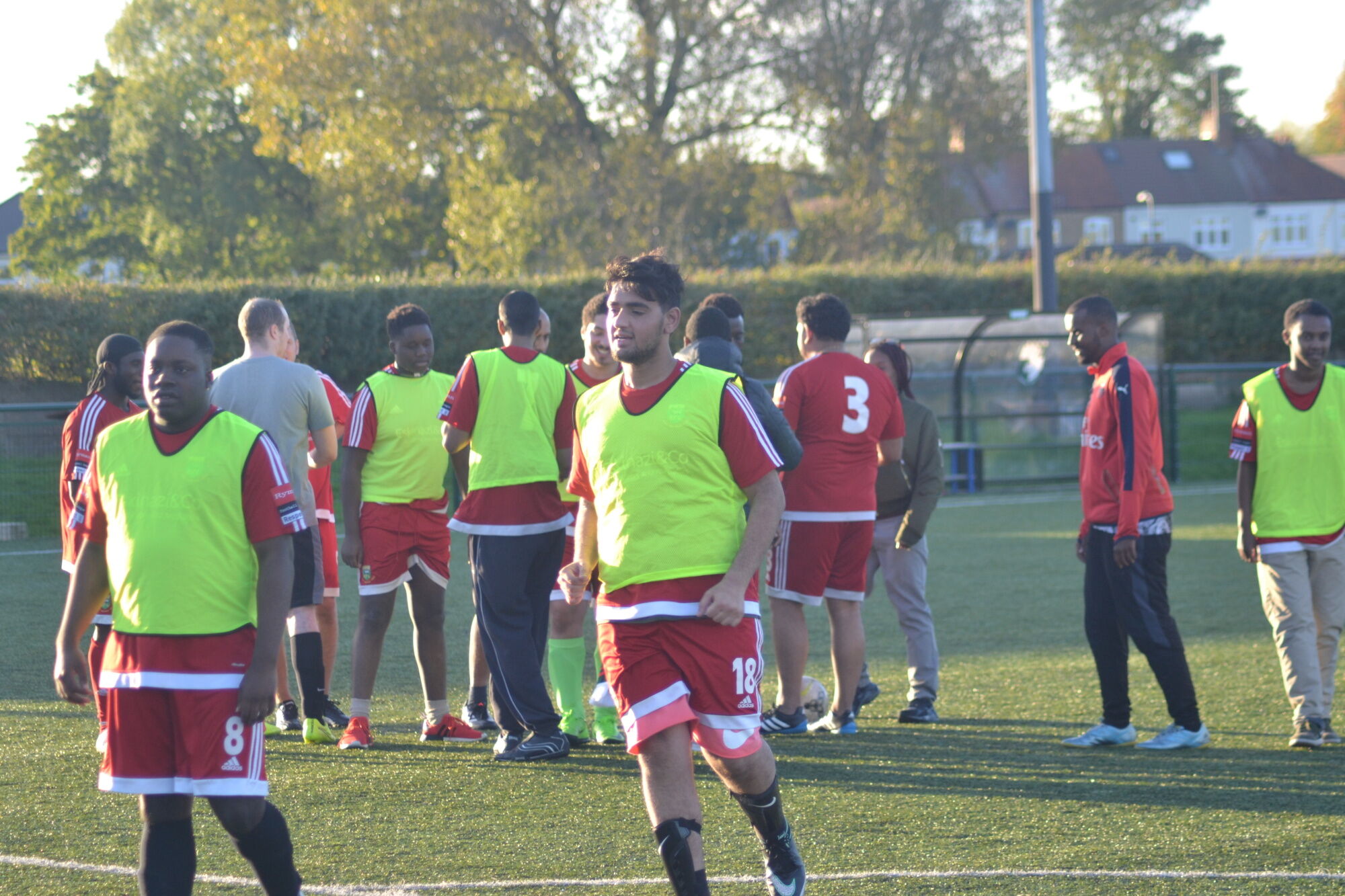 Jay*, 31, nods in agreement. "It's football, it's something everyone has in common.
"I wasn't leaving the house for weeks except to buy some food before I came here. But just last month, we all went to the cinema together."

Amidst the cheering and yells of "over here", Muse*, 27, one of the long-standing attenders, sits in the stands and talks about the team.

"We understand each other. Sometimes when someone's really tight, all tense and clammed up, we'll say it's OK, it's just the medication, you'll be alright."

Muse was diagnosed with PTSD and has since been attending the community team.

"I love football. You feel like a zombie because of meds, but it's the game. You give it a chance because you love it."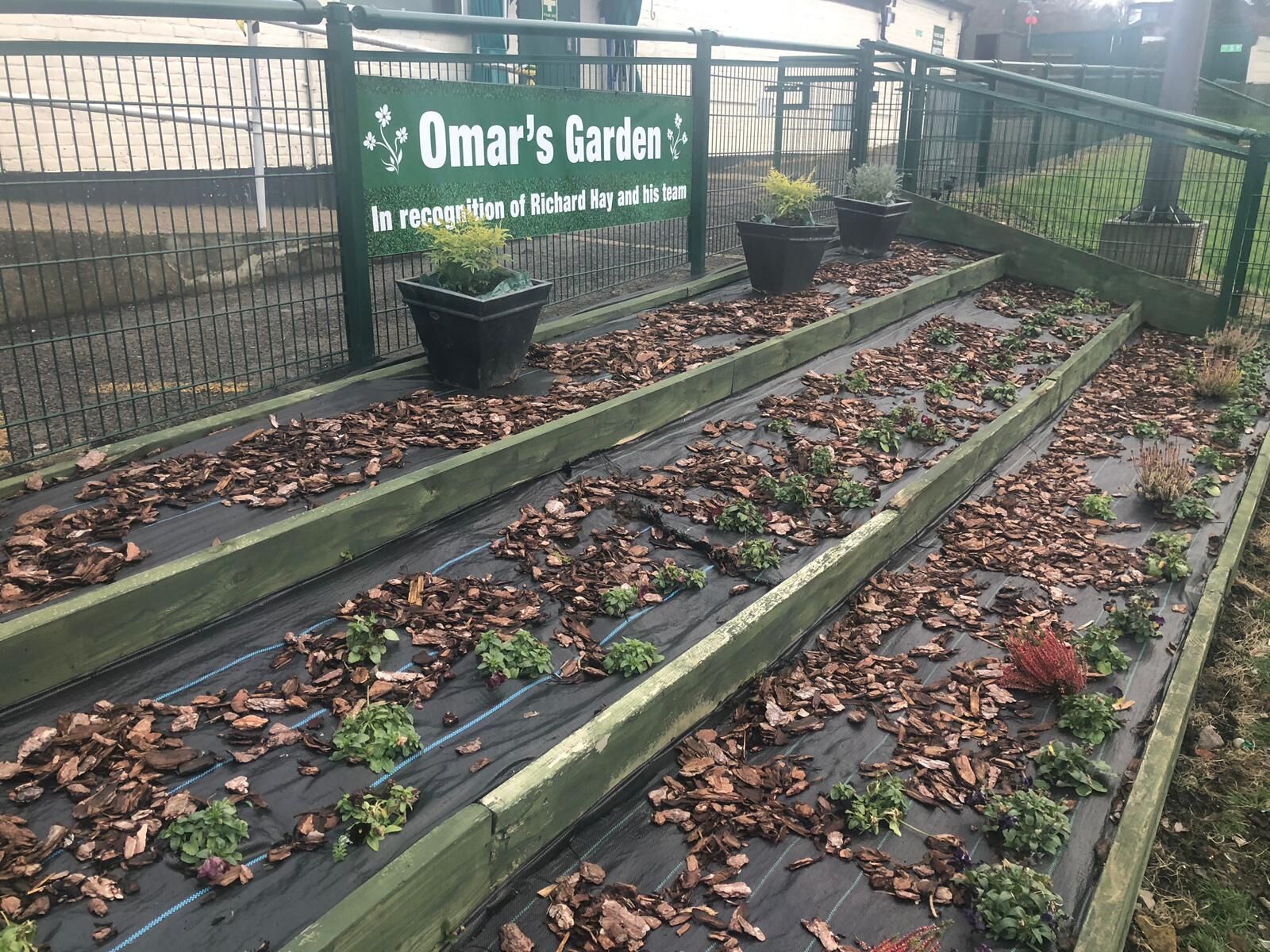 Richard gives me a quick tour of the grounds where a garden for one of the players has been created, explaining how Hendon FC have taken huge steps in the right direction.

Those who attend the session are eligible for the free tickets scheme, which was launched by the Southern League team following the death of 56-year-old Dermot Drummy, one of the club's cherished players, who took his own life.

Described by club chairman Simon Lawrence as a bubbly character who made over 280 appearances for the club, Drummy's suicide sent ripples of shock through the local footballing community, with the club taking up the challenge of tackling mental health illnesses.

Speaking to London Football Scene, Mr Lawrence said: "If we can make a difference to even just one person, that's a start."

It is clear that with the combined efforts of the club, Richard and team members themselves some have undergone incredible transformations.

"It's not always good news," says Muse. "We had a friend who went over to the dark side recently and we lost him.

"Other times, it's hard because we see some team members for a few hours, before remembering they have to go back into a sectioned hospital straight after.

"But it'll get there, look how many people are here now."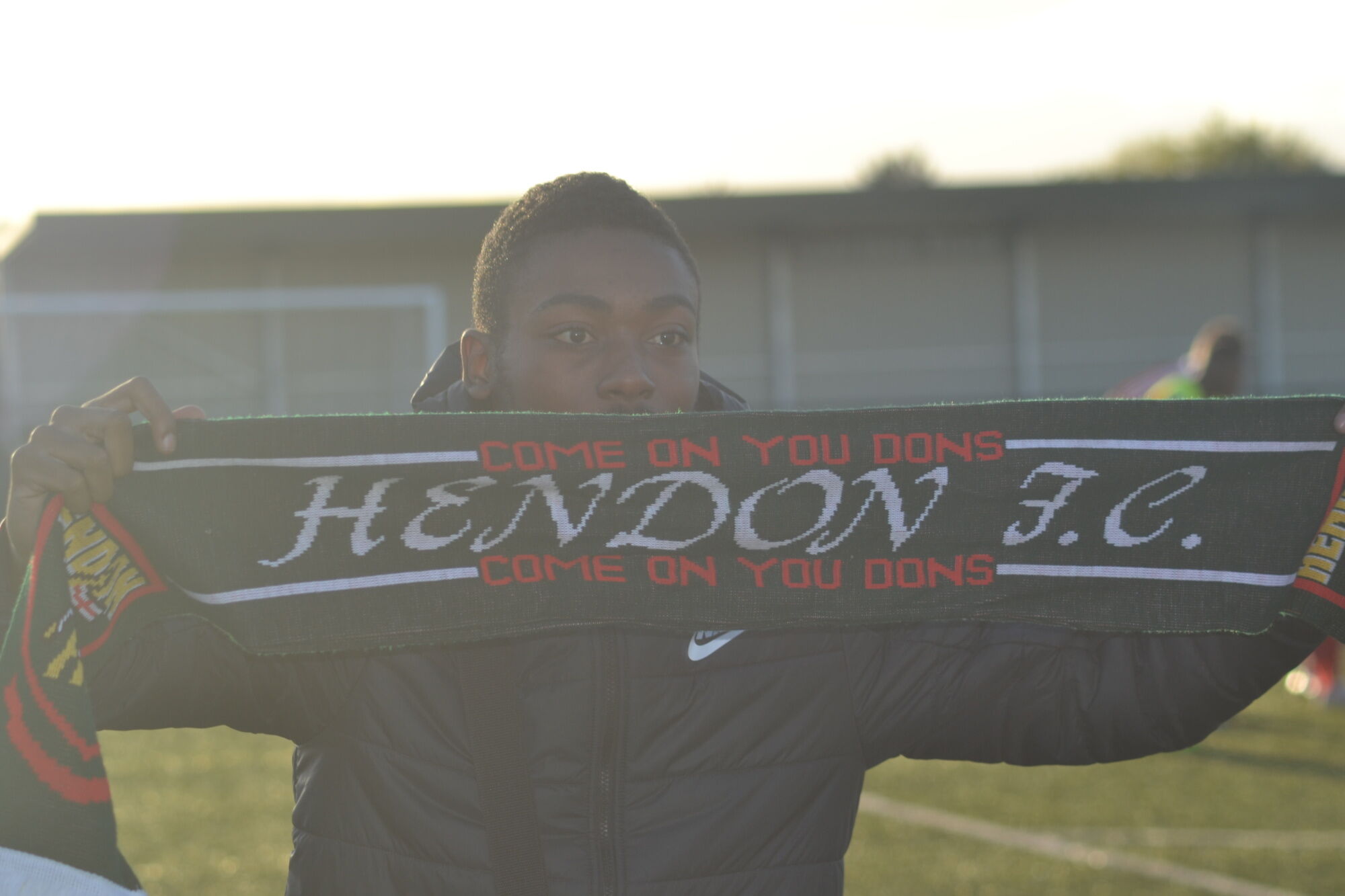 The team now receive funding from the Wembley National Stadium Trust and have also applied for additional funding to create a dementia cafe on-site.

In spite of their conditions, the team are positive about the changes they can embrace – and go on to inspire others to carry out their own development.

A spokesperson for Hendon FC said: "I think this club's project can serve as a model for other teams to follow suit.

"We are in the process of starting new sessions in Enfield and Barnet, and we will follow Hendon's example in developing these sessions.

"All those involved are an absolute inspiration in the community, and this is what led to the project being named Middlesex FA Community Project of the Year for the 2017/18 season.

"We this provides additional opportunities to play against teams from other parts of the capital and beyond."

"We all must do more to help. All of this helps so much"
Richard is proud as I mention these achievements, but says there are still a lot of barriers. Poor housing, lack of family support, not being able to fend off peer pressure and loneliness are just some of the things Brent NHS believe young people are up against in their mission to reduce mental health referral rates.

"Not to mention the labels and stigma that come with saying you are suffering from psychosis," he adds.

As I sit with my coffee warming my hands, Jason's mum leans in and says, "I'm glad you're here, you must come again. We all must do more to help.

"All of this helps so much, he comes home with a smile on his face because now, he has friends to protect him."
The goal slides past the goalie and into the net. We both get up and cheer. And the rest of the team erupts into applause, not because it's their side, but because they're all one side.
Fighting mental health, one goal at a time, together.
*last names have been withheld for privacy reasons.

In the UK, Samaritans can be contacted on 116 123.
The Hendon Football group started late June 2017 and run every week on a Thursday afternoon from 3:30pm to 5:30pm.