7 min
It should have been one of the most enjoyable results in Millwall's recent history as the Lions swept aside Everton 3-2 in last season's FA Cup Fourth Round.
Yet for the club and Chief Executive Steve Kavanagh it quickly turned sour as footage emerged on social media of racist chanting from the home end, dragging the club into the spotlight for all the wrong reasons.
It created a media storm of accusations, namely the football club as a whole was racist as well as Kavanagh himself – sweeping generalisations that not only hurt but could not be further from the truth on both counts.
And although the club were ultimately fined £10,000 by the FA and told to "implement an action plan" to prevent it happening again, Millwall and Kavanagh, reeling from the incident and false claims, were determined to do even more to prove the doubters wrong.
READ MORE: This 'Typical Millwall' tag has to stop

"Looking back, it was a frustrating and tough time for everyone at the club," Steve Kavanagh exclusively told London Football Scene.
"The fine was probably unfair because arguably our procedure on the day and response to it was top class, which the authorities actually recognised.
"The fans self-policed that day. The problem was that they didn't actually report it which meant we couldn't deal with it and that became the issue.
"People talk about fines but I don't think a club should be fined for this sort of incident. What they should be made to do is to invest money in their procedures, processes, CCTV or whatever.
"For instance, where has our FA fine gone? I have no idea, it's in a black hole somewhere.
"But in reality we shouldn't focus on the fine as it's about executing the action plan and moving forward with it."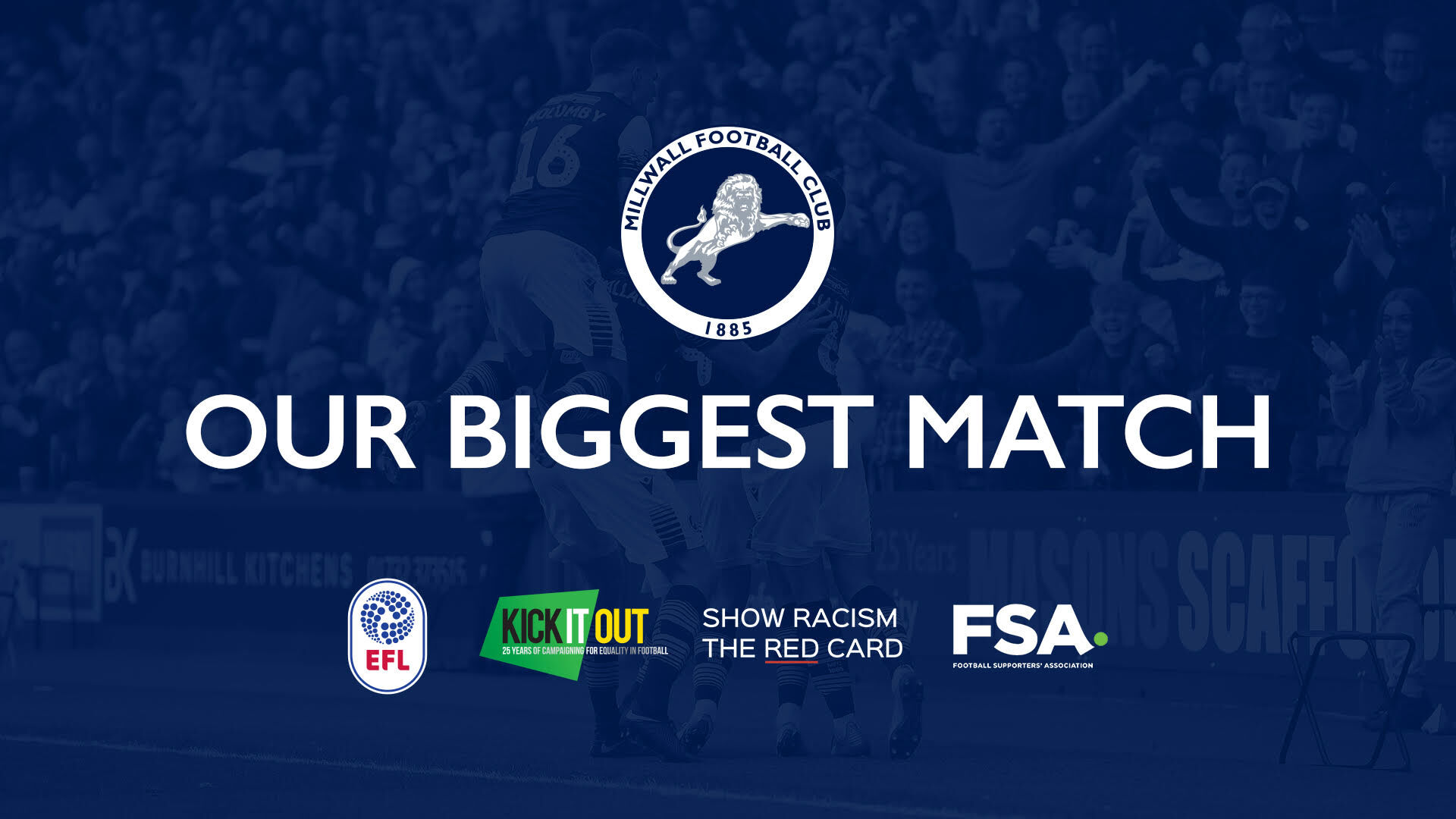 A mark of the character of any organisation or individual can be measured by how they deal with adversity with Millwall and Kavanagh not only executing the FA's action plan successfully but going above and beyond the pre-requisites with the inception of 'Our Biggest Match'.
This club-led conference, held earlier this week, saw over 50 EFL clubs, campaigning organisations and media personalities come together for a racism and anti-discrimination conference at Millwall's The Den.
"After Everton we went through a very rigorous root and branch review within the club of how we deal with things and how we address matters," explained Kavanagh.
"I challenged my staff and they challenged me and we quickly realised from an operational perspective we were miles ahead.
"But in other areas such as community engagement we realised from other clubs we were behind or not where we should be.
"So 'Our Biggest Match' is about getting clubs together to share best practice amongst ourselves and to learn from each other as well to make sure we are all at the top end of our game."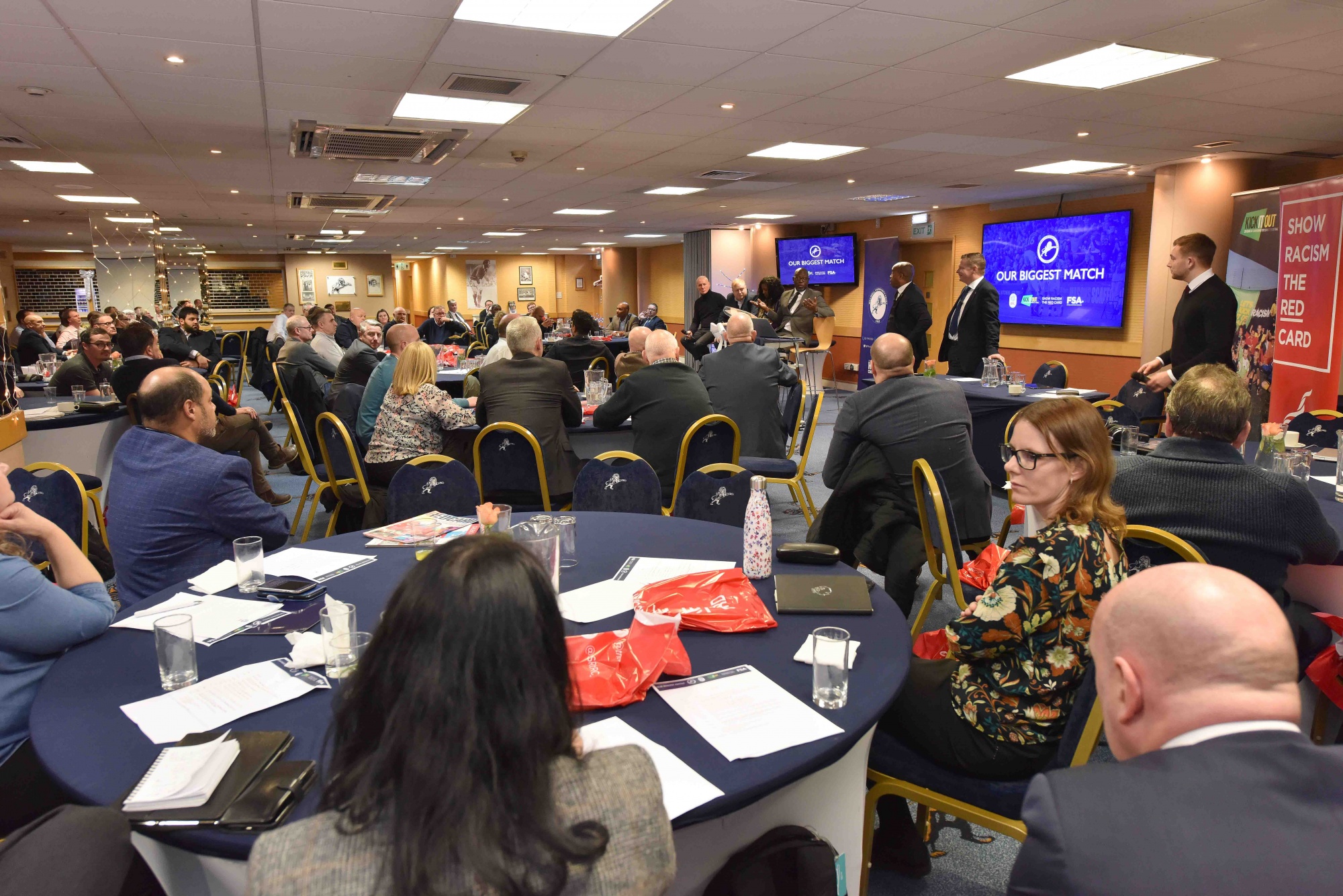 'We have to make a stand for real change'
Working in partnership with Kick It Out, Show Racism the Red Card, Fans for Diversity, the Football Supporters' Association (FSA) and EFL, 'Our Biggest Match' saw all aspects of racism and discrimination in football discussed.
And not only was Millwall's conference a demonstration of unity of clubs but also a call to arms for governing bodies to do more themselves.
Kavanagh said: "It's clear no-one wants discrimination in the game but like it or not it's here. It's alive and we have to acknowledge the situation and take a stand if we're going to make real change.
"When we made it clear we were putting on this club-led event it provoked a reaction and made others step-up and heavily support us.
READ MORE: Millwall announce anti-discrimination conference at The Den

"It's about creating a platform for clubs to share best practice and get communication going while, in turn, challenging the authorities as well.
"For instance, the FA has a masterclass on pyrotechnics but not on discrimination. Although fireworks at games are important, why are we so worried about this when discrimination is so prevalent?
"There seems to be this reticence that it's a difficult subject people want to shy away from.
"What we have done is set-off on a trajectory that hopefully will gather more pace and show that the football family stands united against discrimination."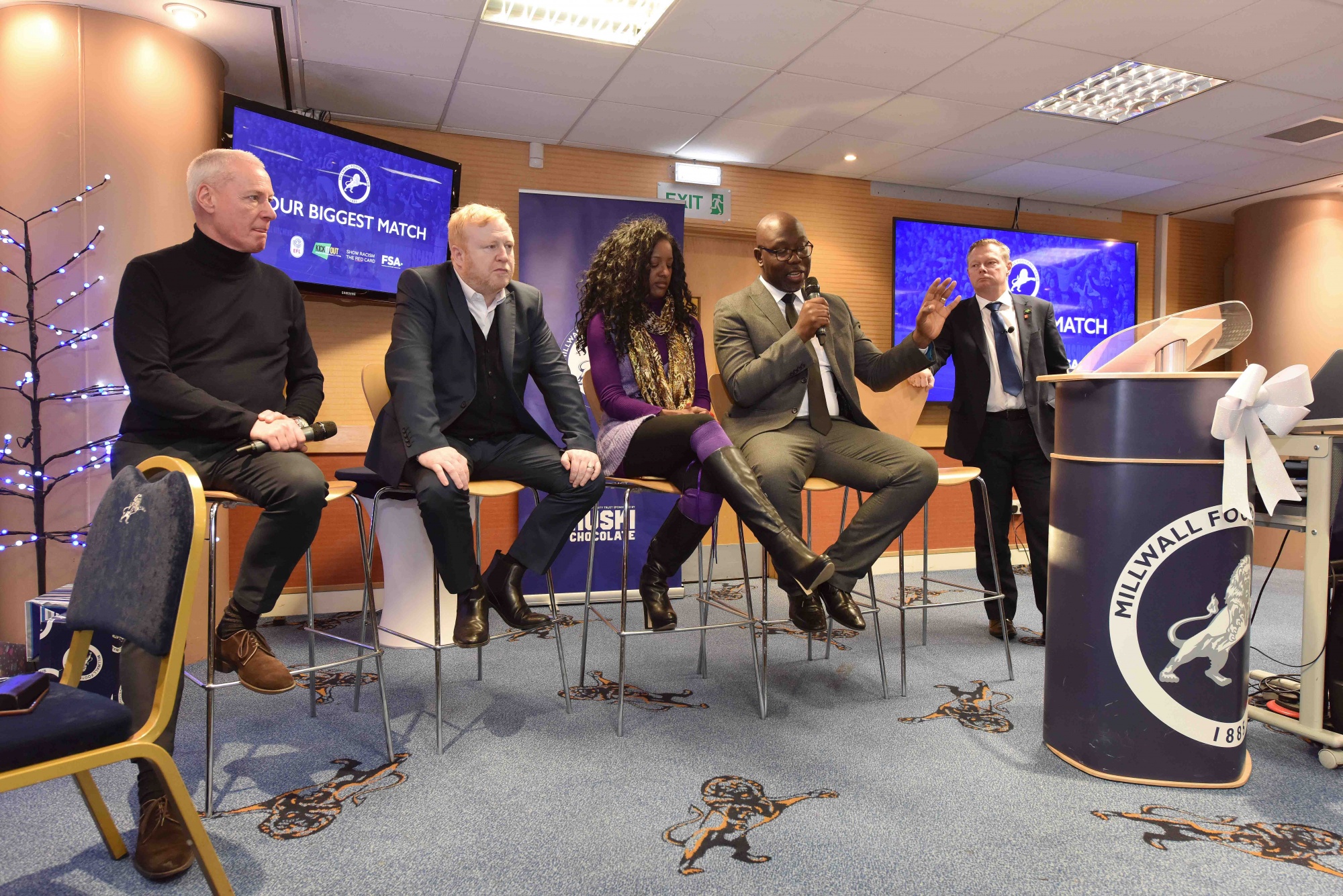 'Media agenda has to change'
As well as the likes of the FA being challenged, Kavanagh also believes mainstream media has a part to play by changing the narrative on racism and discrimination in football.
Similar to Raheem Sterling's criticism last year of the media's unfair publicity towards players and clubs, Kavanagh also believes the press should be just as proactive in highlighting the good work clubs do against discrimination and not just focus on the negative elements.
"To get so many clubs in a room, early on a Monday morning shows how we all feel about this issue and how determined we all are, not just Millwall Football Club, to make sure we tackle it," Kavanagh said.
"And it was important to invite the media to see and understand what clubs are doing, and how important clubs see this so when things do occur people are speaking about the desire our clubs have to rid the game of discrimination.
"It's a very subtle change but it's important for the media to sit up and take note of what is going on as well.
"We need the media to send out a clear message that if you are discriminatory you are not welcome at Millwall or indeed any other club."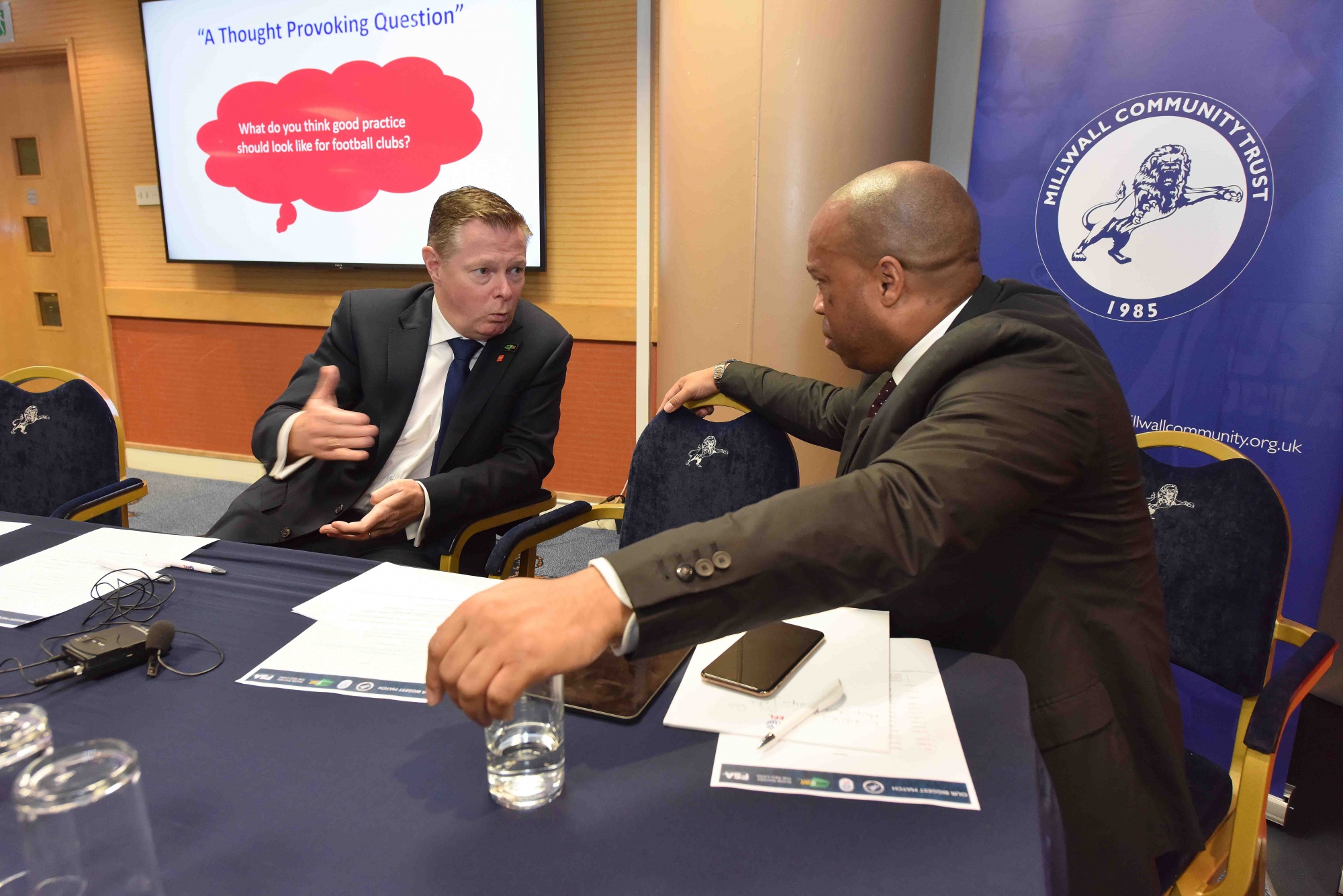 'Social Media needs to be reformed'
Football's fight against racism and discrimination is obviously not a new one. It dates back decades but what has changed over the past few years is the battleground.
Social media abuse, most notably on Twitter, has become an epidemic with platforms doing very little to either police or be pro-active in the fight against the issue.
And Kavanagh believes the conference highlighted an urgent need for social media companies to reform, voluntarily or legislatively.
"Let's be honest, politicians are very quick to push onto football that we've got a problem to deal with and we're doing that," Kavanagh said.
"But we're also going to start pushing back and social media is one area where that will be coming.
"It's vital that we make it clear that we (football) get pilloried at times while social media gets away with murder and that can't continue.
"Social media is huge and if we sorted that out it would go a long way because a lot of these issues are bred in those areas, appear and are then replayed over and over again on these platforms.
"It can't be right and once they (social media companies) realise the football family is together and there aren't any cracks to try to divide and rule then I think they will realise they will have to get their own house in order too."
READ MORE: Millwall conference sees EFL clubs unite in fight against racism and anti-discrimination

The events of last January were something no-one at Millwall Football Club wanted but the way Kavanagh and other club officials have turned such a negative incident into a positive outcome through the inception of 'Our Biggest Match' conference has to be commended.
Kavanagh was integral throughout the pro-active, positive and forward-thinking event, having both the drive and obvious determination to seek to remove the scourge of racism and discrimination from every level of the game.
What is also clear is that any forthcoming reforms will see the Millwall Chief Executive very much at the forefront of these much-needed changes and reforms.