4 min
Jimmy Bullard is a character encapsulating everything positive about the beautiful game with his infectious enthusiasm on show from beginning to end during a recent visit to Hendon Football Club.
Through its mental health initiative, Hendon offers a safe space for vulnerable young men to come together to play football and open up about their problems and feelings.
And although the former Fulham player was merely at Silver Jubilee Park to donate new kits to the team, it's clear from the unscheduled hours spent playing football with the youngsters this is a cause close to his heart.
Bullard, who made 207 Premier League appearances during his career, may not have suffered directly from mental health issues but he knows plenty of players who have.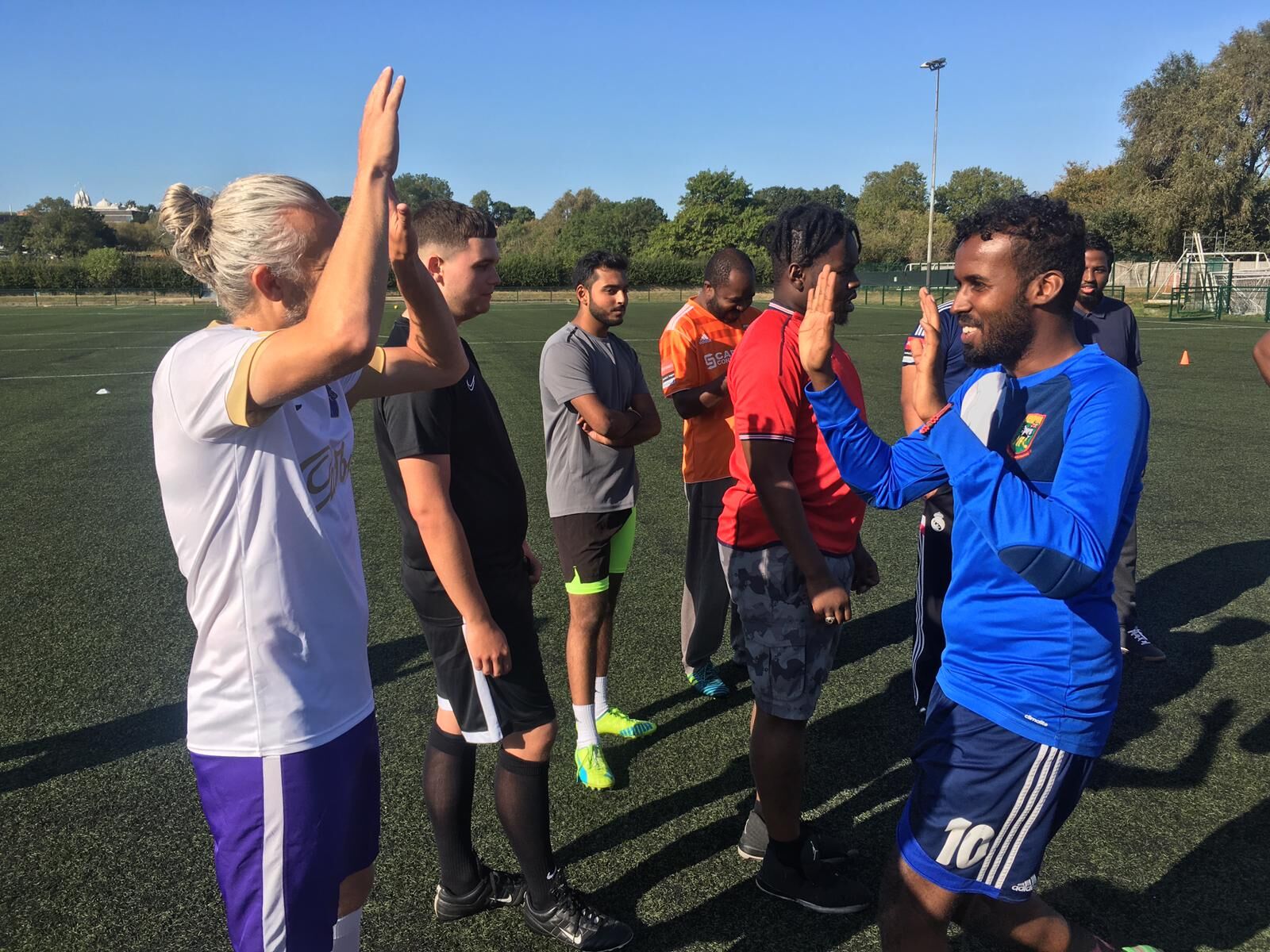 Speaking exclusively to London Football Scene, Bullard said: "I have friends that struggle with it really badly. I've been so lucky not to.
"It's an illness. For men especially, because as men we all think we are strong enough but sometimes you have to speak out and get help."
And Bullard truly believes the power of sport can act as a support network for people in crisis with projects like the one at Hendon crucial.
"What football can do, any sport really, is open up doors in your mind, in your body," Bullard said.
"You could see that, and I can almost guarantee, that all their problems (Hendon's community team) went away in that minute of playing football.
"Hopefully the feeling they have when they play can be taken forward, forgetting all the raw stuff that brings back depression and anxieties."
READ MORE:Hendon FC initiative aiming to fight mental health issues one goal at a time

Similarly, for many professional players retiring the loss of playing football, something that has been a significant part of daily lives over a number of years, can have a massive impact on mental health.
Passionate about people, Jimmy, along with good friend James Erwood, founded a company to support sports men and women into the next stage of their life and career.
"It started with retired athletes, retired sportsmen and women and then we went on to mental health because a lot of our clients had mental health problems.
"I think every human has to deal with dark times, but if mental health as an illness grabs you, you can't forget it.
"Because there were a lot of people around me struggling coming out of football, I felt quite close to the illness."
At the peak of his career Bullard also went through a period that could have seen himself spiral into despair if he wasn't able to look at the bigger picture.
Back in September 2006, a dislocated kneecap whilst playing for Fulham saw him experience 'some dark times' when it was discovered the injury had worsened with cruciate knee ligament damage.
"I was out of the game for 16-18 months which is a long time. I've seen some dark times creep in when you're injured and that's the honest truth," Bullard confessed.
"But you still have a life, have a family that you can cherish, love and live a normal life.
"Football isn't my everything. It's big, don't get me wrong but it isn't everything when you're talking about life and mental illnesses."
READ MORE:Hendon FC's community team receives Cadbury's kit accolade
Now working as a Soccer AM presenter , after adding to his appearance tally on reality TV with 'I'm A Celebrity…Get Me Out of Here!', Bullard has built up his bubbly, happy-go-lucky reputation and believes media platforms should use audiences to spread awareness about serious issues.
"The awareness of mental health issues has grown and grown. I think it's getting bigger, stronger," Bullard said.
"There are people in power coming out and talking about it. That grabs people. Ten years ago that would never have happened.
"Shows are real now. They want to try and keep it bubbly so it's really hard but we've come away from that in getting the rawness and the real mental health stories out there.
"You can't just have a bubbly show now because when you turn the TV off, you're left with the real world and there are people struggling in it."
The Hendon Football group started late June 2017 and runs every week on a Thursday afternoon from 3:30pm to 5:30pm.
In the UK, Samaritans can be contacted on 116 123.