7 min
Signing from Colchester United in September 1996 for £150,000, Mark Kinsella went on to become one of Charlton Athletic's greatest ever players.
Making over 200 appearances, the Republic of Ireland international captained the Addicks in two of their most memorable triumphs – Premier League promotion via the famous 1998 First Division Play-Off final against Sunderland and the First Division Championship title a few years later.
After six years at The Valley, the midfielder joined Aston Villa for a fee of £1m and made further appearances for West Bromwich Albion, Walsall and Lewes before hanging up his boots in 2008.
Here, My Only Desire's Declan Warrington speaks exclusively to the former Addicks legend about his time at the club….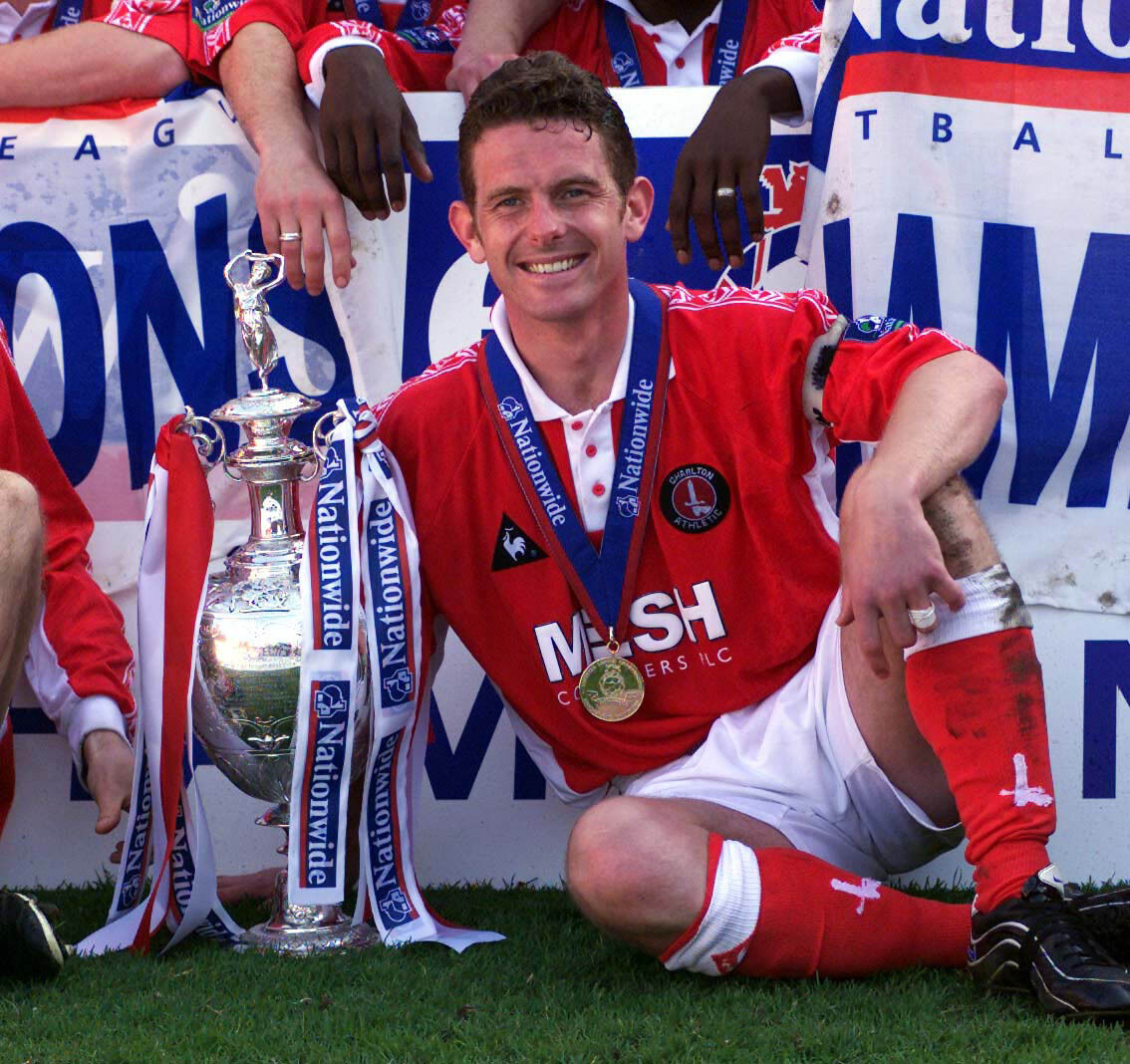 You'll forever be remembered as one of Charlton's greatest signings. How close did you come to joining Gillingham instead though?
I was trying to get away from Colchester, to improve my career and move up the leagues. At the time I was a young lad in the lower divisions trying to prove myself and just needed someone to take a chance on me.
Keith Peacock (then-Charlton assistant manager) gave me a call at home that summer and said, 'Would you like to come down and train for a couple of weeks?'.
I snatched his hand off and ended up being there for three weeks, playing two pre-season games away at Bournemouth and Leyton Orient. I scored in both games and even agreed a contract with Charlton.
I was with Curbs (Alan Curbishley) in his office at Sparrows Lane, and all they had to do was to agree a deal with Colchester.
It took me two-and-a-half hours to get back home that day, and by the time I got home Curbs rang and told me the deal was off – Colchester wanted the full payment up front.
At the time Charlton were selling players to keep afloat (Lee Bowyer had gone) and as far as I'm aware couldn't pay the whole lump sum. I was devastated. I'd had a great three weeks – the lads were brilliant, I'd enjoyed myself, and it was the next level for me – into the Championship.
READ MORE: Charlton Athletic's January transfer window: Creative spark needed to compliment new-found stability
I went back to Colchester and started the season with them. Charlton hadn't started too well, and I think they were still watching, and Gillingham came in for me in late September.
I went down to Gillingham, had a look around the ground, and my agent asked Tony Pulis (then Gills manager) if we could make one phone call and if that call didn't work out I'd sign for them.
The call was to Richard Murray (then-Charlton chairman), who said: 'Just get down the A2 – we'll sign you', and that was how the Charlton move came about. We thanked Tony – he appreciated it as we were honest with him – and drove to Charlton straight away to sign.
The ambition of the club was to get into the Premier League. There was a five to seven year plan – I don't think the club were expecting promotion to happen so quickly.
But just training with the lads, you felt that something could happen – maybe not that year or the year after, but you felt that if we could get a good run going something could happen.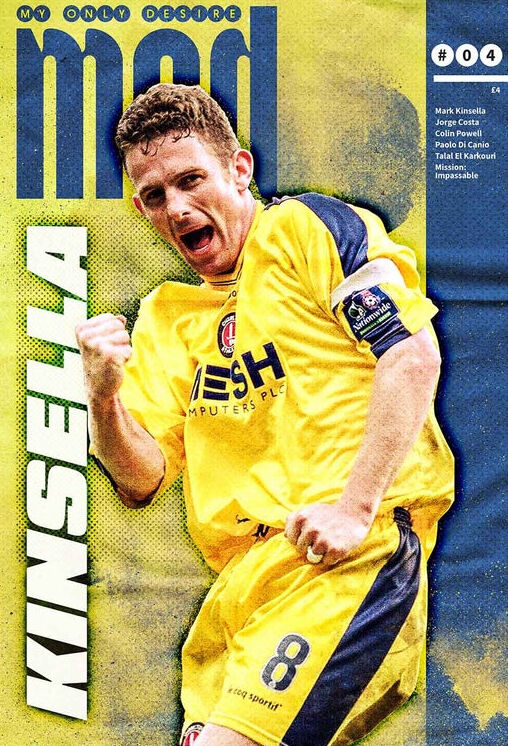 When you left Charlton in 2002 they'd been transformed into a significantly different club. What was it like when you first arrived?
There were players not a lot of people would have known about, like Keith Jones, Robbo [John Robinson], [Steve] Brownie, and [Richard] Rufus, who had come through the ranks.
They got me for £150,000; Danny Mills for nothing as well as Eddie Youds – players who fit into the club and the philosophy, were good in the dressing room and had the same ambition.
We were ordinary players who wanted to improve, we had a good dressing room and good team spirit, and we had everybody pulling in the same direction. We went out confident on the pitch that we could get a result – especially in my second year, when we got into the Play-Offs.
Moving to Charlton really kickstarted my international career as well – I was never going to play for Ireland in the fourth division, so I knew the step up gave me an opportunity at a time when a lot of senior players were retiring (such as Ray Houghton and Andy Townsend).
Ireland were going to have to rebuild and being in the Championship, performing week in, week out and getting into the Premier League was massive for me.
READ MORE: Darren Bent- Former Charlton Athletic striker on dream debut, Danny Murphy's delivery and World Cup heartbreak
I just got much better at Charlton – for five, six years, it got better every year. I played with Keith Jones for three or four years, and we had an understanding, and we had Robbo on the left, (Shaun) Newton on the right, (Clive) Mendonca up top, and then we ended up with (Chris) Powell on the left and Danny Mills, who both ended up England internationals.
Playing with players like that who had the same drive as you made you a better player and I was very, very fortunate to get the captaincy when I did.
I'd never captained Colchester so to become a captain of a promotion-winning side, then a Premier League captain and go on to play international football and play with the level of players I did was an absolute honour.
Every time I went away for an international, I played with Roy Keane and came back wanting to be like him – the way he was and the way he played, the way he was around the place and his demeanour.
He probably didn't think he was but he was a role model, and I brought that back to Charlton, and tried to bring that professionalism to the club.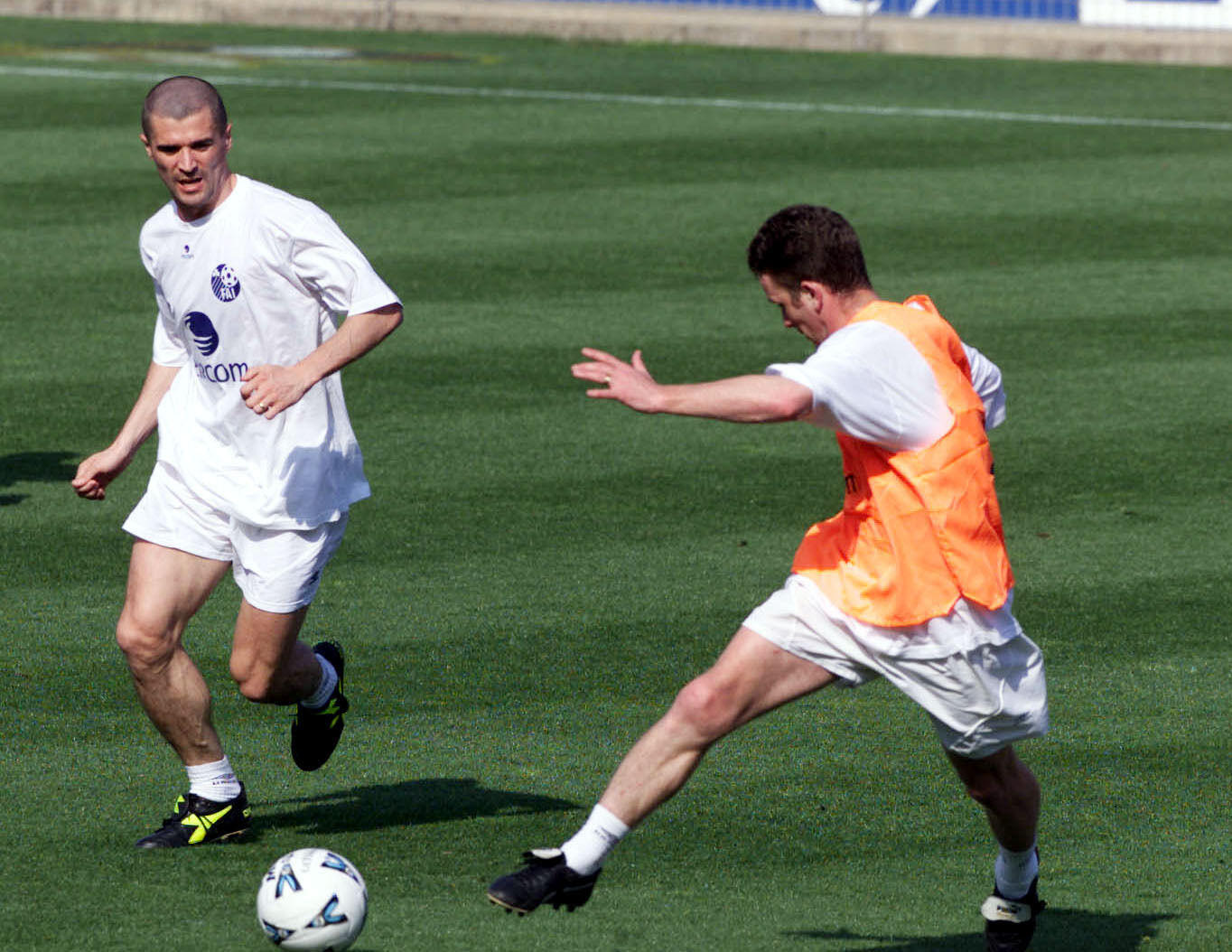 So just how good was Roy Keane?
At international level he was the best I played with and was probably the best player I played against as well.
When you trained and played with him you realised why Manchester United were where they were. He just had this drive, this professionalism, that you had to follow. Anything from a bad pass – you'd get it. His attention to detail on the pitch was second to none. It just made you a better player as it made you concentrate more.
The first four or five caps I played alongside him I was a bag of nerves, and then two years of international football, with some of the best players Ireland had at that time – Robbie Keane, Niall Quinn, Steve Staunton, Dennis Irwin, Allan McLoughlin, Tony Cascarino – all of a sudden I was training and playing with them.
It could only make me better. I'd have been very disappointed if I didn't improve, playing with them. Mick McCarthy's man-management was also top drawer.
I got on great with Roy. We weren't friends – we'd only meet up at internationals – but if you train properly and do it right, he respected that and had no problem with you. He always said what happens on the football pitch happens, and then when he comes off it's forgotten.
Read the full article only in issue #4 of MODmag on sale now at modmag.co.uk