4 min
Leyton Orient and Harry Kane are bringing "life-changing" support to veterans across the country, according to Royal British Legion CEO Steve Sherry.
It comes after the O's were at the forefront of a series of events commemorating the 76th anniversary of Victory in Europe (VE Day) which came to a close this weekend.
As part of a renewed partnership with Tottenham striker Kane, Orient will wear the Tommy Club logo across their home shirt for the 2021/22 season in a bid to raise awareness for the charity.
Run by the Royal British Legion Industries (RBLI), the initiative is a new and exciting way for people to support the country's most vulnerable armed force veterans.
"Harry (Kane) and Leyton Orient's support will have a genuinely life-changing effect on the brave men and women supported by the Tommy Club," Steve Sherry exclusively told London Football Scene. "We simply cannot thank them enough."
"Harry Kane became a founding patron towards the end of last year. He's also got strong links with Leyton Orient and now the Tommy Club insignia will be on the Orient shirt next year – and we're really excited about that!"
The England captain took over the sponsorships at Leyton Orient this time last year and his continued commitment to the partnership has really made a difference during a difficult time.
This year's shirt carried a message of thanks to frontline workers tackling the coronavirus pandemic.
Mental health charity Mind and Haven House Children's Hospice also had their logos on Orient's two other shirts as part of the deal.
The partnership will not only see guests of Tommy Club able to escape reality for an afternoon at Brisbane Road to enjoy Orient in action but 10% of every shirt sold will be passed to the charity as well as raising much needed awareness.
On the announcement, veteran Sally Orange said, "It's incredible! I think Harry's reach, the amount of followers and people inspired by what he does – if younger generations can follow that inspiration as well it's just going to make for a better place for everyone."
And the Tommy Club celebrated the news by stopping off at Orient's ground as part of their 800-mile "Race To Victory" fundraising relay.
Starting out on Thursday, April 29th RBLI's Tommy figure has travelled the length of the UK, stopping at iconic military locations and cities before ending the journey in Aylesford on Saturday, VE Day.
READ MORE: Leyton Orient's Play-Off hopes may be slim but this summer is still a watershed moment for the club
"Race to Victory was really dreamt up because last year we couldn't commemorate the 75th anniversary of VE Day because of Covid, so this year we thought we'd do something a bit special," Sherry explained.
"We wanted to take our charity symbol of Tommy, our iconic figure, and someone who we think represents the service, dedication and sacrifice that you get from veterans to help bring communities together.
Participating rider Orange added: "We started up in Erskine, Scotland and came all the way down to Kent.
"We've done a bit of an 'S' shape across the country and we've been given figurines of nominated inspiring veterans along the way."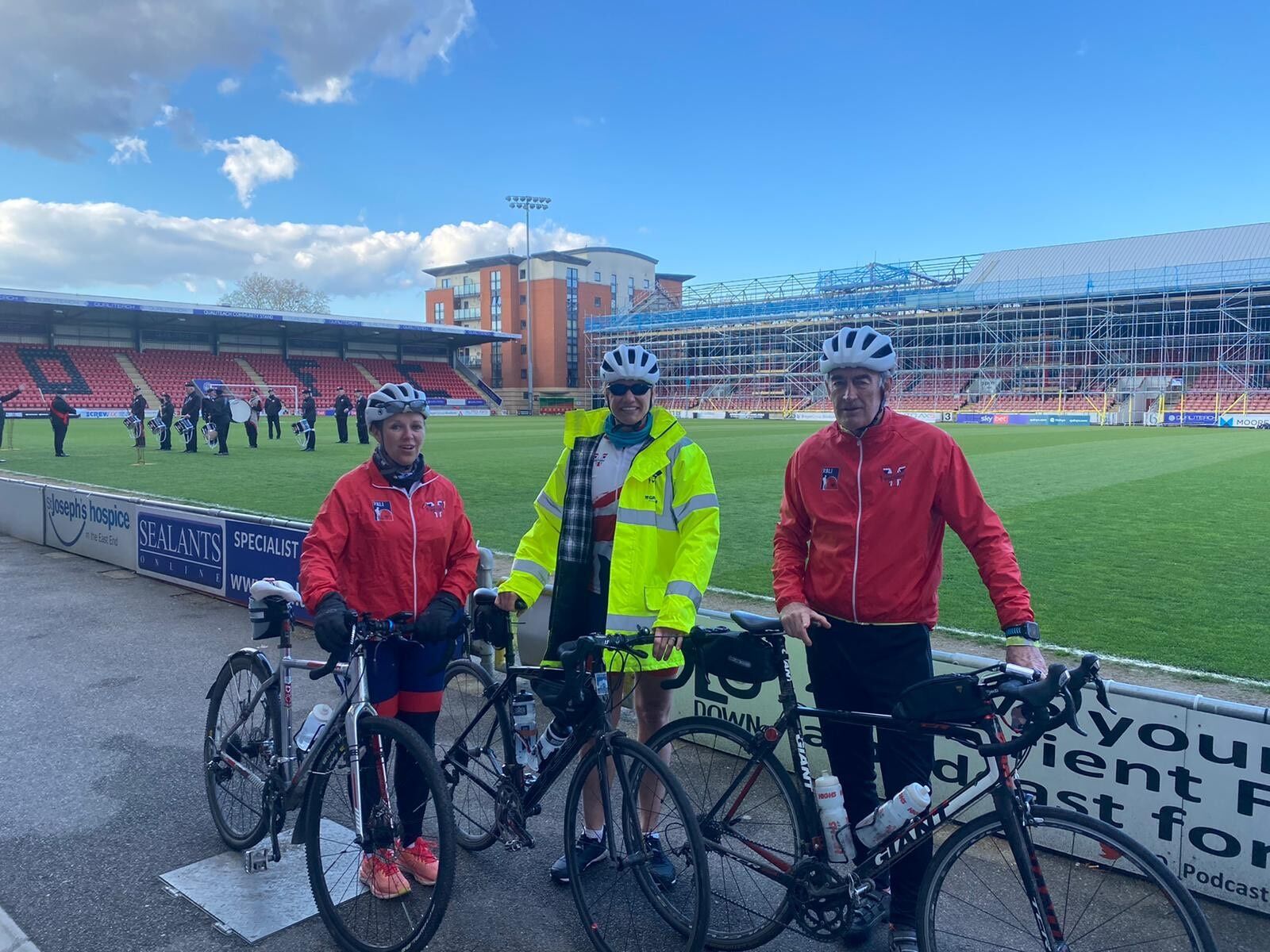 'IF IT WASN'T FOR THE CHARITY, I WOULDN'T BE HERE'
People are encouraged to take part by either donating to the relay or being sponsored to complete 25km, 50km or 100km over the month of May by either walking, running, cycling or even rollerblading through the distance.
All funds raised will help provide vital welfare support and employment opportunities to military veterans who need to overcome challenges caused by physical or mental disability and regain their independence.
Established in 1919, the RBLI also provides a home to more than 300 veterans and their families through a diverse village providing adapted apartments, nursing care, emergency accommodation for homeless veterans as well as employment opportunities.
"Research has shown that Covid has had a real impact on veterans, in particular on their mental health," Orange said.
"I'm a veteran myself and my mental health has been affected during the pandemic, so this community and the ability to come together can really help people with their mental fitness," she said.
RBLI's Steve Hammond added, "If it wasn't for the charity, I wouldn't be here.
"I tried to commit suicide during some hard times but the Royal British Legion Industries got to know about it and brought me down to Aylesford and the rest is history."
To find out how you can support Tommy Club this VE Day, visit the website.
You can also pre-order Leyton Orient's 2021/22 home shirt with the kit to be dispatched closer to the start of the 2021/22 season. To purchase yours, please visit the Leyton Orient online store.