4 min
Leyton Orient may have maintained their faint Play-Off hopes with a comfortable win over Barrow on Saturday but as they enter the final furlong of the League Two season, irrespective of how the season pans out, this summer will bring a watershed moment for the O's.
At the very minimum Leyton Orient should finish in the top half of the table which would reflect a significant improvement from the 17th place finish in their first season back in the EFL last year.
But despite that achievement, this season looks more a case of 'what if?' than surface level improvement.
Plagued by inconsistency which eventually led to the dismissal of Ross Embleton as manager, Orient have at times resembled a Play-Off worthy squad but, despite individual bright sparks across the season (none more so than Danny Johnson and Conor Wilkinson's 20 and 14 goals respectively), they've lacked a genuine cutting edge when it has really mattered.
The initial signs under Jobi McAnuff's interim tenure have on the whole given cause for optimism in terms of next season. In his 12 games as player-manager to date, Orient have won six and only lost two.
READ MORE: What went wrong for Ross Embleton at Leyton Orient?
That sort of form extrapolated over the course of the season would find the O's comfortably inside the Play-Offs and, whilst the games have not always been entertaining, it is clear he has added a solidity to the side as witnessed by their subsequent seven clean sheets.
However be that as it may, should McAnuff be given the manager's job full time he will have to undertake a significant squad overhaul.
Only six of his current squad – Ousseynou Cisse (2022), Adam Thompson (2022), Ruel Sotiriou (2022), Sam Sargeant (2022), Hector Kyprianou (2022) and Dan Kemp (2023) are contracted beyond this summer.
Whoever takes permanent charge, decisions will need to be made about who to keep and offer new contracts to as well as identifying the priority areas for a starting XI upgrade.
The O's look like a side that has a competitive starting XI at this level but integral to that is 39-year-old McAnuff himself.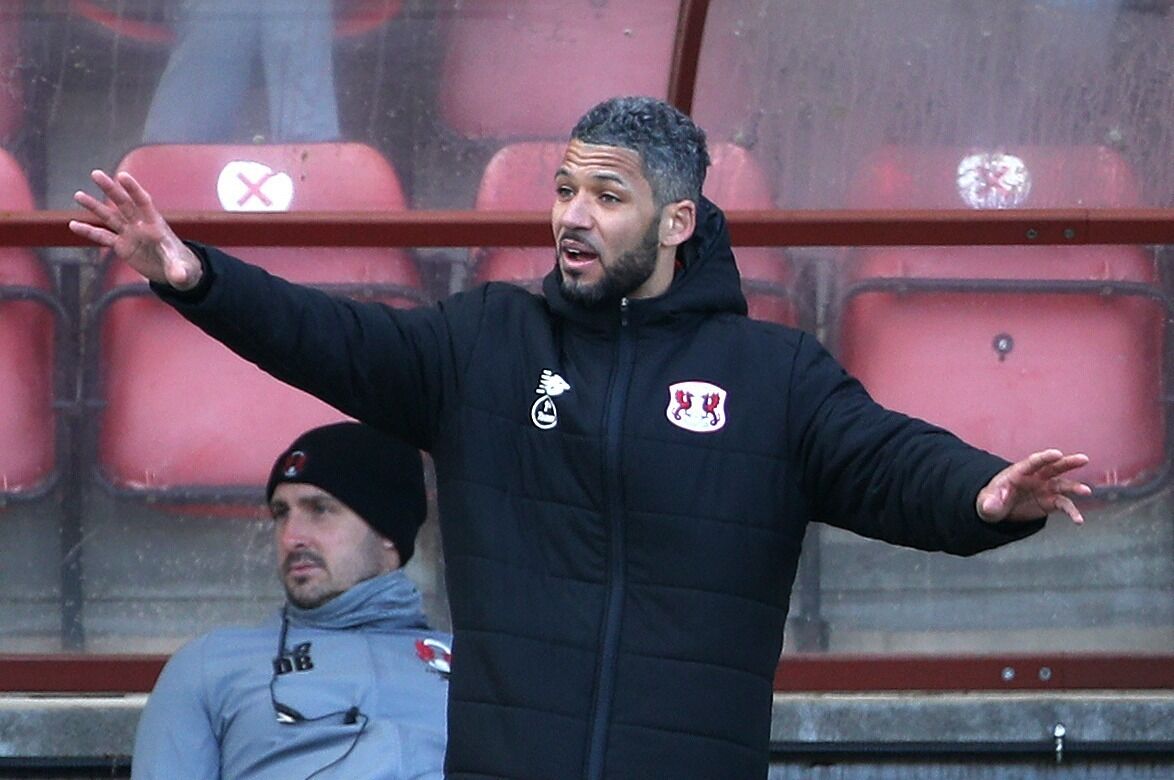 When Orient have been at their best this season it often coincides with McAnuff pulling the strings with the side often bereft of ideas without him.
It's a cause for concern but also makes it easy to identify where the rebuild needs to start with 13 teams scoring more goals than Orient this season meaning beyond Johnson and Wilkinson there is a distinct lack of goals and attacking threat from the midfield three.
In an ideal world McAnuff would be used sparingly as an impact sub with 20-25 minutes to go but the current lack of quality in depth does not afford such luxury.
Arguably beyond Ouss Cisse and Dan Kemp (further forward) no other midfielder can really lay claim to a starting spot which leaves Leyton Orient having to search for two players, at the very minimum, who can impact play in the middle of the park as well as going forward.
Across the rest of the squad, eight to ten of the players that helped Orient to promotion from the National League still remain at the club.
READ MORE: Leyton Orient boss Jobi McAnuff hails 'fantastic' disability charity Level Playing Field
One senses that this season was perhaps one too many for the majority of them and sentiment will have to go out of the window when the summer re-shape takes place.
The margins between the bottom half of League Two and the top end of the National League may be small but any club serious about promotion to League One cannot afford to carry too many passengers.
One such example would be the case of right-back Sam Ling, a solid servant at the club where his father, former player Martin Ling, serves as Director of Football.
Since joining in their promotion season Ling has played 72 league games (27 so far this campaign) yet West Ham United loanee Tunji Akinola who has deputised at full-back from time to time has shown what an upgrade looks like.
Ling is by no means a weak link but more ambitious Orient fans see him as a squad player not a guaranteed starter.
Replacing him would be a big call but it's one and others like it which will determine just how much McAnuff or whoever takes charge chooses to reshape Leyton Orient into their own mould rather than one they have inherited.