5 min
As the old adage goes,' you can't please all the people all of the time.'
In the lead-up to Millwall's draw with QPR, compromise and appeasement increasingly became key words following booing of players taking the knee during the game against Derby.
The actions of those supporters threatened to irrevocably split the club between those who believed it was disrespecting a peaceful anti-discrimination protest and those who felt the gesture had become too politicised and therefore had no place in the game.
Despite the players releasing a statement prior to Saturday's game outlining their intentions as a show of solidarity against social injustice – battlelines were nevertheless drawn and opinions firmly entrenched.
While supporters took to social media to argue these polar opposite views, Millwall Football Club experienced their own inner turmoil, struggling to determine their definitive position on the issue.
Do they go against their own employees, the players, by stopping future peaceful protests or do they decide to alienate a large portion of their customers, loyal season-ticket holding supporters, by condemning their actions?
It meant a frustrating hold up in publishing an official club response while every anti-discrimination organisation, football governing body and media outlet voiced their own opinion to ultimately compound the situation and further highlight Millwall's delay.
Nearly 20 hours later the club eventually found its voice to say it was 'dismayed and saddened' – without actually going on to say anything else of real significance on the matter.
The situation was then further exacerbated by Millwall Supporters' Club's statement, further alienating some sections of support by trying to justify the actions while simultaneously claiming to speak for all fans.
Whatever the view, one thing was undoubtedly clear – Millwall Football Club was on a hiding to nothing with all eyes on what they would do for Tuesday night's home game against QPR.
To kneel or not to kneel – that was not only the question but also what repercussions the action would have, or not, as the case may be.
It led to hours of discussions between staff, players, the club's hierarchy as well as anti-discrimination and racism organisations to try to ascertain the best course of action.
Add to that QPR's instance that some of their players still wanted to take the knee and Millwall had a logistical nightmare to execute in front of a live SKY TV audience.
READ MORE: There's no excuse for Millwall fans booing at the weekend – and it can't happen again
What eventually came about was a pre-match linking of arms by both sets of players while holding up an anti-discrimination banner with Millwall also wearing one-off shirts with Kick It Out's logo on the front.
Meanwhile QPR's players would still be afforded the luxury of taking the knee either collectively or individually prior to kick-off.
But even this delicately crafted plan could still have been derailed by mainstream media confusion as to whether any Millwall players would join their QPR counterparts in taking a knee and whether Millwall supporters would still actively boo the action regardless.
The first ultimately led to the second not happening as the club reacted quickly to publish a letter handed to each fan on arrival at the game reminding them of their "duty and responsibility" to be supportive of all gestures made.
It included a warning that "the eyes of the world are on this football club tonight – your football club – and they want us to fail."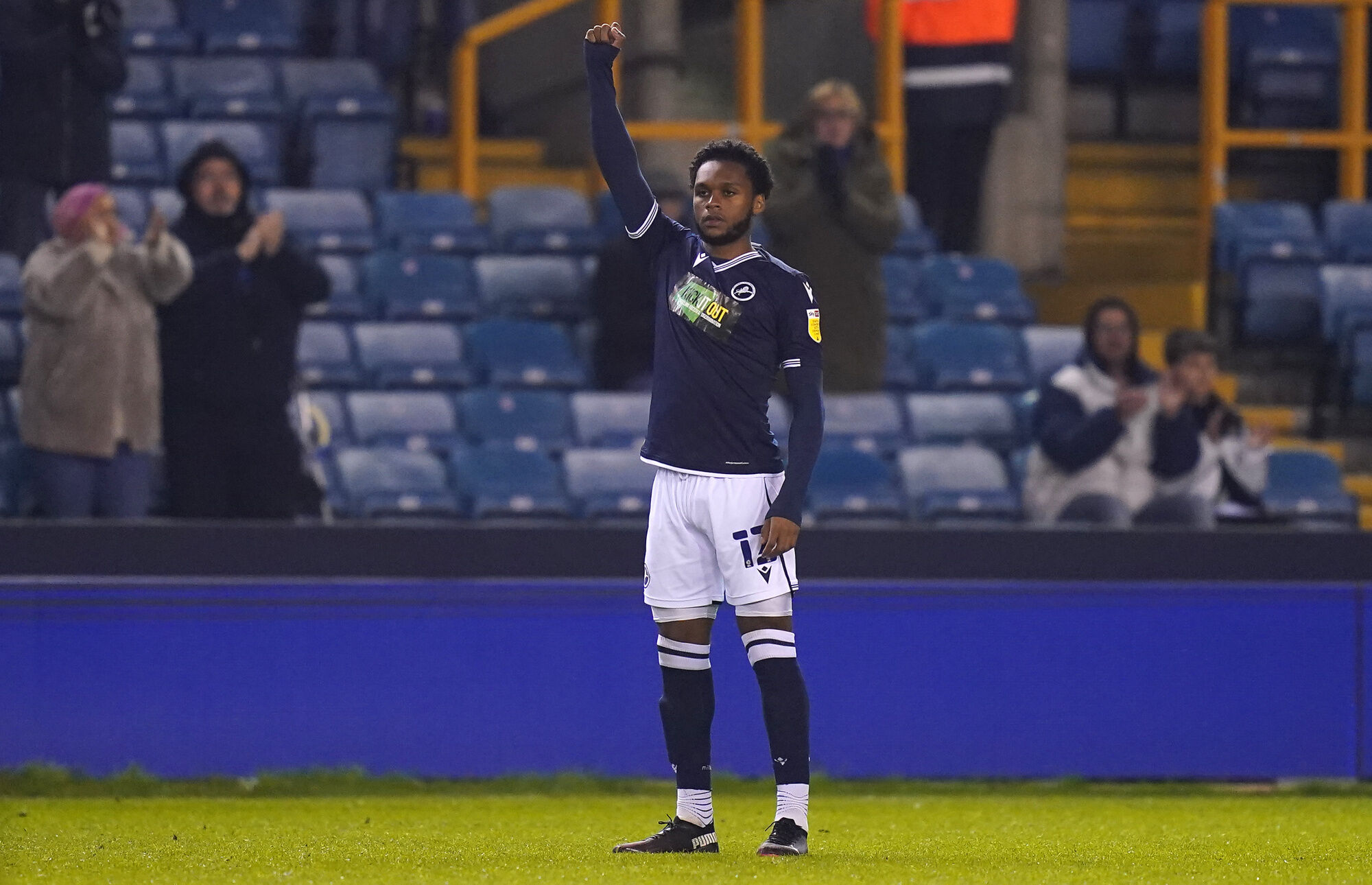 To the uninitiated it may seem like an odd declaration to make but ultimately it was a PR masterstroke – striking straight into the DNA of Millwall supporters who often feel as though it is them and the club against the world.
From this subliminal call to arms straight from the age-old 'No one likes us, we don't care' playbook, there was no looking back as Millwall's best laid plans came to fruition from the moment Mahlon Romeo, seen as a focal point in the row, led the side out.
Of course, the relief was still palpable while there were also notable acts of defiance reinforcing the notion these pre-match plans were very much a case of appeasement and compromise for both schools of thought.
Romeo's raised fist as QPR knelt and holding his Kick It Out shirt aloft at full-time was significant – as was QPR duo Ilias Chair and Bright Osayi-Samuel celebrating their goal by taking a knee and raising a fist in front of the Millwall fans.
The Hoops pair immediately received a chorus of boos, reinforcing the uneasy nature of this current truce.
Nonetheless it's a truce and one the club will be keen to build on in the coming weeks and months without further aggrevation as they launch a series of new anti-discrimination measures and iniatives.
Lessons will still obviously have to be learned but in the meantime Millwall's apparent civil war appears to be at end with the club once again united.