2 min
QPR's director of football Les Ferdinand and Crystal Palace duo Wilfried Zaha and Chloe Morgan have all been included in this year's Football Black List.
The initiative, founded by journalists Rodney Hinds and Leon Mann in 2008, celebrates positive influencers from the black community within the game.
Members are selected by an expert panel from the black community and football industry with Zaha and Morgan included in the 'Cyrille Regis Players' section.
Palace forward Zaha takes his place for his efforts in supporting nurses during the coronavirus pandemic while Palace women's goalkeeper Morgan is included for raising awareness of black inclusion and LGBT+ representation in women's football.
They are joined by Manchester United and England forward Marcus Rashford for his tireless campaigning to tackle child food poverty as well as Aston Villa defender Tyrone Mings and Watford's Troy Deeney for challenging racial injustice.
Meanwhile, Ferdinand is included in the 'Administration' section alongside West Ham United Foundation chair Marie Gabriel.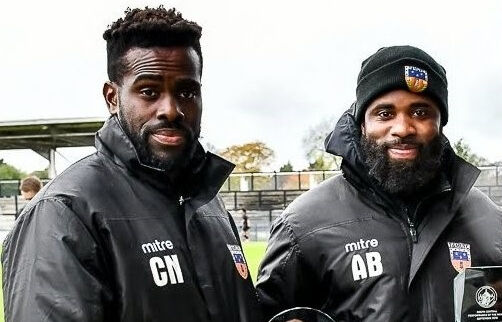 London is also heavily represented in the 'Coaching and Management' category with former Crystal Palace and Charlton player and now Kilmarnock manager Alex Dyer joined by Ashley Boasah and Cornelius Nwadialor (Tooting and Mitcham's joint managers), Jason Euell (Charlton's under-23 head coach) and Karleigh Osborne (Brentford women's head coach).
On discovering their nomination, Tooting & Mitcham's Ashley Bosah said: "It is great to be named on this prestigious list and have the grassroots level of game highlighted.
"I hope that it can inspire some of the young players we coach to consider the wide variety of roles in football beyond just playing."
READ MORE: Tooting & Mitcham United – the community club who continue to defy the coronavirus odds
Joint manager Cornelius Nwadialor added: "It is amazing to be recognised in this way amongst so many great names and shows that people recognise the difference we are trying to make at the club and within our community by helping players achieve their goals – be it in the professional game of football or just generally progressing within their personal lives.
On the awards, Hinds said: "Yet again the Football Black List has unearthed many in the community that are doing great work.
"The efforts of Marcus Rashford deserve acclaim alongside the others on the list who go about their business for the good of others.
"After a year of challenges, it is great to be provided with inspiration."
For a full rundown of all the categories and those included, visit the Football Black List website.