3 min
While fans across the country await the green light to return to stadiums, Nathan Richardson has spent the past few months running around each and every one of them.
The 29-year-old former soldier and mechanical engineer from Manchester is running approximately 2,500 miles to all 92 Football League grounds in the country to raise money for both Mind and the Joshua Wilson Brain Tumour Charity (Super Josh) charities.
After struggling with his own mental health and losing two close family members in the space of a year, Nathan took up running as a coping mechanism before combining it with his other passion – football.
"I found running really helped with my mental health," Nathan told London Football Scene.
"Then one day I came across the story of a Burnley fan who ran from Turf Moor to the away ground of the team they were playing that week.
"That's when the idea of running to all of the Football League grounds came to me.
"I did some research and found nobody had done it before, so the idea of creating history by doing something unique and leaving that legacy, whilst raising money for charity, really appealed to me."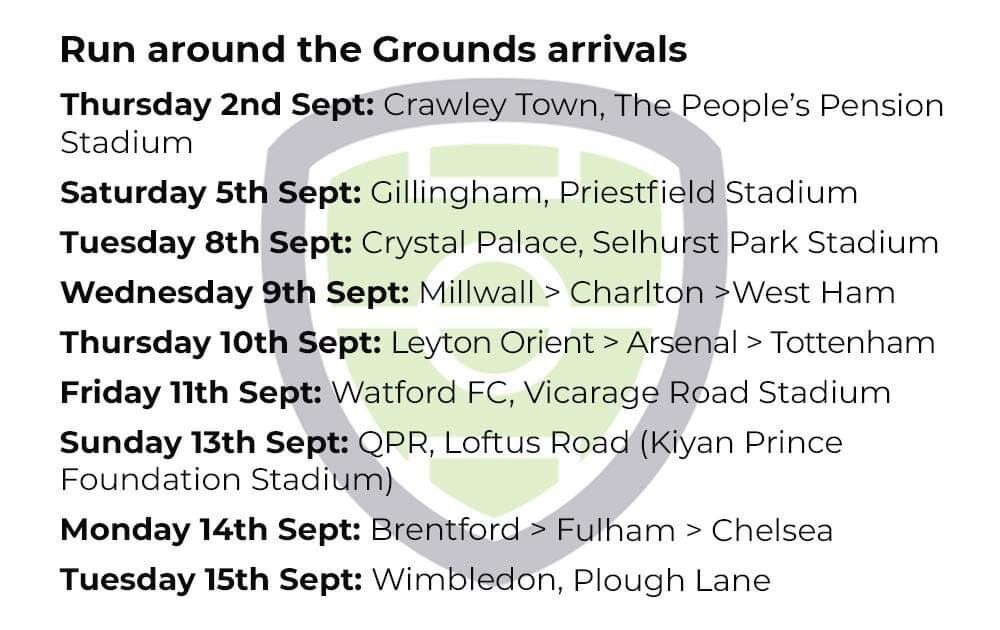 Weeks of planning followed, as well as the creation of a donation page that has so far raised over £3,600.
Nathan started the challenge at Manchester United's Old Trafford on March 7th where he was greeted by a small crowd of family and friends as well as Mayor of Greater Manchester, Andy Burnham.
Carrying all his kit throughout and sleeping wherever he could, the coronavirus pandemic and subsequent lockdown temporarily postponed the nationwide run until restrictions began to lift.
Undeterred, the father-of-one restarted in May with next week's arrival into London marking a huge milestone in a challenge that equates to the equivalent of 95 marathons in total.
"The biggest milestone will be reaching the new Brentford ground, because that'll be the 46th stadium and so the exact halfway point," explained Nathan.
"That will bring its own joy and I can see the beginning of the eventual end to the challenge at that point."
READ MORE: AFC Wimbledon's Plough Lane Bond truly shows 'Home Is Where The Heart Is'
Crystal Palace's Selhurst Park is the first stop on September 8th before moving onto Millwall, Charlton Athletic and West Ham United the following day, followed by Leyton Orient, Arsenal and Tottenham.
After arriving at Watford's Vicarage Road on September 11, Nathan will then visit QPR (September 13) before Brentford, Fulham and Chelsea on the 14th and then Wimbledon's new Plough Lane stadium the next day.
On the London leg, Nathan added: "Luckily the distances between stadiums become much shorter so I can do more in a day, but I also look forward to seeing the grounds of the bigger Premier League clubs.
"I've watched the first few episodes of the Tottenham documentary and their new stadium looks incredible, so I'm very excited to go and see that."
For more information on Nathan's progress, visit the Nath Rich website and to donate visit Nathan's Run Around Grounds fundraising page.