4 min
London Football Scene are deeply saddened to hear of the passing of Dave Roberts and we would like to extend our condolences to his family at this time.

This article was written by Dave's friend Machel St Patrick Hewitt and first published in September 2019 to promote his book ''The long, long road to Wembley'. RIP
When famous names of London football clubs are recalled, you'd have to go some before you hear the name of Bromley FC.
Yet the team from the largest London Borough were once one of the premier amateur teams in the early 20th century, winning the Athenian League and FA Amateur Cup three times.
Most notably they won the League and Cup double in 1948-49 playing the first ever Wembley FA Amateur Cup final in front of 96,000 with a side that included five England Amateur internationals.
In the modern era of 24/7 football coverage the significance of a club's football history can often be consigned to nothing more than a few dusty photographs and oral traditions.
However, in Bromley-born author Dave Roberts there is a fan who has made it his mission to weave the tapestry of forgotten football history into modern tales.
In 2018 Bromley FC returned to Wembley for the first time since 1949 for the FA Trophy final and whilst the game may have ended in heartbreak (Bromley lost in a sudden death penalty shoot out having conceded an equaliser in injury time) Roberts knew a book needed to be written that connected the dots of the club's past and present within his personal dream to see his local club play at Wembley.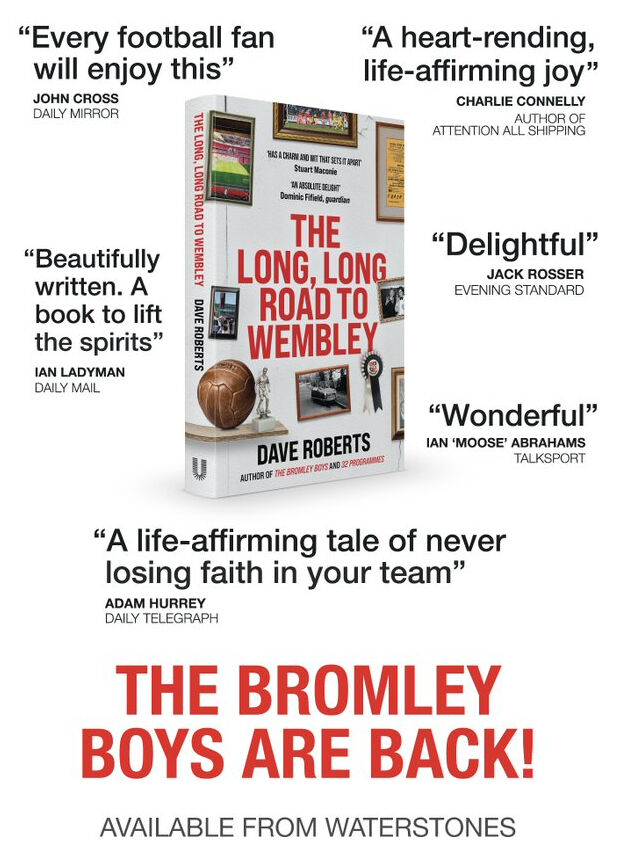 "As a youngster growing up in the 60s/70s the dream had always been to see the club replicate the Wembley success. I never gave up on that dream and once I became an author I promised myself I would write a book about it if Bromley ever made it back to Wembley" says Roberts in his usual understated manner.
However to call 'The long, long road to Wembley' just another football book would do it an injustice. The interminable seasons of cup failure underpins it but it's as much about the travails of life and how that can often be postmarked by specific footballing events.
For example, upon his return to England in 2011 for the William Hill Sports Book of the year awards, Roberts chooses not to write in-depth about his nomination but instead relates the experience to Bromley's cupset at the hands of Step 4 Didcot Town and a meaningful interaction with his late father in his nursing home.
"It's funny what you remember when you look at the dates and years of different football matches. Every season seemed to contain a disappointing cup defeat but a significant life event" Roberts remarks.
The final three chapters of Robert's book covers the historic 2017/18 FA trophy run that culminates with the Wembley final and it is the reference to this that really highlights the genuine appeal of a small local football club and its community.
Bromley manager Neil Smith may be best remembered as a former Gillingham and Fulham stalwart but like Dave Roberts he is Bromley-born and raised, as is captain Jack Holland.
And the emotion expressed by all three in describing their pride at their local team gracing the Wembley turf was clear for all to see during the recent book launch at Bromley Waterstones.
The warm community feel that can often only be found at the lower rungs of the football pyramid was in abundance with the cup run evidently galvanizing the town like only grassroots football can.
"Seeing 20,000 Bromley fans at Wembley is something that will live with me forever, irrespective of the result, to see so many in the town join in with the excitement and feel immense pride of where they come from and what we had achieved was something you dream about" Smith remarked on the evening.
At that point Roberts cracked a smile and whispered to Smith, "you fulfilled my dream".
A spontaneous applause breaks out at the end of the evening with no-one leaving until their copy is signed by all three – an author, a captain and a manager but quintessentially, all Bromley Football Club.
'The long, long road to Wembley' by Dave Roberts can be purchased online at Amazon or Waterstones for £9.99.