3 min
While one Barcelona academy graduate may have grabbed the headlines over the past few weeks, another stole the show in West London last Friday.
Brentford's Sergi Canos may not be Lionel Messi but his opening goal against Arsenal on their Premier League debut completed a story of redemption just as impressive.
In October 2019 Canos suffered a serious ACL injury at Nottingham Forest that would rule him out for the majority of the 2019/20 campaign.
Returning to only make a handful of cameo appearances as the Bees stumbled in their promotion push before eventually losing to Fulham in the Play-Off final, the Spaniard struggled to regain any semblance of his former self.
Fast forward to Friday, August 13th 2021 and images of the 24-year-old are broadcast across the globe as he wheels away in delight with a release of pure emotion evident on his face.
"He deserves a lot of praise because he has really pushed himself and done everything to be back to being a '24/7 professional'," Brentford head coach Thomas Frank said of Canos after the win over Arsenal.
"With the injury he was out for the majority of the season and sometimes with an ACL, it can take almost a year to get back to that same high and consistent level.
"He had a top game and he just kept going (against Arsenal), it was remarkable."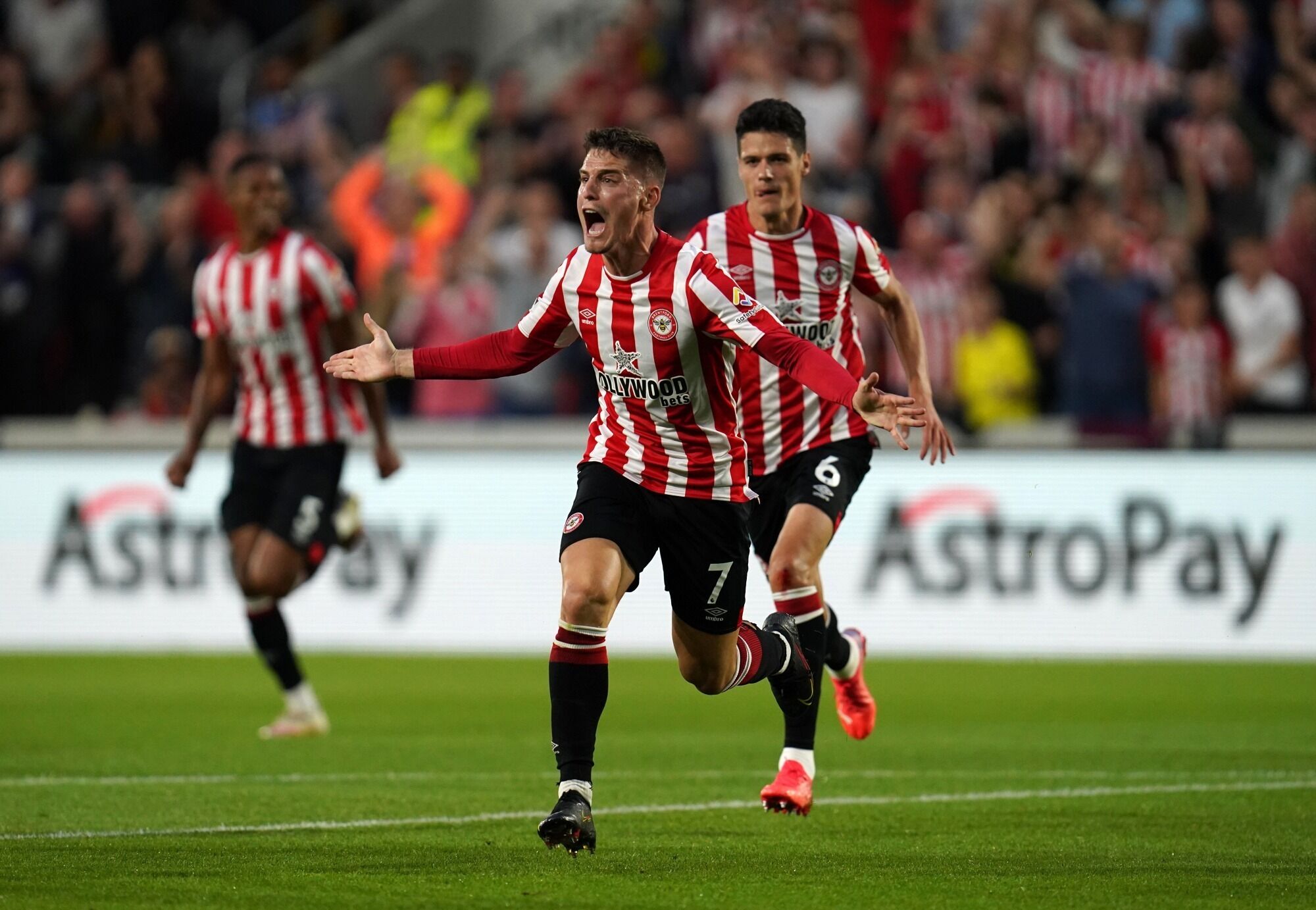 Canos' footballing career has been quite extraordinary,, spending three years at Barcelona's prestigious La Masia youth academy, renowned for producing a conveyor belt of talent such as Messi, Carles Puyol, Andres Iniesta, Xavi and Sergio Busquets.
He would then go on to join Liverpool as a highly-rated 16-year-old in the summer of 2013, spending three years on Merseyside (which included a season-long loan spell at Brentford) before rejecting a new five-year deal at Anfield.
After a short stint at Norwich, Canos returned to Brentford in January 2017, this time not as a precocious talent but on a permanent basis as the club's then-record signing.
Although his first full campaign was heavily inconsistent with an ankle injury hampering his overall development, Canos began to show his quality over the course of the next 12 months prior to the knee injury.
It was a massive set-back and one that cast doubt over his long-term future due to the seriousness of the injury and Canos' below-par performances on his immediate return.
Social media criticism exacerbated the situation for a player already low on confidence before the turning point in December 2020 when four goals that month (including a hat-trick against Cardiff on Boxing Day) saw Canos nominated for the EFL Player of the Month award.
READ MORE: Dream Premier League start proves Thomas Frank's Brentford are not prepared to wake up anytime soon
The winger went on to end the season with a personal best goal tally of nine and promotion to the Premier League in what had been a rollercoaster of emotions for him over the past two years.
Brentford know all about Canos' talents and Friday night highlighted them to the rest of the world.
"I've been dreaming about scoring the first goal in the stadium," Canos told Sky Sports in his post-match interview. "These people deserve it, we deserve it, these three great points".
Canos' 22nd minute opener meant that he became Brentford's first ever Premier League goalscorer, an achievement that will go down in history and will never be replicated.
But behind all the records and numbers, one stands out and reinforces why Canos deserves the recognition more than most – it was also 679 days after Canos suffered the ACL injury.
The scars are now fully healed, the recovery complete, now it's time for Sergi Canos to finally shine.