9 min
This interview was originally conducted in February 2019 but has been republished on May 18th 2021 – the 15th anniversary of Kiyan Prince's death.
'Truth is self-evident' – the words of Mark Prince, a man who outside of becoming light heavyweight boxing world champion, has been knocked down in the most traumatic of life experiences.
The breathtaking presence of his 15-year-old son, Kiyan Prince, stood tall in vivid form above his desk.
A painting so potently colourful, representing a bright young man; a star of the Queens Park Rangers youth academy.
Sometimes expressions tell a story. His face portrayed ambition, gratitude and was self-effacing. I felt real warmth as I was left alone in Kiyan's eye-line, it brought a sense of hope and possibility.
But Kiyan had his future callously taken away.
As his father returned to the room the recent acquisition of an OBE in the New Year's honours list became a mere talking point wrapped underneath the most inspirational conversation anyone could ever wish to be part of.
Mark Prince was honoured by the Queen last month for his outstanding effort in tackling the issue of knife crime in the name of his son.
The Kiyan Prince Foundation was set up after Kiyan was stabbed outside his school in Edgware, North London in May 2006. To this day, the former boxing world champion tells his story in the hope of raising awareness to prevent other young people's lives from being taken.
He spoke with a husky tone, but took care in preparing his words. His voice was not controlling, yet it made you listen. And his main concern as I sat down preparing to talk over his purpose, his suffering and his solution? Me.
What was my deal, where did I come from, who did I represent? It speaks volumes that he took great care in understanding the type of person he was talking to and the rare willingness to learn about a person.
Without doubt, to my mind he expressed genuine interest, which was unusual yet extremely pleasant in a world dominated by 'dog eats dog'.
An OBE is a proud moment in a person's life. It is perhaps the pinnacle to be recognised for a significant achievement and be granted a royal visit.
Mark told me how he wept when the letter arrived but it was the stepping stone he had been reaching for over a number of months. "People say to me 'Mark, as long as you save a few lives, that's good', but that doesn't measure up to my pain.

"My pain was international the way it mashed me up, so my impact has to level up to the pain."
His creation of a short film in the lead up to receiving the OBE was a small plan en-route to gaining national attention. It campaigned for a raise in awareness and a promotion for the work of his foundation. "The OBE smashed that, giving us a press conference."
What struck me at this point was the mention of 'the manufacturer of human beings'.
Describing his belief in God in this way was fascinating as it almost presented us in a relatable factory-like scenario, as if we were literally handmade and selected to partake in certain jobs.
Mark referred to a God in this manner on several occasions, with his ideology of human life being planned to execute our purpose. It drew me in further, as I was curious as to why he thought in this way and at what point he knew his purpose in life.
"The purpose was unveiled to me when I saw myself being able to go into schools, speaking to children and parents and the impact it had on them."

"You can't replace that. That tore something out of me, almost like you killed me."

Mark Prince on the death of his 15-year-old son
With the harshest and cruellest of upbringings, Mark ran away from home when he was 15 years old.
"I come from a troubled youth. During that period, I got lost and was involved in crime. I was tough as I grew up fighting racists and skinheads. I knew I was tough because I had to represent."
It is astounding to listen to him sitting in front of me, wearing a t-shirt that boldly exclaims 'world champion' and campaigning for a better future for young people after his adored son was snatched from his life.
"You can't replace that. That tore something out of me, almost like you killed me."
This was Mark's assessment of the worst pain any parent could possibly imagine. His comparison to his own death was heart wrenching and it is an accurate description of how horrific a single life event can be and the impact it can have on another person.
"I let go of all the discipline because nothing mattered to me anymore. You stop caring. I reverted back to smoking, drinking and abusing my body."
Before that point Mark Prince was a winner in the ring, winning 23 out of 24 fights in the cruiserweight division, four of which were after the passing of Kiyan. Now to quote his main target, he is 'inspiring future champions'.
The mental attitude to overcome such a severely traumatic time to help others is the ultimate human strength. Yet Mark looked across his desk at me and said, "I was concerned that I could say 'I forgive somebody', but couldn't demonstrate that. This is why it's very important for me to go to the next stage and to visit the guy that killed my son."
To hear that amount of forgiveness was truly unbelievable.
I wanted to learn more about the boy who died trying to break up a fight outside his school.
"A funny guy, laid back and full of jokes", his father says before telling me a story about the time Kiyan rose in the early hours to accompany a petrified neighbour on his paper round.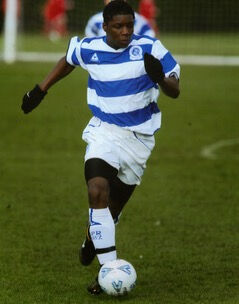 "You don't always have to be the saviour and protect everyone. Kids are using knives now, and I wouldn't be able to survive if something happened to you." – the exact words Mark said before Kiyan left the house.
"He championed the look with an incredible physique" – an attribute that may have contributed to being such a loved character and terrific footballer at QPR.
Joe Gallen, Head of Youth Development, spoke highly of Kiyan's potential whilst his father was adamant he would have made it to the very top, praising his determined mindset.
Mark is an advocate for creating a positive future for the younger generation and I could feel empathy accompanying his deep monotones.
"We are not raising children, we are just doing our bit for them".
You have to admire his awareness as he talked about children being raised by technology with our failure to address real life-changing social issues 'showing the ignorance of us and our generation.'
Despite knife crime being the striking factor in the launch of the Kiyan Prince Foundation, he recognises there are more causes before the effect.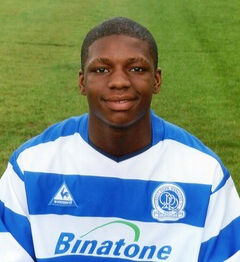 "Society is living in a world that puts money before people's lives" – a message of personal gain versus societal improvement stands far clearer with his example of Boris Johnson's 'lip service' prior to becoming Mayor of London. 'We haven't been heard.'
Through his motivation, through his inspiration, his determination and his story, he told me of his vision.
His lack of categorisation, qualification and discrimination simply asked for support from 'anyone that cares'.
I think this was a representation of his genuine nature. In football, the guidance towards young people from 'mainstream names' was highlighted as he spoke of Nile Ranger, a young footballer signed for Crystal Palace and Southampton before his involvement in armed robbery.

"He messed it up. I'm not judging or damning anyone – we are all a mess. But what do you do with it? I encourage guys like Nile to talk to young people."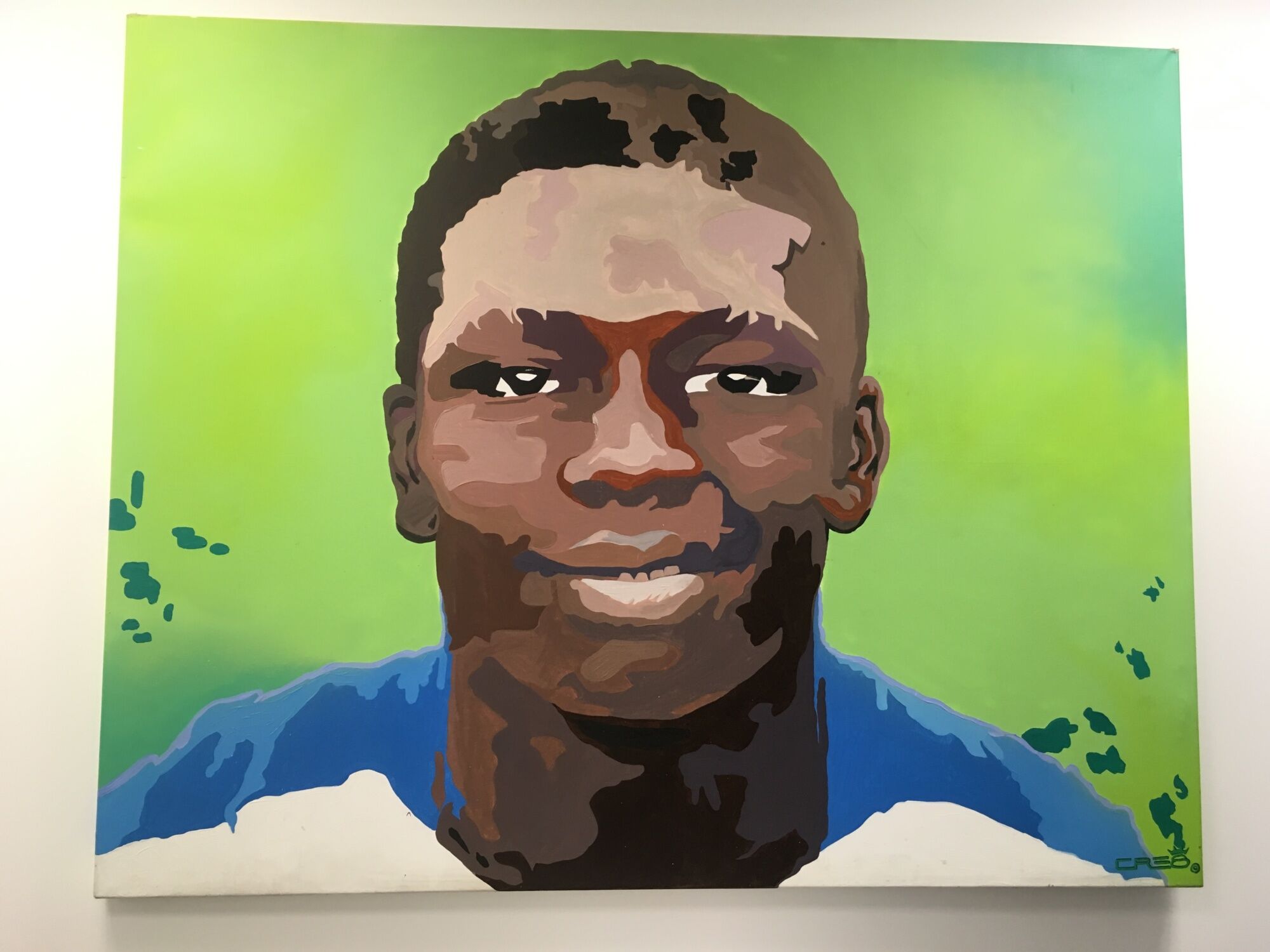 His acceptance of human errors and a lack of outrage stood out in a wholesome desire to guide the next generation.
"My passion is young people. People are forgetting the psychological effects on young people. Once you take all the layers off, people that cause these events are just people that are hurt."
As we unravelled the deepest thoughts inside his head, I had to remind myself that all of these rational and productive cognitions were produced from a man who lost his son because of a simple cowardly act.
But Mark Prince OBE is reunited with his boy through giving much needed support to young people in the hope of preventing further trauma.
Underneath such a heartening painting, there is faith that Kiyan's inner spirit will continue to be carried forward in the shape of the most admirable of human beings.
For more information on Mark's work visit the Kiyan Prince Foundation website.