2 min
Charlton Athletic have dedicated this Saturday's Championship home game against Luton Town to fighting homophobia as part of Football v Homophobia's month of action.
It is the fourth year the Addicks have designated a matchday to the cause with much of the activity co-ordinated by the club's LGBTQI+ supporters' group, the Proud Valiants.
This year activities will include:
A special museum display in the Fans' Bar looking at the club's campaign fighting homophobia in football over the years
Pre-match presentations for the award-winning Charlton Invicta and Proud Valiants
A pre-match performance from London's LGBT Community Choir, The Pink Singers
A half-time volley competition by representatives from each team that took part in last year's Charlton v Homophobia tournament
A post-match reception in the Vista Restaurant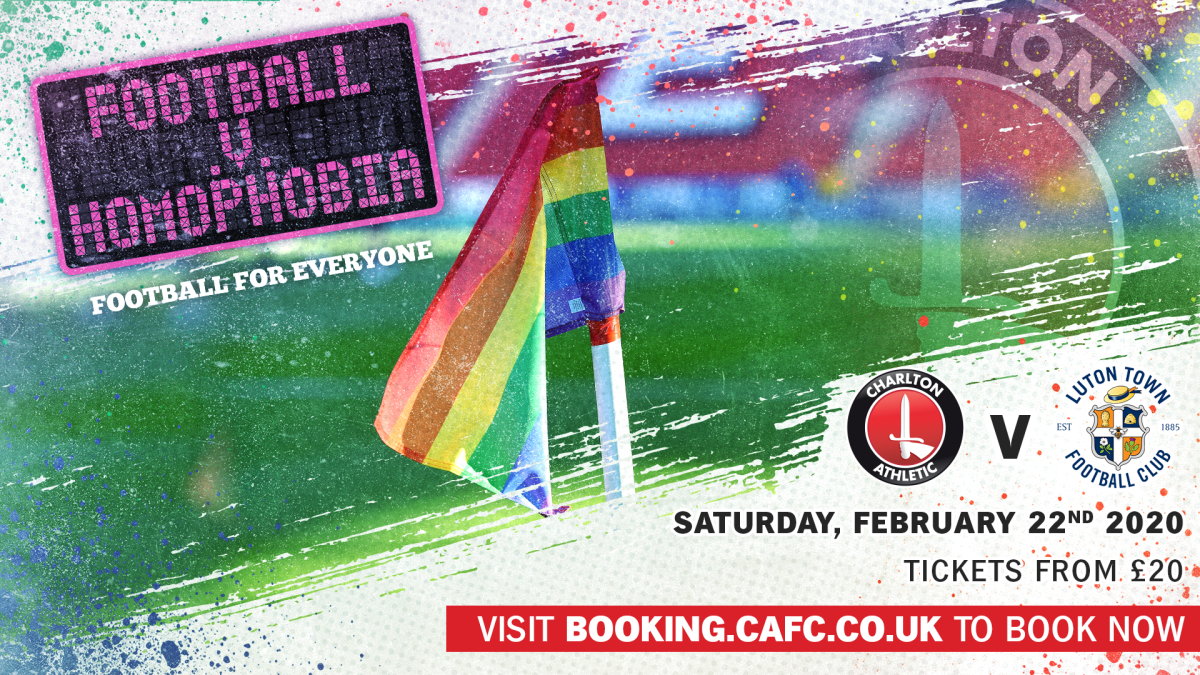 On the event, Proud Valiants chairperson Rob Harris said: "Since our formation the Proud Valiants have worked hard on this issue and days like Saturday are important to raise the visibility and profile of the fight against biphobia, transphobia and homophobia whilst celebrating our heritage and community."
Charlton Athletic Museum Trustee Ben Hayes added: "The club and supporters have a long history of fighting discrimination in our sport, dating back to the early Red, White and Black Days.
"That fight continues to this day and we're pleased we're able to get involved and showcase some of the great work that has already been done."
Saturday's events come after the club, working with its community trust and partners, recently finished second in the inaugural Football v Homophobia awards for their commitment to combating the issue.
READ MORE: Charlton Athletic confirm fourth annual homophobic awareness tournament
Those awards also saw Charlton Invicta, the first LGBTQI+ team to become affiliated to a professional club's community trust back in 2017, pick up the Grassroots Football Award while Rob Harris come third in the Hero category.
On the awards, the club and trust's Head of Equality, Diversity and Inclusion, Dr Michael Seeraj, said: "This year has been an incredible year for the Charlton family.
"All the hard work was recognised at the recent Football V Homophobia Awards, with Charlton represented in three categories.
"I have the great pleasure of working alongside the Proud Valiants on a number of different initiatives, and can say without doubt they are totally committed to raising awareness and understanding of LGBTQI+ issues, and thoroughly deserve all the recognition they receive."
Charlton Athletic have also confirmed the annual Charlton v Homophobia tournament on the pitch at The Valley will return for a fifth time this summer.